BAM Ireland leads the way in Building Information Modelling
BAM Ireland is leading the way in the implementation of Building Information Modelling & Management (BIM) in the Republic of Ireland, having become the first organisation in the country to achieve the international industry standard for the use of the process for design and construction projects.
BAM's BIM process, which provides 3D computer models for efficient visualisation and analysis of proposed designs, has been awarded PAS 1192-2 verification by the British Standards Institution (BSI). This certification is a mark of excellence in BIM and provides a consistent framework for the adoption of this emerging new industry process across the international construction sector.
The BIM process, and the associated technologies, is considered invaluable to the successful delivery of a construction project, as it provides a common, coordinated and single source of well-structured digital information throughout the lifecycle of a project. This process delivers significant cost savings and efficiencies during both design and construction stages while also facilitating a smoother handover of project data for the operational stage of a project.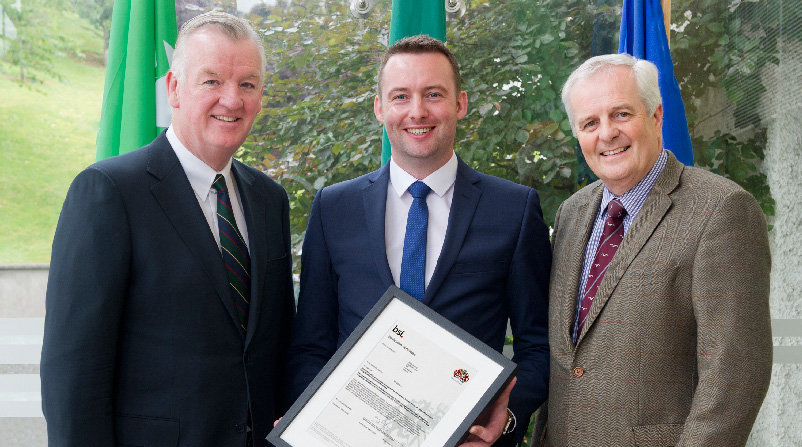 BAM has recognised the advantages of adopting this process to drive sustainable project delivery and has spent a number of months working to standardise and formalise their information management policies, procedures, and systems in line with the PAS 1192-2 requirements. These requirements include an onsite audit where BAM's documented procedures and systems were assessed. They also involve an evaluation of BAM's staff's ability to deliver BIM in compliance with industry guidelines BS 1192-2007 and BS 1192-4.
Paul Brennan, BAM's Virtual Design & Construction Manager, explains: "We are delighted to have received this certification from BSI. This is an important recognition of the effort of the BAM team over the last number of years to successfully implement this revolutionary new process. This certification clearly demonstrates to our clients and greater supply chain that we have the capability and expertise to utilise the latest technologies to drive cost savings and environmental sustainability for projects right across the board."
"At BAM we are continually working towards improving our operational requirements for information management. We are aligning all of our business processes, tailoring internal training modules, and continuing to evaluate and develop the skill sets of our supply chain. Over the coming year, we will continue to leverage the support of the global BAM Group to maintain our rate of change and our continuous improvement. We are very fortunate at BAM to have a dedicated senior management team who believe in the value of BIM and the potential of opportunities that come with digital technologies."
Andy Butterfield, Director of Built Environment at BSI, said: "BAM should be pleased that they are the first organisation in the Republic of Ireland to be awarded verification against our PAS 1192-2 scheme. This has been developed in collaboration with industry stakeholders to ensure that organizations such as BAM Ireland are best placed for BIM implementation. We're pleased to have been able to support BAM throughout the process."
[rev_slider Stel]