The Pod Factory, based in Lismullen, Co. Meath specialises in steel frame, bespoke modular structures ranging from compact home office spaces measuring 8sqm up to 4 bed houses measuring beyond 90sqm and everything inbetween.
What sets The Pod Factory apart from the rest of the modular industry?  Firstly, they service the entire country.  From Cork to Donegal and from Dublin to the Achill Islands, The Pod Factory has Pods everywhere.  One of the key reasons there are Pods all across the country is simply because of their build quality, very competitive uvalues and compliance with building regulations, as well as a very aesthetically pleasing look!
As Pods from The Pod Factory can be Bcar and Nzeb compliant as well as gain planning permission, the company has taken steps from only servicing private individual clients to also offering their services to much bigger organisations have worked with the likes of Abbvie providing offices, partnering with Glenveagh Homes, building school pods for the LMETB and providing multiple long term residential care units for Talbot Group amongst many more high profile companies.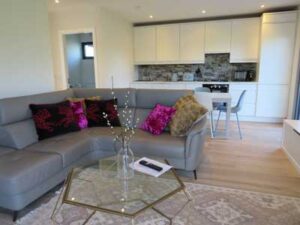 The company has recently created a partnership with League Of Ireland champions, Shamrock Rovers.  Their logo will now appear on the first team's shorts until the end of the 2023 season.
The Pods are made in a purpose-built factory in Co. Meath, then once finished, the Pod is transported by truck to the site and placed into position by crane.  Smaller units are turnkey ready, with larger units only needing a slight touch up before you can move in.
More information can be found on www.thepodfactory.ie or call 00353 46 902 6911 where you can book a visit to their showrooms 7 days a week.