Arthur Cox – What is REPowerEU and what does it mean for the Built Environment?
As a consequence of the war in Ukraine, the EU has taken steps additional to 'Fit for 55' to reduce EU dependence on fossil fuels more quickly. What does it mean for the construction industry?
In recent editions of Irish Building Magazine we looked at what's coming down the line as the EU significantly ramps up efforts to reduce greenhouse gas emissions (now by at least 55% by 2030 as compared to 1990).
We looked at the EU's 'Fit for 55' package, focusing on the proposals to amend the Directives on Energy Efficiency and Energy Performance of Buildings, but also highlighting other instruments that will increasingly impact the construction sector, most notably the Renewable Energy Directive, as it mainstreams renewable sources of power in buildings and transport.
There have now been further developments provoked by war in Ukraine.
What is REPowerEU?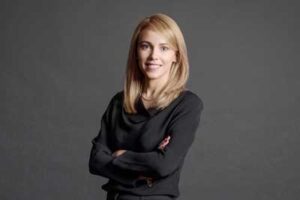 When Ukraine was invaded a focus for the EU was securing its supply of energy. Part of the thinking was that fossil fuels – gas – cannot be relied on as a transition fuel for as long as previously modelled, so the energy transition would have to speed up.
The EU packaged its policy and legal proposals into 'REPowerEU'.  REPowerEU sets out measure designed to: (i) diversify energy sources away from Russian fossil fuels, (ii) accelerate clean energy transition by speeding up delivery of renewable energy in the EU; and (iii) make faster progress on reducing energy demand (energy efficiency). The European Commission represented REPowerEU in its Communication of May 2022 like this see figure 1:
REPowerEU included a Proposal to amend the Renewable Energy Directive, the Energy Efficiency Directive, and the Energy Performance of Buildings Directive.
At a high level, this Proposal would mean that Member States are required to contribute to more ambitious renewable energy and energy efficiency targets. These are shown in figure 2 compared with 'Fit for 55' proposals and the current law which is in force.
What does REPowerEU say specifically about the Built Environment?
The Proposal includes provisions intended to speed up progress on energy efficiency.
European Solar Rooftop Initiative – Buildings to be Solar Ready
An amendment to the Energy Performance of Buildings Directive would require Member States to ensure that all new buildings are designed to optimise their solar energy generation potential on the basis of the solar irradiance of the site, enabling later cost-effective installation of solar technologies. Member States would be required to ensure deployment of suitable solar energy installations:
–  on all new public and commercial buildings (with useful floor area  >250 sq.m.) by the end of 2026;
–  on all existing such buildings by the end of 2027; and
–  on all new residential buildings by the end of 2029.
Part of the renewable energy strategy is to increase the uptake of solar photovoltaics, which the Commission considers to be one of the fastest technologies to roll out. There is a new target to install over 320 GW of new solar PV by 2025, over twice today's level, and nearly double that again by 2030. To encourage this, there would be a permit-granting timeline of three months for installation of solar energy equipment, including building-integrated solar installations, in existing or future artificial structures, provided that the primary aim of such structures is not solar energy production.
The Commission also published an EU Solar Strategy which indicates that most of the financing for these initiatives will be private, but partially triggered by public funding, including through several EU mechanisms. The Strategy also looks at combining solar with other technologies to optimise buildings' energy performance. It states also that, on the supply side, a proposed EU Solar PV Industry Alliance will aim to help diversify supply chains, retain more value in the EU, and deliver sustainable products.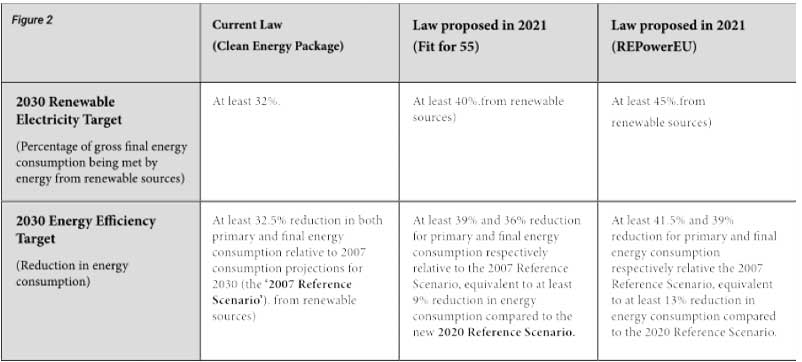 Save Energy
The Commission published an EU Save Energy Communication which presents a two-pronged approach: strengthening structural change with mid- to long-term energy efficiency measures, and achieving immediate energy savings through behavioural changes. A key sector identified for short-term savings is heating in households and services.
If you are interested in reading more about other aspects of REPowerEU (such as speeding up the delivery of renewable energy projects), these are considered in our briefing here: https://www.arthurcox.com/knowledge/energy-transition-one-year-on-from-fit-for-55-repowereu-signals-further-significant-reform/
What is happening with 'Fit for 55'?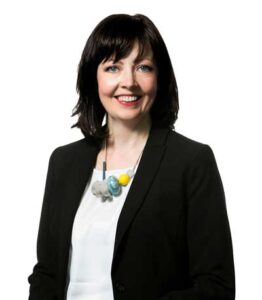 'Fit for 55' is progressing swiftly through the EU's legislative procedure, with final texts expected to be agreed by the end of the year. The status of the main instruments we discussed previously is as follows:
– Energy Efficiency: The Council agreed its negotiating position on the proposal to amend the Energy Efficiency Directive, adopting the 'Fit for 55' proposals for reducing energy consumption. In July, the Parliament's Industry and Energy Committee voted for higher targets than those shown in the table above (42.5% reduction in primary energy consumption and 40% for final energy consumption). The Parliament is due to vote on this position in plenary in September and negotiations will then begin with the Council.
– Energy Performance of Buildings: Work is ongoing on preparing the Council's position on the proposal to amend the Energy Performance of Buildings Directive.
–  Emissions Reduction: The Council agreed its negotiating position on the various new aspects of emissions cap and trade, including the establishment of a new emissions trading system for fuels used in buildings and commercial road transport. The Parliament has agreed its position on these proposals and would like to see the new system for fuel distribution for buildings and transport established by January 2024, a year earlier than proposed by the Commission. To address potential social impacts, the Council endorsed the establishment of a Social Climate Fund of up to €59bn to address the impact of carbon pricing on vulnerable citizens, including through investment in buildings' renovation.
If you are interested in reading an update on other aspects of 'Fit for 55', they are considered here: https://insights.arthurcox.com/post/102hryf/significant-reforms-to-energy-climate-law-imminent-as-member-states-agree-posit
It is anticipated that there will be efforts to wrap the REPowerEU proposals into Fit for 55 negotiations this year.
A critical decade
In these proposals the Commission again takes the opportunity to remind us that, in the EU, buildings account for 40% of energy consumed and 36% of energy-related direct and indirect greenhouse gas emissions.
In Ireland, sectoral emissions ceilings for the first carbon budget have recently been agreed, under which Buildings (Commercial and Public) are to reduce carbon emissions by 45% by 2030 as compared to 2018. In terms of how this is implemented, the legal obligation under the Climate Action and Low Carbon Development Acts 2015 and 2021 is that each Minister, in so far as practicable, must: (a) perform their functions in a manner consistent with the carbon budget, and (b) in the performance of their functions comply with the sector emissions ceiling for the sector for which they have responsibility.  The relevant Ministers are required to attend the Oireachtas Committee on Climate Action to give an account of progress and the Committee may in reply make recommendations, to which the Minister must respond.
This rapidly evolving legal and policy framework can be understood in the context of the highly ambitious emissions reduction targets, at both EU and domestic level, which are considered critical to preventing harmful climate change.