Kerryman Leading Award-Winning UK Construction Group
For the Irish Abroad Series Timothy O'Sullivan, Managing Director of the Danny Sullivan Group talks to Irish building about the Group's history and operations in the UK Construction Industry.
Danny Sullivan Group was founded by CEO, Danny O'Sullivan. Danny first arrived in the UK with his uncle in 1971 at 16 years of age. Initially, Danny worked on construction sites in Nottingham before moving to London. Having worked on a number of building sites, he recognised a gap in the market and took on his own workforce. Danny Sullivan Group officially started in 1986, collaborating with clients to supply skilled professional labour to the Rail & Transportation, Civil Engineering, and Building sectors. Now, 31 years later the Company have an estimated workforce of 1,500, an office of 60, as well as 4 Health and Safety teams and 12 Operation Managers.
In 2011, Danny's son, Timothy O'Sullivan, took on the role of Managing Director and oversees the day to day running of the business. Danny Sullivan Group has grown as a result of Danny and Timothy's strong business values and encapsulates their firm family ethos. With a rapidly changing industry, Timothy knows that it is important to move with the times and ensure that the next chapter is as successful as the last. Business aside, Danny and Timothy are great advocates for charity work and have often set themselves extreme challenges in order to fundraise for those in need, receiving many awards for their efforts. Timothy recently completed a 969-mile cycle challenge, the length of the UK, to fundraise for the National Brain Appeal which has raised £75,355.65 to date.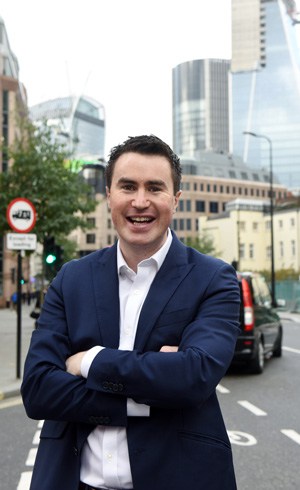 Timothy, tell us about the Company values?
Our core values will remain unchanged and are an integral entity in the success of our Company. We strive to always meet our client's needs and ensure they receive an outstanding service. We will maintain and develop our reputation and number one status throughout the UK.
Throughout our 30 years of business, Danny Sullivan Group has encapsulated the following values into the business, which has been a stalwart in the construction industry and Irish Community. Danny Sullivan Group brings open and effective communication – together with our team you can achieve more. We pride ourselves on delivering an excellent service – excel to be better every day. Our focus is on teamwork within our organisation and with clients – genuine collaboration that recognises teams achieve what individuals cannot. We exercise a constant stream of trust and respect – treat everyone with dignity and courtesy. We devolve, empower and support – work with clients to understand business needs. We ensure that we act and communicate with integrity. We are client focused – balance service response and quality with client need. We are pioneers in innovation and creativity – develop unique strategies to provide skilled labour on the ground.
What services does the Group offer the UK construction industry?
With a Group turnover in excess of £80m and an estimated workforce of 1,500 employees, Danny Sullivan Group works on projects throughout the UK with five offices based in London, Glasgow, Heathrow, Manchester and Somerset. The Company collaborates with clients to provide a skilled and professional workforce, trained to the highest standard within the Aviation, Highways, Nuclear, Rail, Tunnelling and Utility sectors.
Tell us about your qualifications, scholarship and experience before joining Danny Sullivan Group?
I completed a degree in construction management at Institute of Technology Tralee and as part of my studies was required to partake in a work placement and applied directly to Balfour Beatty.
I spent six months with Balfour Beatty on a site in London on the East London Line project. As a result of my placement, Balfour Beatty offered me a scholarship once I had completed my studies. I completed my course with a first class honours degree and returned to London to take Balfour Beatty up on their offer of a graduate programme. The graduate programme offered me invaluable experience, and also presented me with the opportunity to view business from the other side of the fence and gave me a better understanding of what clients expect from their supply chain.
Did your construction management degree help you adapt quickly to work at Balfour Beatty and after when you joined the Group?
My time at the Institute of Technology Tralee was instrumental in the development of my career in the UK construction industry. Throughout the course, I learnt the practical and theoretical process behind managing a construction project and business. I believe that experience on the ground is important but you can't discredit the knowledge you can obtain by studying a construction related degree. A degree in construction can provide you with the foundations to integrate into any company. The lecturers, in Tralee, provided detailed insight into the physical workings of construction management and provided helpful case studies that presented students with a better understanding of live construction sites.

Please outline and describe the projects you have ongoing and those upcoming?
Crossrail:
Danny Sullivan Group has provided hundreds of skilled operatives to the innovative Crossrail project since the project started in 2009. Crossrail will transform rail transport in London and the south-east, increasing central London rail capacity by 10%, supporting regeneration and cutting journey times across the city.
Northern Line Extension:
Danny Sullivan Group are proud to be supplying trades and labour to the innovative Northern Line Extension project. The project will improve transport links and public spaces in the area and is essential to support the transformation of Vauxhall, Nine Elms and Battersea, a designated regeneration area on the South Bank.
Blyth Off-Shore Windfarm, Newcastle:
The construction of the Blyth Off-Shore Windfarm has been a learning experience for all of the contractors involved. It is a pioneering project as it is the first time that an off-shore windfarm has been constructed on land before being floated to position in the North Sea. Once this has been completed the five wind turbines will be installed, which will have a power rating of 8.3 MW. Danny Sullivan Group has been providing labour to the project since it first began in July 2016. It is a unique project that presented the operatives on site with a completely new experience within the construction industry.
Earthworks package at Hinkley Point C:
Danny Sullivan Group has been consistently providing labour to the £203m project for the BAM Nuttall/Kier JV. The earthworks include: 5.8million m³ excavation (50% in rock); 450,000 m³ imported fill; 1.8million m³ material processing; reinforced earth retaining walls; 14,500 m³ sprayed concrete; 105 km ground nails; 84,000 m² slope protection; 240,000 m² roads and car parks with associated, ducting, drainage, lighting and surface earthing; 670 m culverts; and 700 m seawall. We have been operating on this site since May 2016 with the project expected to cease in spring 2019. At this moment in time, we are currently providing drainage, ground workers, concrete finishers and pipe layers to lay the foundations of the three concrete structures that will house the nuclear turbines.
Thanks to the Government's investment in UK infrastructure, Danny Sullivan Group has a number of exciting and innovative projects that will start in the coming months and years. The first of these projects is the High Speed 2 which will connect London to Birmingham with a journey time of 37 minutes. We are also working with Highways England to upgrade and improve the M4 motorway which will convert the highway to a smart-motorway.
What have been the biggest projects and notable clients you have worked for?
AWE Project:
Over the last 6 years, Danny Sullivan Group has provided a wide range of competent trades to the Atomic Weapons Establishment (AWE) Project, Mensa £734m scheme at the Burghfield site, Reading. The objective of the BAM Nuttall project was to rebuild the UK's nuclear weapons factory to manufacture the next generation of UK Trident warheads. Due to the high-risk calibre of the project, we were required to provide vetted and Security Check approved operatives on site.
London Blackfriars Station Upgrade:
London Blackfriars station in London underwent a major redevelopment programme and became a landmark station of operator Network Rail. Construction on the redevelopment project, estimated to cost £350m, began in 2008. The new station was re-opened to passengers in February 2012 and became fully operational in summer 2012. Danny Sullivan Group was involved in the redevelopment of the station from the beginning, closely working with Balfour Beatty.
Olympic Park:
The development of the Olympic Park for the 2012 London Games was an outstanding and innovative project that left a lasting legacy in the East London community. It was also the only Olympic Park construction project that recorded zero deaths or incidents during the course of its development. Danny Sullivan Group had over 750 operatives on the site at its peak and a further 150 employees based on site to assist with the legacy re-construction of the facilities. We were based on several projects throughout the park for the following clients; Balfour Beatty, BAM Nuttall, Hochtief, Skanska and Volker Fitzpatrick. Throughout the project, Danny Sullivan Group worked on the construction of the Olympic Aquatic centre, roads, bridges and landscape.
You have won recent awards, can you tell us about these?
In October 2017, we received an award for our accomplishments in business and I was presented with the 'Business to Business' Award at the British Irish Trading Alliance (BITA) Gala Dinner.
Danny Sullivan Group won the 'Women in Construction Award' for our support and excellent contribution that has directly resulted in increased participation of women in the construction industry. We won the 'Costain Health and Wellbeing Award' for ensuring Costain is a safe and great place to work.
Last February, Danny was delighted to win the Business Man of the Year awards at the Irish World Awards. On the 23rd of November, Tim represented Danny at the Irish Post Awards 2017 to accept his lifetime achievement award for his dedication and support of the Irish Community.
How has the Group's services and expertise changed over the past three decades?
Skills required:
The search for skilled labour has dramatically changed in the last three decades. Gone are the days when workers would gather on Cricklewood Broadway, North West London in the search of work. We now support and recruit new labour through internal resourcing, job brokerages and support groups. We also attend open days and host job fairs as well as engaging with local schools, encouraging young people to join our industry.  We also regularly support, BUILD London, The Prince's Trust and the local Boroughs and also actively engage, promote and support Women in Construction, apprentices and veterans, playing a key role on our projects.
Equality, Diversity and Inclusion:
Over the last three decades, there has been a shift in behaviours and attitudes on construction sites regarding equality, diversity and inclusion. We consider equality and diversity in the workplace to be fundamental in the operation of a successful project and business. Equality and diversity can cover a broad range of issues within the construction industry.
Health and Safety:
Health and Safety is one of the most important aspects on today's construction sites. Many years ago it was unheard of to wear PPE or engage in safety tours, the ideology was very much getting the job done. We are strong advocates of Toolbox Talks. The informal group discussions are used daily on our sites to promote our Company's safety culture. We have noted that these talks can encourage operatives to openly discuss, on site, how health and safety can be improved. These open discussions massively benefit our team as we can then create and deploy new tailored Toolbox Talks to address the issues presented by our employees.
Women in construction:
Women make up less than 12% of those employed in the construction industry and wider industrial sectors. With increasing awareness of the benefits of having a diverse and gender-balanced team, it makes sense to support any existing campaigns and create new ones to increase the number of women in construction.
As part of our apprentice training academy recruitment we, for example, offer placement opportunities to female trainees via the National Skills Academy in partnership with the Women into Construction project; encouraging young women to gain key skills and valuable, practical work experience.
Danny Sullivan Group has also introduced its first ever women's safety clothing range, including hi-vis fitting jackets and tapered trousers. Our HSQE team noted that the universally-sized PPE, which is typical across the construction industry, presented sizing difficulties for our female employees. The team also discovered that poorly-fitted PPE can also pose a safety hazard.
What are the growth sectors in the City and throughout the UK and where is the demand for Danny Sullivan Group services?
Aviation:
Danny Sullivan Group has proudly provided employees for the development of London Heathrow, Gatwick, Stansted and Edinburgh Airports. We've worked with and are currently part of on-going projects with the following: Balfour Beatty, BAM Nuttall, Ferrovial, Morgan Sindall and Mace.
For more than 30 years, Danny Sullivan Group has been pivotal in delivering manpower by affording a technical and skilled workforce to the UK airport infrastructure. The Group has been approved by BAA to process airside identity passes as legislated by the Aviation Act for major UK airports.
Rail:
At Danny Sullivan Group, we are proud to have over 30 years' experience working in the rail industry with companies such as Babcock, Balfour Beatty, BAM Nuttall, Carillion, Costain, Ferrovial, Hochtief, Kier, Morgan Sindall, Murphy Group, Network Rail, Skanska, Transport for London and Volker Fitzpatrick.
We have been involved in the construction of integral infrastructure projects such as the Channel Tunnel Rail Link, Jubilee Line Extension and Scottish Borders Railway Development, as well as station upgrades including the award-winning London Blackfriars, Tottenham Court Road, Victoria and Kings Cross stations. We are actively engaged in Crossrail and Northern Line Extension, supplying tunnelling, track and craft specialists, site foremen and everything in between.
What is the UK Industry, especially London, like after Brexit?
The immediate reaction to the EU Referendum result was profoundly negative within the UK media. A year on from this vote there is still a lot of speculation and discussions about what Brexit means for businesses and trade in the UK. A lot of the country's infrastructure projects have been cast into doubt and the construction industry has been understandably cautious. It is hard to predict the outcomes of the vote; however, we will be ready to support the industry no matter what the implications of Brexit may be.
What are the primary areas of UK infrastructure that require investment?
High Speed 2 is currently one of the most talked about infrastructure projects. With a 37 minute commute from Birmingham to London, we will see investment in the commercial and residential sectors in the Midlands and North West. The expectation is that this will also ease pressure on the South East housing bubble and create stronger regional economies across the UK.
Meanwhile, within the energy sector the UK Government is in the process of constructing three new nuclear power stations; Hinkley Point C in Somerset, Horizon Nuclear Power on Anglesey, and NuGen at Moorside in Cumbria. Hinkley Point C will provide 3.2 GW of power and when fully operational, produce 7% of the UK's electricity – powering over five million homes. During construction, this project alone will generate 25,000 new employment opportunities in the local area.
These projects will present greater job opportunities in local areas. It is also likely that there will be an influx of investment into housing, schools and leisure facilities. However, delivery is dependent on a skilled workforce and it's no secret that the industry is already facing a skilled labour shortage. This is coupled with the lack of transparency over the immigration status of non-UK citizens from the EU.
Have you noticed many new Irish construction companies establishing in the UK over the past decade since the downturn in the Irish economy?
Since the downturn in the Irish economy, there was an influx of Irish contractors looking for work in the UK. It was the Irish construction industry that suffered the worst after the collapse of the Irish banks and resulted in an increase in unemployment. The UK construction industry presented a haven for these contractors to restart their businesses within a stone's throw of their families and homes. If you book yourself on a Ryanair flight to Ireland on a Friday and Sunday evening you will see how many Irish men and women come to the UK for work during the week and return to their families for the weekend.
What roles have Irish graduates and professionals gone into in the UK industry in the past decade?
In the last decade, there has been an influx of young professionals to the UK from the Emerald Isle. As there is such a deep focus in the Irish education system on having a third level education, the expats are highly skilled and qualified. It can be said that a number of those have construction qualifications such as Quantity Surveying or Construction Management. There has been a massive drop in skilled trades travelling to the UK and this can be seen on today's construction sites.