'Leaders in Construction' Tommy Drumm, Managing Director, Collen Construction
Operating across a range of sectors, Collen Construction continues to make its mark in the industry.
Top of their game.
Being able to diversify and adapt to a changing market is essential for any construction firm. During the downturn, Collen Construction proved its ability to move with an ever-changing sector by starting to build data centres. "In what was a good example of having to react to recessionary times, we supplied 53 data halls over the downturn for one US multi-national client. Ireland continues to be a strategic base for clients to locate their data centres in terms of climate and resources and hopefully that will continue," says Managing Director, Tommy Drumm. According to Tommy, data centres require a strict adherence to timescales to meet challenging deadlines, volumes of technical information and most importantly a design and build team comprising highly trained professionals operating at the top of their game. It's an area Collen is keen to continue excelling in.
At the moment Collen Construction employ about 170 people, up by about 30 from last year. Last year's turnover figure reached over €190 million, placing the firm in the top 5 Irish contractors per the Bruce Shaw Handbook 2016 and it fully expects to remain there in 2016/2017. Current projects include accommodation to house 350 students in UCD. "We've also just finished a retail scheme in Kildare Village. We're building one large data centre in Dublin at the moment and we've just completed a new passport office for the OPW." Other projects include a large office building in Sandyford, two industrial units at Dublin Airport and an office building on Molesworth Street, which when complete will be a good example of conservation and new build at a busy city centre location. The company has just completed a project for the Dublin Airport Authority and anticipates further work with this client in the future.
Although the majority of building work seems to be located in the capital, there is work outside Dublin says Tommy. "Quite a large number of the pharmaceutical companies are outside Dublin. In saying that, not all the sectors are equally busy and it's very early stages in the recovery for regions outside the capital. I think that's probably where Fine Gael got it wrong coming up to the elections. We're a small country though so wherever the work is people are travelling to get involved."
To further strengthen the firm, Tommy recently appointed two directors in-house. "David Lee was appointed construction director while Donal Hennessy was appointed commercial director. Both are with the company a long time and have now joined the board. Their additions will only make the firm stronger, increase competitiveness and allow us to continue to diversify and expand our product offering to clients."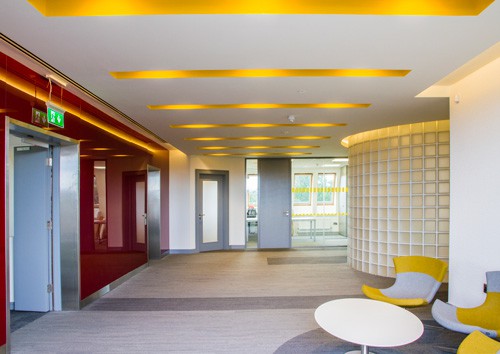 Collen Construction is a long established company, set up in 1810 with an enviable reputation for building quality and excellence. The firm has weathered the recession extremely well and managed to grow year on year throughout the lean years. "That growth is mainly down to our data centre work but at the start of the recession, we also won a contract to deliver 250 social housing units for NABCO in Tyrellstown, Dublin 15. That project was timely as it kept our team together and was at the time the largest social housing project in the country." Tommy says the firm is cautious about costs coming out of recession. "A lot of businesses fail coming out of a downturn as they get stuck with a certain level of income. We would be aware of that and so we're trying to get the right spread of work in the right sectors. I think that's the single most important thing for us at the moment."
Optimism is returning to the industry, says Tommy. "If you look across the construction sector at the moment all the indicators are good. The CIF is currently in discussion with the unions to try and negotiate the right rates and costs going forward and I think the fact that Moody's upgraded our rating recently as well is a good indicator for foreign investment. I think as a country we're trusted as a location to try and grow businesses. That's vitally important for the economy we have. Foreign investment is key and fostering young businesses is also extremely important."
Capacity in the market from a skills point of view remains an issue in the sector. People are understandably cautious about returning to Ireland says Tommy and the fact that the rental market in Dublin remains so volatile is exacerbating the problem. "We would have staff members that are simply unable to meet the extortionate rents in the capital. It's something that needs to be tackled right away. How long will it take Simon Coveney to sort out the housing situation? We know that it won't happen overnight. There's €1.7 billion unspent across local authorities from what I read and that's not a good sign."
Collen Construction operates across a diverse range of sectors but one area the company would like to make its presence firmly felt is residential. "We'd be very keen to participate fully in the supply side of the residential recovery. That's an area we're giving a significant amount of attention to. We want to get involved in speeding up the delivery of quality housing and apartments for those who are desperate to find them. At the moment we're putting a lot of energy into that area for one or two clients in particular." Over the next 12 months, the firm intends to focus its efforts on making that happen.
[rev_slider bimawardside]
Although the firm has looked abroad during the recession, Tommy and the team are keen to solidify their position in the Irish market first. "We've done some work in the UK but I think there are plenty of opportunities at home that need to be investigated before we look across the water. We would prefer to take advantage of all opportunities here first while keeping an eye on activity in Europe around data centre provision. That's a sector that we now have great expertise in so we are actively looking in Europe to try and secure clients for whom we can deliver top quality, technically proficient data centres."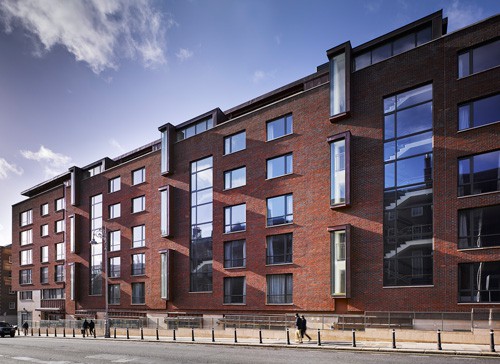 Over the next few years, Tommy would very much like the firm to be involved in a number of sectors in Ireland. "We've got great capability and are keen to participate more fully in the retail and pharma sectors. Pharma will race ahead and we're well positioned to take advantage as that's a sector that requires a very high level of safety and quality and that's something we are emphatic about." Collen Construction has retained an A rating in the CIF Safe-T Cert for a number of years and has recently received OSHAS 18001 accreditation. On the educational side, supply and demand in relation to student accommodation is all wrong, says Tommy. "I think there's a big demand now for good quality, well located student accommodation in Trinity College, DCU, UCD and Grangegorman. It's a sector we want to remain active in." Tommy also expects both public and private work in the healthcare sector to grow. "As the government sets out its budgets for the next five years we feel we can participate in that sector."
About a third of Collen's business is from repeat clients. "If your clients give you work they're relying on you to deliver it safely, to a high level of quality and with no surprises in the final accounts. Historically, repeat business has always been a very important part of our firm. People trust us and we don't land them with surprises during delivery of their projects and accounts." The wider Collen Group is involved in development opportunities across the private sector and has just received planning permission for a primary care centre in Bray, which is expected to start on site in the next six months.
Whatever sectors the firm gets involved in now, it must be sustainable says Tommy. "That's the lesson coming out of the crisis we've all experienced. The impact it has had will reverberate for quite some time. Making decisions that are sustainable is the most important aspect of running a business and having a strategy to deal with any eventual outcome is also crucial. We're very positive about the future of Collen; we're looking forward to growing the business and continuing to provide opportunities for our staff."
This article first appeared as part of the Irish building magazine 'Leaders in Construction' interview series 2016. Click here to read the entire issue
The content of this site is subject to copyright laws and may not be reproduced in any form without the prior consent of the publishers. The views expressed in articles do not necessarily represent those of the publishers.