Collen Construction – Building on a Legacy
Positioned as one of the Top 5 in the Bruce Shaw handbook of Irish Building Contractors and with a turnover approaching
€
200 million, Collen Construction is firmly established as one of the leading 'Tier One' contractors in Ireland. This seventh generation family business has been operating in Ireland for over 205 
years across a range of sectors including data centres, biopharma, health, commercial, retail, education, residential, industrial and conservation.
For the past seven years, the firm has worked tirelessly to overcome industry challenges by diversifying into new, technologically driven sectors. In the midst of one of the country's most devastating recessions, Collen didn't downsize but managed to retain all its team and take on additional highly skilled staff.
"The management team at Collen only do things that make sense commercially," explains Managing Director Tommy Drumm. "When the market was turning, Collen managed to secure a €50 million social housing project for NABCO to deliver 250 houses in Tyrellstown, Dublin 15. That was fortunate as it kept our team together and was the largest social housing project in the country at the time," says Tommy.
In 2010 the company started working with a confidential multi-national client constructing data centres in excess of €300 million and according to Tommy, "It was the firm's ability and willingness to adapt to client needs and move into a broad mix of projects in diverse sectors, from conservation and residential to fit-outs and biopharma, that ultimately led to growth in a period when many other firms were struggling with decline".
The company is now positioned as one of the top two or three building contractors in the 'High Tech/Data Hall' Sector on what Building Services Manager Thomas O'Connor describes as "an extremely challenging build". As overall winner in the Chartered Institute of Building 2013 Construction Manager of the Year Awards, Thomas explains the high level of technical detail and skill required. "These types of projects require a strict adherence to timescales to meet challenging deadlines, volumes of technical information and most importantly a design and build team comprising highly trained professionals operating at the top of their game".
Declan Lowry, Director with responsibility for data centres states: "When Collen moved into the data centre sector there weren't many companies equipped to deal with such a technologically advanced project of that scale! Collen embraced a new emerging market utilising a talented pool of individuals, many of whom have been with the company for over 20 years. This ability to adapt has certainly put us ahead of the pack and extends across the board, not just in data centre projects but also within other sectors including pharma."   
Recently completed BioPharma projects include an expansion to the WPC35 Dry Powder Silo facility and a new Pouch and Sachet filling unit within the existing Abbotts manufacturing plant in Cootehill; upgrade works to the Mylan pharmaceutical facility in Baldoyle incorporating a phased expansion of a new medical manufacturing facility integrating new clean rooms, plant rooms and offices within a live pharma environment; and a new manufacturing facility including laboratories and extensive siteworks at Takeda Bray pharmaceutical plant to name just a few.
"Feedback from the clients has been very positive on all our pharmaceutical projects," says  Biopharma Division Manager Michael Browne, "particularly on the Abbott project which resulted in a glowing reference from the client project manager for the meticulous management of the project by Site Manager John Clarke. The confidence instilled in this client by our rigorous quality control procedures enabled the Abbott team to carry out an annual plant audit despite the significant building works ongoing in the middle of the production area. This was the first time the client had even considered such an action and was testament to the company approach towards achieving the highest quality standards on every project."
This sentiment is echoed by Quality Manager Martin Morley who operates seamlessly with the site teams to ensure quality standards are not only achieved but that the company consistently exceeds client expectations.
Senior Contracts Manager Derek McCaffrey was a key member of the team on a number of the biopharma projects and he also considers himself privileged to have been involved on the notable Blackrock Further Education Institute and Library. His efforts on this project led to Derek collecting a silver award from the Chartered Institute of Building at the 2015 Construction Manager of the Year Awards held on 5th June 2015.
Derek explains: "Collen is a registered heritage contractor and the Blackrock project, designed by McCullough Mulvin Architects, is the perfect example of a project that blends traditional heritage with modern design".
The project was joint winner of the Irish Georgian Society Conservation Award in October 2014 and required extensive conservation works to the three existing protected structures dating from 1860's -1900's. The existing buildings were reorganised and upgraded to provide high specification third level educational  institute facilities and a new library facility with a build value of €8.5 million.
Detailing the process, Derek explains: "The old part of the building has been restored and refurbished only where required, whilst the new building uses modern techniques incorporating a steel frame with block work infill, pre-cast concrete floors and in-situ stairs. A massive amount of painstaking work went into the project with the team encountering several challenges along the way. The first major difficulty we faced was relocating the lantern roof light, which was actually positioned on another part of the building."
Restoration of the lantern commenced prior to Collen's appointment on this project. The previous contractor went into liquidation during construction works, leaving partially completed works exposed to the elements until such time as the legalities could be sorted.
"There's a live crèche on the other side of the lantern so we were under pressure to get it back onto the roof, over what is now the boardroom, in a very short amount of time." The team had permission from the crèche to erect scaffolding for a certain amount of time. "It really was a major challenge; not only did we have to replace the lantern but some of the roofs were only half done and were covered over with polythene." The entire parapet also had to be stripped in the same timeframe but despite everything, this particular aspect of the project was completed on time. "I think it was quite good to have come up against such a major challenge as it demonstrated Collen's ability to the architects from the outset. The fact that we met such a tight deadline and were able to stand by the high standard of work on show was a good start to the build."
Construction on the project began in July 2012 and was completed in May 2014 but prior to commencing work on the project, the Collen team carefully and painstakingly salvaged material from the old structure before removing to the Collen storage yard in East Wall where it was sifted, sorted, tagged and stored until required to be integrated back into the building. "This was the process for the entire build; as much as possible, everything was reused," Derek explains. "Almost all timber floors have been restored after being carefully removed off site, catalogued, measured and treated with a finish before re-fixing. Existing slates were reused and when they were beyond repair, our roofing contractor sourced salvaged slates to match. Doors had to be upgraded, so again they were taken off, restored and upgraded. All the chimneys were renovated, along with all the chimney pots. We then lead capped the whole unit along with the parapets to future-proof it for the next 100 years."
It is fair to say the team at Collen went above and beyond the project brief. Derek detailed the team approach to restoring the copper topped louvered timber tower, a significant historical and decorative feature of the original building. "The drawings specified that a sanded and painted finish should suffice but after we removed all the existing paint and sanded it down, we realised an incorrect paint had been previously applied and soft wood louvers installed that were now damaged."
A pre weather copper was originally specified but Derek felt this would look false and unnatural, so a match was needed for the existing dome and spire. "We always strive to achieve a high quality finish on all of our projects and so we made the decision to pay additional costs to install natural copper to match the existing dome and spire. At the moment, the new copper is in its natural state but it'll eventually patinate (weather) and match the existing tower."
The new, modern third level educational facility is approximately 4,347m2 with 250m2 of atrium and garden space and accommodates computer laboratories, design studios, beauty salons and an ICT learning centre. The atrium, where the old and new buildings meet, boasts floor covering that was specially sourced and digitally printed from a photograph the architect took at the local beach. Maintaining the link between old and new, the original fire station archway entrance has been preserved and incorporated into the new school building. To ensure the historical character of the arch was maintained, a small tone and rubble side wall was built using old-fashioned building methods and techniques.
A thoughtful and considered approach to the entire project has ensured there is no conflict between the old structure and the new modern design. In the new building, hanging ceilings that appear to float in mid-air are not connected to the old stone and minimal work to the walls ensures they look just like they did decades ago.
Derek says: "The entire concept was about giving the building back the way it was found. For example, some of the bricks in the wall are fairly standard stock bricks but they were not removed. We filled in what we had to on the walls and we also cleaned it off and sealed it."
The new boardroom with the lantern on top is certainly, as Derek describes it, the "piece de resistance".  All the original corbels have been restored, replica cornices mimic the original and all the original flooring has been restored. For me, this was a labour of love. When you stand here and look around, it's almost impossible to understand the amount of work that went into it." The other significant room (of which there are many) is the new library, a huge room that has been lovingly restored. "Seamus O'Hogan did all the internal restoration while Old Stone carried out the external work. This whole room would have been birdcaged with scaffolding. We were faced with a roof that was dipping down from damage through water ingress over the years, so we propped it up and cut back all the king posts. A huge amount of work and coordination went into this room alone, however it's important to mention that the whole project was very much a considered restoration, in that if we didn't absolutely have to go at something, we left it as it was before the project commenced."
The pride displayed by Derek, in his team and in the finished project is evident. But this is typical for a company that has completed many conservation and refurbishment projects of note including a four storey extension to the Hugh Lane Gallery on Parnell Square, a number of multi-storey extensions to the Military History Museum at Collins Barracks, new offices for the Revenue Commissioners at Dublin Castle and works to the Dublin City Walls within the Dublin City Council Civic Offices on Wood Quay Dublin.
Neil Collen
In 1978, current Chairman Neil Collen became the 19th Collen to join the family firm having spent years as a boy watching his father Lyal manage the family business. "When I joined, I was at the coalface serving my time on sites. The first project I was involved in was an industrial estate on land owned by the Earl of Meath." Neil was also involved in the construction of one of the first computer factories in Ireland for Nixdorf, a leading German information technology corporation.
"That was a very interesting job and one of the biggest we'd done at the time. I remember Mr Nixdorf himself brought my father and some of the team over to his base in Germany. He showed him the factory they had there and they wanted exactly the same in Ireland."
Industrial estates created extensive business for the firm during the 1970s, delivering a steady supply of new contracts for the construction and design of factories and warehouses. The development of the Broomhill Industrial Estate in Tallaght kept Neil busy for another 10 years along with a series of large-scale marine engineering contracts including several roll-on/roll-off terminals in Dublin Port. Eventually Neil settled into the office and in 1997, he took over as Managing Director of Collen Construction Ltd; within a year, he initiated an entire reorganisation of the company which eventually saw the establishment of Collen Group Ltd.
Today, Neil is Chairman of Collen Construction Ltd and Managing Director of Collen Group Ltd. Joint venture projects and redevelopment work make up a large portion of the Group's portfolio; recent projects include the Gateway Development in Dublin Docklands comprising 157 residential apartments and 16,100m2 of office accommodation. Redevelopment projects include Broomhill Business Complex in Tallaght and Bridgewater Quay, Dublin 8 which was acquired by Investment Bank of Ireland. Neil says the Group has also assembled a strong investment portfolio which includes One Gateway, a multi-tenanted office building of c.4,835m2.; Three Gateway, a high profile office building of c.4,000m2; and River House, a Headquarter office building of c.2,600m2.
Tommy Drumm
Former All-Ireland Championship winning Dublin footballer Tommy Drumm took over the helm from Leo Crehan as Managing Director at Collen Construction in January 2015.
"One of the first jobs I had when I came out of college was with Collen. That was 33 years ago. At that time, we did a lot of civil engineering works and we also had a project management division. Eventually we decided to concentrate on the core business of general contracting and building."
Before rejoining the firm, Tommy was Business Unit Leader for Laing O'Rourke's construction business in the South of the UK. "From a positive perspective I think Dublin feels a bit like London did two years ago; it's set to get busier and busier. From a reputational point of view, Ireland has made its mark through its ability to step up and make all the hard decisions around how we're going to deal with our debt. We have a huge amount of kudos now. I think we should be confident that businesses will continue to invest in jobs in Ireland."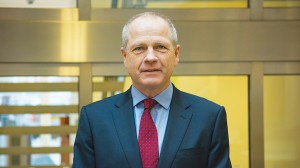 Key to Tommy's new role is establishing what repeatedly brings clients back to the firm. "We need to figure out what it is we're doing right that makes clients ask us back. For me it's always been about the clients; who do we actually want to work for? In the last few years we've been fortunate that we have secured repeat work for a number of clients, and this has minimised our risk to below cost tendering."  Tommy believes that situation will change. "There's only a certain amount of capacity in the market at the moment. As the work materialises the existing resources and capacity will be used up quickly. Nurturing existing relationships with clients and seeking out new, like-minded firms to work with is really the key to Collen's growth". The firm's ability to complete projects within a tight programme and provide clients with a quality service will ultimately lead to future repeat business for the company.
Used here to some extent, two stage tenders is something Tommy has experience of from his time in London. He believes this method will be employed more extensively in Ireland going forward. "The really savvy clients in London were able to read the market to the extent that they started to go into two stage tenders. Instead of spending a fortune on tendering, the more astute clients would pick three companies and go through a two stage tender which allows us to tell our clients what our overheads and our profit will be in a fairly painless and not too costly process. The client will then decide which of those companies they want to work with. This model is, in my opinion, the most efficient way of tendering. It's not negotiation but it's a good transparent way for clients to get value but they need to trust the companies going through the cycle."
"Technically challenging work such as pharmaceutical and data centres are projects that Collen is very familiar with. With those projects, the speed of delivery is what's challenging but what's more important is understanding what the client's requirements are. "When you operate in highly regulated industries such as pharma or data centres, it is vital that the highest quality procedures are implemented and effectively managed. Those industries are clear examples of where clients demand assurance that all documentation is in place and designs are fully developed. Collen has a dedicated safety team led by Health and Safety Manager Jim Kennedy and the safety team integrate well with our site management teams."
For the past three consecutive years, Collen Construction has received an A rating from Safe-T-Cert. "It's indicative of the excellent health and safety programme we maintain," says Jim Kennedy, Company Health & Safety Manager. "Safety officers play a proactive role in Collen, they work very closely with our sub contractors and that's paying dividends for us. We have a very low number of incidents on site but incidents are immediately reported and recorded, with measures taken where necessary to prevent reoccurrence. Our reports are a true reflection of what's happening on our sites. If you control the small incidents the big ones won't happen. Safety is all about creating a culture in partnership with our designers and subcontractors. Safety is a core value."
Collen secured an award for innovation in 'Workplace Health and Safety' at the Construction Industry Awards 2014. MD Tommy Drumm is a strong advocate for safety. "The people who are best positioned to police and uphold safety systems are the people working on the sites," says Tommy. "We want everybody to return home safely every day. We need to prove to our teams that if there is a problem and they speak up, they will not be ignored. The rest of it comes down to trying to understand what is best practice. A world class safety culture is about leading indicators: how many near misses did we have? What did we do about it? What are the lessons learned? It is about continual improvement. Safety, quality, environmental awareness and good management systems are the key areas that we focus on. That means we're using our best capabilities and resources to deliver good quality, safe and environmentally friendly projects."
Tommy refers to  projects currently onsite including a substantial new extension to the Kildare Village retail outlet and construction of new Grade A office accommodation at Central Park, Leopardstown comprising 14,000 square metres over eight floors and triple level basement for parking. "This office block is certainly within our comfort zone and we have worked with client Green Property for over 20 years". Tommy is confident the partnership approach adopted by both companies will result in the successful completion of many further complex projects with like-minded clients.
"This approach has worked well on previous recently completed projects including an office fit-out on Haddington Road, a new National Film School for the Institute of Art Design and Technology in Dun Laoghaire and 99 new apartments for the Catholic Housing Association on Lower Gardiner Street. Feedback from the clients and the design teams about these projects has been overwhelming and is testament to the efforts of our team. Three of our Contract Managers Derek McCaffrey, John Sweeney and Liam Flynn walked away with personal awards at the prestigious Chartered Institute of Building Construction Manager of the Year Awards in June 2015 for their involvement on three challenging and significant projects."
The new Film School in Dun Laoghaire is a worthy addition to Collen's portfolio, Tommy says. Completed in 2014, construction of the new three-storey building consists of 1,500m² of specialist film and blue-screen studios, radio studios, lecture rooms and support facilities in a building that connects with existing studios in an adjacent 19th century building. The new building is part of an on-going project to reorganise, refurbish and upgrade some 10,000m2 of existing campus accommodation for IADT. It's an impressive, intricate project which should have been completed two years ago but was delayed due to the builder on the project at the time going into liquidation.
The €7.5 million government funded and film industry sponsored project has been built to provide both education and training facilities in film and television production. It has two professional TV/film studios with fully HD equipment, one of which has green-screen capabilities (there's only one other HD studio in the country, at the TV3 studios in Ballymount); two radio studios, one of which is for making radio programmes with full technical and creative teams, while the other is for individual self-operation. The larger studio is 200m2 with a clear shooting height of 6m and motorised lighting grid. The smaller digital effects/green screen/newspack TV studio is 45m2 with a clear shooting height of 4m. The project also features control rooms, lecture rooms, a broadcast newsroom and offices and ancillary spaces to support television, film and radio production. The building has been designed to also allow two outside broadcast units to operate and link into the production facilities or the studios. Related disciplines like costume and set design, make-up, lighting, special effects, film production, screenwriting and editing will also be catered for. Facilities at the building are also available for hire, whether that's broadcasters, independent production companies, training agencies or other commercial organisations.
The M&E details of the project required an intricacy and preparation not usually associated with similar projects. John Sweeney from Collen Construction Ltd was Senior Contracts Manager on the 12 month build and his leadership was recognised at the recent CIOB Construction Manager of the Year Awards. "Services had to be cast into the concrete pours and had to be 100% accurate. To achieve the accuracy required a lot of coordination between the formwork, engineer and architect and M&E teams. When the formwork panels were been constructed, they were all faced with new plywood to achieve the high standard that was required by the architect."
The main materials used in the construction process were concrete with a lightly sandblasted finish, playing nicely against printed and clear glass surfaces both externally and internally. "The architect wanted a slight shotblasting effect on the walls, so a number of mock up samples were required to achieve the exact concrete finish." 65% GGBS concrete from Ecocem was also specified, which caused challenges of its own as the shutters could not be stripped until two to three days had elapsed. "That particular concrete mix does not achieve the required full structural strength until 56 days after the concrete was poured and all of this had to be coordinated into the programme."
Acoustics were also extremely important on the project, with a specific acoustic specification for each of the individual rooms. Specialists were brought in from the UK to ensure zero tolerance on the TV studio's floor; it's super flat.
The school features a huge amount of glass, with a specially commissioned glass feature welcoming students as they enter the building. According to John Sweeney, the image comes from a 1920s film by an old Russian director called Vertov. "A British artist called Kirsty Brooks developed that image which was digitised onto the glass in Spain. Now it's the main feature of the building. It's my favourite part of the project."
Collen's survival through several recessions has been attributed to a careful consideration about who they take on as clients and reluctance to place short-term profit ahead of the long-term health of the business. These very deliberate actions have ensured not just survival during downturns, but continual steady growth. The strong "family business" culture that exists in Collen is one that Tommy is keen to maintain and nurture as MD going forward. The increased level of activity in the market at present is encouraging and will provide the company with a good foundation for sustainable growth.
This article appeared in Irish Building Magazine Issue 3 2015