Expansion on the cards as Murdock's open a New Dublin Branch
Murdock Builder's Merchants has further expanded its network with the opening of a second branch in Dublin, taking to 11 the total now operated by the company.
Representing an investment of €1.1 million and creating 15 new jobs, the new branch is located on the Lower Ballymount Road, Walkinstown. It will complement Murdock's existing site in Balbriggan, North Dublin, which has been trading for 10 years.  The company, which was established in 1982 already operates nine highly successful branches across Northern Ireland and employs a team of over 270 staff.
Originally established to service the local building and construction sector, Murdock's has adapted extensively over the last 10 years. This has included the extension of its product and service ranges, enabling the business to respond to its changing customer base. Of particular significance has been the growth in demand for DIY and home improvement services, fuelled by the 'improve, don't move' trend which peaked during the recent economic downturn.
Group Sales Manager (RoI), Gary Craven who believes much of Murdock's success to date has been the emphasis placed on staff training, customer insights and product knowledge:
"Our personal approach and ability to build relationships with our customers has helped us differentiate ourselves from the competition, particularly the larger wholesale operators. Our range of products and services also means we are regarded as a 'one stop shop' by the building trade, backed with the one-on-one  advice and expertise which customers appreciate today."
A key factor in the decision to open a second Dublin branch has been to support the building trade's preference to order and collect all materials from a central location.   This, combined with Murdock's 6.45am opening time enables customers to beat the city's rush hour traffic congestion.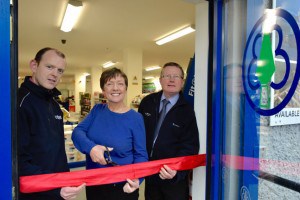 Stephen McDonnell, Sales Manager, who transferred from Balbriggan to oversee the new Ballymount branch added:  "We've been quick to respond to the changing property market and this has also been a key factor which has stimulated growth across the business.  It is encouraging to see that the construction sector is building momentum once again and we look forward to extending our reach across Co Dublin and beyond."