SmartPly OSB3 Smart green roof in Gloucester, UK
The strength and versatility of SmartPly OSB3 has been used to create the curved green roof of Britain's latest motorway landmark. The new M5 service station at Brookthorpe in Gloucester is designed to sit within its Cotswold landscape, with an undulating green roof constructed over a SmartPly OSB3 structural roof deck.
SmartPly OSB is a logical choice for the roof decking at Gloucester service station. It offers a fully FSC certified alternative to many uncertified plywoods and carries the CE mark in accordance with the Construction Products Regulation.
The building, designed by AFL architects, is intended to set a new standard and provide a sustainable model on the motorway network. Set within the Cotswold Area of Outstanding Natural Beauty, it was vital that the building design and material specification reflects this location. Elements have been designed with a low impact on their immediate landscape and the environment, with the aim being to retain the long distance views the site affords. An integrated approach was therefore taken to landscape and building form. The buildings are site specific, intended to appear as if knitted seamlessly into the landscape. Defined by its roof, the organic shape and height combined with the natural surface help to soften the building profile. Installed by Span Roofing, SmartPly OSB3 was the obvious choice over which to construct the green roof.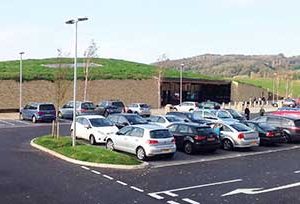 18mm SmartPly OSB3 was fixed directly to the structural metal decking to create the undulating roof, which appears to be curved in two planes. An 'intensive' green roof application, intended to be viewed as both a decorative and ecological feature, has certain demands when it comes to the loading imposed by the substrate and planting. The roof of the Gloucester service station is a typical cold, intensive green roof with hydroseed. The final finish is achieved using a wildflower mix, a mesh of drought tolerant plants that are sustained with natural rainfall, with no need for a dedicated irrigation system.
The strength of SmartPly OSB3 makes it ideal for a variety of structural applications in humid conditions including protected external environments, such as roofing, flooring, hoarding and wall sheathing.
The new service station, owned by Westmorland Ltd and the Gloucestershire Gateway Trust, offers a completely different motorway service experience for visitors. Instead of ubiquitous fast food chains, coffee outlets and gambling machines, motorists who stop for a refreshment break here are presented with an array of locally-sourced products and even a farm shop which is stocked with homemade cakes and pies, traditional regional cheeses and artisan sausage rolls. Construction by Buckingham Group for the £40m project began in early 2013 and the northbound phase opened in May 2014. The project will be complete in 2015 when the southbound service station is constructed. www.smartply.com