John Cronin tells Irish building magazine about aspiring to transfer lean execution skills of project management into an operational setting at Jacobs.
Appointed in 2020 as Vice President and General Manager, Life Sciences Europe at Jacobs John Cronin has responsibility for leading a team of more than 1,300, with a focus on providing world-class Engineering, Procurement, Construction Management, Commissioning and Qualification (EPCMCQ) solutions for Life Sciences clients encompassing Biologics, Cell, and Gene Therapy manufacturing facilities, Active Pharmaceutical Ingredient (API) manufacturing and related industries.
"Moving into this position was a highlight of the last year for me," he reflects. "I hadn't been in an operational position for five years. This role involves winning business and taking responsibility and being accountable for a business, rather than specific projects. It brings out a different set of challenges and skills."
Cronin, who is a Chartered Engineer and Fellow of Engineers Ireland, started his career as an electrical engineer, having graduated from UCD. Since then he has worked in numerous countries in various industries including brewing, food production, oil and gas, semiconductor manufacturing and pharmaceutical. Cronin reflects that the diversity of industries and geographies he has served in have helped him greatly in forming a balanced, diverse view of the challenges he faces on a day-to-day basis. "I guess we are all heavily influenced by our past experiences and I find that learnings from other industries and geographies can sometimes trigger solutions to current challenges. This becomes a particularly powerful resource to draw upon when it is applied across a diverse project team."
Before joining Jacobs, Cronin spent some time working for a large Irish building contractor, and having previously collaborated on a joint venture with a team from Jacobs back in the mid-nineties, he joined Jacobs as a senior project manager in 2011. Most recently, he was Vice President and Executive Project Director, Life Sciences Ireland Operations, where he was responsible for the delivery of a number of logics manufacturing projects involving large-scale production of immuno-oncology medicines.
Commitment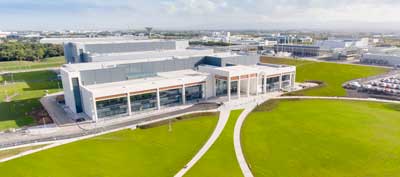 One of these was the Bristol Myers Squibb Multi-Product Cell Culture (MPCC) Biologics Manufacturing Facility in Blanchardstown, Dublin, which won the Industrial category at the Irish Construction Excellence Awards in 2019, the "Best Project – Manufacturing" ENR Award in 2019 and also an ISPE Award, 2020 in the "Project Execution" category.
"The lifecycle of a project like that for a project manager is two to two-and-a-half years. You only have to do a few of those and you suddenly realise you've gone from being young to old," he reflects. "You become completely absorbed by such projects. I'd compare it to what it must be like for an inter-county player preparing for an All-Ireland; projects like that take over your life, you've got to be prepared to be absolutely, completely consumed by it and to be really focused on it for the duration."
Working on facilities to manufacture complex medicines is a hugely motivating factor for the Jacobs project teams. "Our project teams tend to become highly knowledgeable and invested in the nature of the medicinal products that our clients are manufacturing and this tends to enhance the work we do to support the delivery of these projects."
Focusing on the overall project objective helps us to keep a strong focus on getting results fast. "With groundbreaking medicines, it's all about speed of project delivery and that translates into very fast-track schedules."

Changing Landscape
"Looking back over the last decade, I think the main changes I've seen relate to project execution methodologies and the increasingly innovative tools available. The pharmaceutical sector was always, and still remains strong, but there have been advances in how medicines are made with the advent of Cell and Gene therapy technologies for example." Biologics manufacturing has remained strong over the last couple of years whilst Active Pharmaceutical Ingredient (API) manufacturing, which had receded for some years, is seeing a resurgence of late.
"The other factor that is changing a lot is technology and especially digital innovation. The way we deliver projects has changed significantly, and the pace of that change has ramped significantly over the past couple of years, not just the tools we're using, but also the project execution methodologies."
He sees a move from "traditional" (design-bid-build) project delivery to the blurring of scope boundaries involving more partnering arrangements. "Integrated Project Delivery (IPD) models are becoming more common — that can mean different things to different people but really it's about integrated partnering arrangements, avoiding duplicate effort and ensuring that those best able to deliver on different responsibilities are assigned to do it."
"In Jacobs, this has resulted in our teams focusing more on front-end engineering, the key conceptual and basic design that drives the primary processes, and on integrating the roles of others, and assigning more of the detail — perhaps stand-alone turnkey packages or systems, or routing of services, pipe, cable containment — to our contractor partners. This is driving significant change in the industry as years ago most contractors wouldn't have geared up for that but have now developed that capability."
Lean Execution
The other significant advance seen in the last couple of years is the introduction of lean execution practices. "Lean is all about reducing waste in all of its forms from your processes, so that you do each activity once, do it right, and don't replicate it. If you really tune that process optimally, you can deliver projects safer, quicker and cheaper. Most companies are engaged in lean practices now and the average project life cycle is getting shorter, and costs are reducing. We're getting more mindful and innovative about how we deliver projects."
These execution strategies are also requiring innovation in procurement as partners need to be engaged earlier in the overall project life cycle. This is presenting new challenges to both Jacobs and their clients. By using 'traditional' procurement methodologies, even with copying or cloning a previous design, he sees a point where projects will not be able to be delivered faster, but adds, "It's easy for me to say you'll get to a limit where you just can't go any quicker — but I thought that 10 years ago!"
Modular construction has been a complementary aspect to lean project delivery. "Certainly, our latest projects are using high levels of offsite prefabrication. That serves to minimise onsite construction, which has been particularly beneficial during the pandemic. As well as enhancing safety and quality performance, it has allowed us to optimise workforce density on our sites, greatly assisting with maintaining required social distancing."
Looking Forward
In his new role, Cronin is keen to apply some of the lean processes engaged in project execution on a more operational level. "I wanted to engage some of the project-specific lean concepts like tiered escalation structures and other lean tools to the running of a business. It involves driving accountability to people and teams and empowering them to perform and excel, then engaging reporting systems and management support through escalation.
"As we continue to evolve our project and business practices, leveraging technology innovatively is essential — this means, for example, integrating augmented and virtual reality into our advanced BIM systems, and the implementation of artificial intelligence processes."
Collaborative tools have supported design in real time globally. "We use virtual reality tools to visualise walking through facilities we're designing before they're ever built. We have clients and project partners collaborating globally, engaged through cloud-based platforms in design and constructability reviews, as well as remote Factory Acceptance Tests.
"With powerful advanced medicines and innovative personalised medicines becoming more commonly available, the life sciences sector is strong.  We're seeing huge investment going into innovative and powerful new medicines. As well as the construction of new manufacturing facilities, this requires retrofitting and continuing modifications to existing facilities; our business sector is quite strong and is likely to remain so for many years ahead."