Extended Construction Sector Lockdown in Ireland Impacts Domestic Economy and Labour Market
Linesight, a global consultancy firm, today launched its annual Ireland Construction Handbook.  The launch is an extensive construction industry resource with key data, trends, indices and analysis into the Irish market.
This comprehensive view of the industry's current challenges and outlook features expert insights in major sectors including commercial, life sciences, data centres, retail and residential.
"As we mark a full year of the COVID-19 pandemic, the continued lockdown of parts of the construction industry is disappointing and costly. Construction output has been impacted significantly in 2020 and 2021. The construction output forecast for 2021 is €21.6bn, which is a €5bn reduction on the 2019 levels. While activity has been delayed, demand has not been hugely dampened" said Richard Joyce, Linesight's Managing Director Europe.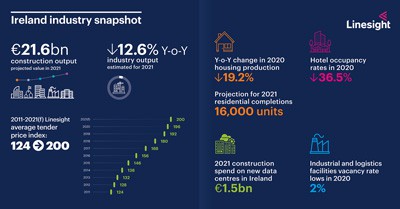 Highlights from the latest edition of the Handbook for Ireland include:
The Central Statistics Office put GDP growth at 3.4% for 2020, in contrast to the contraction previously anticipated, and forecast tender inflation for 2021 is 1.75% to 2.25%. This relatively robust performance is being attributed to the multinational sector, and to the strength of Irish exports, particularly with regards, to pharmaceuticals, as well as computer and business services.
In Q4 2020, Ireland recorded the EU's sharpest quarterly economic contraction, falling 5.1% during the second lockdown. Looking at the year in its totality, Ireland was the only European country in 2020 to record positive economic growth, with an average contraction of 6.8% across the EU.
Following two growth months to round out 2020, the Ulster Bank Purchasing Managers' Index dropped from 52.3 to 21.2 in January 2021, with under 50 denoting contraction. This marked the largest decline in activity since April and May 2020, with the first lockdown having instigated a downturn to 4.5 and 19.9 respectively. February 2021 saw a modest improvement at 27.0.
Linesight projects tender inflation for the full year 2020 now at 3-3.5 percent (including COVID-19 Cost). This is an average only and very much dictated by the project type and sector together with the stage of the project.
The value of construction output was €24.7bn in 2020, which is a reduction of 7.3%, or almost €2bn when compared with 2019. Assuming the industry reopens on the 5th April 2021, it is estimated that full output for the year will be in the region of €21.6bn – a reduction of €3bn on 2020 and €5bn on 2019.
In terms of industry employment, following the stark decline from 148,000 employed in construction in Q1 2020 to 129,000 in Q2, there was somewhat of a recovery to 137,000 in Q3, before a slight dip again in Q4 to 136,400.
Thanks to a late resurgence in Q3 and Q4, there were 20,676 residential completions in 2020. This is a reduction of 411 on 2019 levels and the Central Bank estimates that 34,000 new homes must be built every year for the next decade to meet the demands of the housing crisis.
The investment in the life sciences, pharma and data centre sectors has accelerated as a result of COVID-19 and the increased demand for cloud services. Online purchasing is still powering demand in the warehousing and distribution sector, while institutional residential projects have remained resilient.
Certain sectors have been severely impacted by the pandemic, in particular retail and hospitality. Both industries are now focused on survival and adapting to a new reality.
The impact of COVID-19 on the commercial sector remains to be seen, but at a minimum, clients are re-assessing their space requirements and are reviewing options around futureproofing designs. This will allow the occupiers of its office space to respond quickly to changes in business practice, such as headcount growth and contraction, new ways of working, social distancing and flexible working.