Construction professionals have taken to distance learning over the past decade as they can attain knowledge and develop skills without travelling long distances and affecting their work.
IT Tralee's Tim Segal and Trevor McSharry of IT Sligo talk with Irish building magazine about their courses and what distance learning offers busy professionals with limited time.
Tim Segal was the original course coordinator for the Certificate in BIM at IT Tralee. He is a lecturer in architecture and has been working as BIM Coordinator for the Estates Department at IT Tralee. Tim talks to us about the course and what online learning has facilitated.
IT Tralee
IT Tralee's 'Certificate in Building Information Modelling (BIM) with Revit' is designed to provide practitioners with a skillset and roadmap to support a transition to BIM in their working lives. Participants have free access to Autodesk Revit and other software packages and are given easy-to-follow demonstrations on modelling and collaborative workflows in a BIM environment. They then have the opportunity to undertake the workflows themselves. The course is delivered flexibly, part-time over 15 weeks. It involves weekly online classes plus access to resources and activities to demonstrate learning.
Tim Segal explains the decision to deliver the course online. "BIM is particularly suited to online learning as it is largely geared toward the use of computer technology and collaborative platforms. Also, the programme is intended to upskill a wide range of AEC professionals who often do not have access to the traditional CPD options or structures. These individuals may be geographically isolated or struggling to find the time to participate in traditional third-level courses while balancing work and family life."
Tim describes what is delivered to students with online training, saying, "Learners have remote access to student versions of the relevant software. They get regular online video demonstrations of the methods and techniques needed to complete various tasks." IT Tralee provides lecture notes, video recordings, e-books, online standards and journals through the Blackboard web portal. Students also have regular access to a discussion group and direct communication with a module support tutor. Assignments are uploaded to the web portal and feedback provided online. Students who are based in Tralee can also take advantage of on-campus computer labs and additional library resources, though this is not necessary to participate in the course.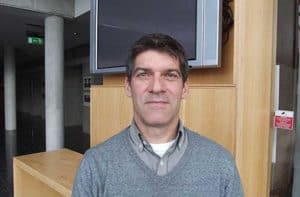 In the past decade, there have been massive improvements in the resources available both to the wider population of online learners and to BIM professionals, in particular, Tim says. "The broad use of internet platforms on computers, phones and tablets, combined with greater overall comfort levels with technology have made the use of online tools to engage with students easier for institutions like IT Tralee."
Students who have completed the course have indicated that it has been extremely effective in terms of getting them over the starting hurdle and into BIM use. "The course has served as a foundation for the participants and their colleagues where a lack of BIM capability had previously been a source of fear or a barrier to employment. It is great to hear stories from people who have completed the course and gone on to use BIM in their daily work environments."
Tim believes there will be an increased online offering in the coming years, especially with the influence of COVID-19. "As institutions have been forced to develop online tools and content for their learners where there previously were none, they will demonstrate instances where more flexible methods and resources can be used with success, even after the restrictions of the crisis are lifted. Some of these successes will no doubt develop into blended or fully online options for future programmes."
With each delivery of any online programme, the content and structure improve and the student cohort benefits from the growth of the wider community. With the limits of geography being removed, Tim believes distance learning has a bright future and the current crisis is an influence. "The current move toward online conferencing and remote working will be a greater capacity on the part of workers to engage with others from a distance, opening up online communities of practice where such an option was previously restricted by geography and lack of critical mass. These communities will support future knowledge sharing in all sectors, including the built environment."
IT Sligo
"IT Sligo is a distance learning pioneer," says Trevor McSharry, Head of the Department Civil Engineering and Construction and a leader in the development of the Institute's online built environment courses.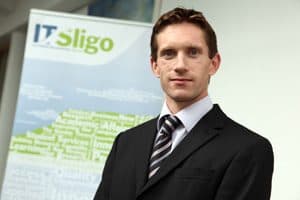 IT Sligo's online learning offering originated in 2002 within the field of Engineering. The success of this course began the development of IT Sligo's reputation for distance learning. Trevor explains the next major advancement.  "IT Sligo were project partners in the KITE Online Laboratories Project from 2009 to 2012 and resulting funding developed online labs for engineering courses where people could access and control computer lab equipment remotely. As technologies developed we used 'Go To My PC' and remote software access was available across courses." Technology improved rapidly.
Trevor says improved broadband speed has been a positive factor for distance learners over the past decade. "It is quicker to upload and download recordings and materials and there are fewer communication issues with live lectures. Technology is more integrated and user friendly. Although we typically use Adobe Connect, Microsoft Teams has been a great platform over the past few months, especially now with COVID."
Trevor describes the impressive range of courses offered in surveying and project management. "In 2006 we had the NQF Level 7 and CIOB accredited online BSc in Construction Management, which has since grown and is the most successful in the Department." When Trevor took up his role as Head of Department in 2011, this was the only online programme in the Department. However, due to the recession and industry bespoke programme opportunities, the Department diversified by creating more courses for part-time learners.
A Level 9 suite of programmes in project management was developed with IT Sligo's 'Master of Science in Project Management', including a master's degree award, a post grad diploma, and individual certificates in Project Management, BIM and Lean Construction Management. The 'BIM Approved Graduate' Cert by BRE is incorporated into the programme also.
Back in 2014, IT Sligo worked with the SCSI to develop the first accredited online Level 8 quantity surveying degree. This was expanded to Level 7 in 2016 and Level 6 in 2017. Then the IT worked in partnership with the SCSI to develop the Level 9 Post Grad Cert in M&E Quantity Surveying. "Now we have a surveying suite from Level 6 to 9 and a project management suite from Level 7 to 9."
Trevor and colleagues have also worked with the Department of Transport to develop a suite of Level 9 programmes in road and transport engineering. With Irish Water, they along with colleagues in the IT's Department of Environmental Science developed a Level 6 suite of water and wastewater treatment plant operations programmes and a Level 9 water services programme, all launched since 2018.
Currently, typical course lectures are delivered after 6 pm and are attended by the majority of learners. If people cannot watch live, they can access the recordings and all the learning material on Moodle.  "All online modules typically have live lectures and students can ask questions. Assignments and feedback are given online. Moodle offers a great experience. Technology has developed so much now, that students can undertake IT Sligo courses without ever visiting the campus through proctoring exams."
Courses target skills gaps identified through industry interaction and are tailored to balance learners' working and family life. "Typically we deliver these programmes over two years. Instead of 60 credits a year on full-time programmes we deliver a programme over two years with 30 credits each year. This workload suits the person's work-life." Learner feedback has been very positive for the online built environment courses.
The future of distance learning will allow learners to gain micro-credentials within existing programmes Trevor says. These may also be recognised by educational providers. Trevor is very positive about the future of his college's offering and opportunities online. "Feedback from industry and our partners has been excellent and we now have the largest suite of high-quality online programmes to allow progression from Level 6 to Level 9 in most disciplines. Colleges can get an international reach through online delivery and as a result of COVID-19, we will see a step-change in online provision nationally and globally."
The content of this site is subject to copyright laws and may not be reproduced in any form without the prior consent of the publishers. The views expressed in articles do not necessarily represent those of the publishers. This article first appeared in Irish building magazine.