Mayo Students Win ESB Networks National Safety Challenge
ESB Networks and Irish building magazine are proud to announce Sancta Maria College students Dylan Frazer, Jack Healy and Cian McCluskey are winners of the 2019 ESB Networks National Safety Challenge Construction Category with their 'Safe Space' concept. The award was presented by Arthur Byrne, Public Safety Manager, ESB Networks.
Focused at secondary school students in construction and agriculture, the ESB Networks National Safety Challenge aims to raise awareness of the importance of working safely and responsibly within the industries. The competition was open to all students at secondary level and for the construction category, particularly targeted towards those studying construction studies or engineering.
ESB Networks is committed to educating and raising awareness among the public about the dangers of coming in close contact with electricity networks and equipment. Through educational programmes, aimed at primary school and secondary school students, ESB Networks aim to educate children and young adults about electricity safety. This initiative targeted secondary schools and young people who may be about to enter construction and enter an industry in which they will encounter safety risks and management plans. The competition aims to bring safety to the fore of their minds.

For the ESB Networks National Safety Challenge competition's construction category, ESB Networks partnered with Irish building magazine. The competition organisers encouraged students to research and develop their own innovative safety ideas and then demonstrate how they would go about implementing this idea. As part of the challenge, students were to embrace the true nature of innovation; to think critically and analytically, to push the boundaries and create ideas and initiatives that could pave the way for a safer working environment for the future of the construction industry.
Representatives from both ESB Networks and Irish building magazine took part in the adjudication process in January. Entries received were judged on their innovation, impact, feasibility and demonstration of students' knowledge of Health & Safety regulations in construction. From the entries that met these criteria, Sancta Maria College were chosen from 69 secondary school entries. The standard of entries was high with many good entries receiving praise for the concept and presentation of information. As overall National Winner the Mayo students win prizes reaching €1,000.
'Safe Space'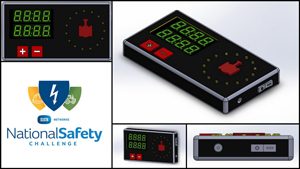 Excavator drivers struggle to see people approaching from the blind-side and other blind spots and Health & Safety training has communicated this to construction workers, telling them not to approach the machine unless they are visible to the driver. With 'Safe Space' Mayo transition year students Cian McCluskey, Jack Healy and Dylan Frazer approached solving a significant problem on construction sites. 'Safe Space' is a console device to further reduce the risk of an accident. This device works by scanning a radius around an excavator. The students undertook industry research by interviewing a senior construction site safety officer, with significant international experience. After interviewing the safety officer and evaluating safety issues that concerned him they developed their concept.
The device works by scanning a radius around the machine for a chip that is placed within the side groove of a worker's hardhat and this chip when detected sends a signal that is picked up by the console. The students decided that the best place to locate the console device was on the window in front of the driver, and went about designing a 3D model. It can be easily retrofitted into machines as it is placed, like a mobile phone, on a stand that is attached to the window with a suction cup, allowing the driver to position it as they wish. The driver can set the range of the device to the maximum boom length plus 5 metres. The device can be adjusted based on the size of machine or task to be undertaken.
Speaking to Irish building magazine the Sancta Maria College students say, "It is such a great feeling knowing that our hard work has paid off. It is a brilliant achievement for us as a group and for our school to have won this competition."
Researching their idea and learning about the industry was beneficial to the students. "We learnt that a construction site can be a very difficult and hazardous place to work, as it is always an ever changing environment. What we realised is that all it takes is a simple mistake to cause an accident. As the construction site is constantly changing this leaves more scope for accidents to occur.
These are all just little things we learnt but we also learnt that there is great pleasure in working on a construction site, as you are witness to the development of a project from its beginning to end."
What is next for the students? The group have not spoken to manufacturers or contractors yet but say they will contact companies in the near future as this is a good concept and could help prevent injuries on sites. "Our plans are to hopefully get a working prototype that we can test with one of the local contractors in Louisburgh and if that works we would like to take it to a bigger company and see if they will put this device in their machines."
At a time when the industry is trying to encourage young people to join the trades and professions, ESB Networks' competition has encouraged entrants to learn more about the work that is undertaken in the industry and acknowledge the need for safety regulations and training in the industry, while influencing their career choice. This project has increased the Mayo students' knowledge of construction, a subject they already have an interest in. "We have an interest in construction but this project has given all of us more of an interest in the construction industry. We have just done the Safe Pass course with our school a few weeks ago so hopefully we will be able to get a job in construction in the future."
Grateful to those that helped them develop their concept, the students wish to thank them. "We would like to thank a few people first; we would like to thank Henry the site clerk for letting the safety officer on the site to talk to us. Secondly, we would like to thank the safety officer himself for giving his time to us to let us interview him. And last but not least we would like to thank our construction teachers Mr. Reaney and Mr. Murphy for helping us with our project."
The students have advice for future entrants saying they benefitted from undertaking field research. "Our advice would be to conduct primary research first. We were very fortunate to have been able to interview the site safety officer on the school building site. The talk about safety on the construction site, what the main dangers are on the site, provided us with a solid foundation for our project. We found this very helpful to us and it helped us to come up with our concept." This winning concept brought industry and academia together.
ESB Networks & Irish building magazine
Commenting on the competition's construction winners, Arthur Byrne, ESB Networks Public Safety Manager says, "I would like to congratulate Cian, Jack and Dylan on winning this year's ESB Networks National Safety Challenge in Construction. Their 'Safe Space' idea uses technology to enable the machine operator to know the whereabouts of another worker who may be in a blind spot. It could make a significant contribution to worker safety, not just in construction but also in other sectors where large machinery operates.
"What was very notable was the effort and interest in consulting with construction workers so that they were then able to target a solution at one of the key construction risks. I congratulate Cian, Jack and Dylan and wish them continued success."
Colin Walsh, Irish building magazine Media Director says, "I was very impressed with the competition-winning 'Safe Space' concept and the standard of the finalists overall. The ESB Networks National Safety Challenge is a great initiative to encourage students to think of construction safety. There is a strong demand for professionals and trades, and this competition provides some insight into the sector. It is a great opportunity for Irish building magazine to help promote safety awareness among young people and interest in the industry. We have seen a strong safety culture develop in our industry, surpassing the standards of many other European countries, and it is an honour to contribute to it in a small way." 
DISCLAIMER: Products and Designs listed were judged and awarded prizes for the purpose of the ESB Networks National Safety Challenge. ESB Networks do not endorse any products or designs listed.
Follow Irish building magazine on Twitter, LinkedIn and Instagram for industry news and views.