CIF welcomes Government's commitment to funding deep retrofit projects
The CIF has welcomed the Government's decision to commit to funding Deep Retrofit projects after the scheme ended. The Deep Retrofit Scheme has the potential to underpin the growth in the construction industry for the next two decades.
The scheme represents a critical step towards Ireland achieving its climate change goals. The CIF hopes now that the positive interest in this grant will be reflected in a significant support package for people interested in deep retrofit in 2020.
Director for Specialist Contracting, CIF, Sean Downey said, "This is a really important decision that will give comfort to dozens of people who had applied for deep retrofit grants towards the end of the scheme.  The Government's agreement to continue to fund any appropriate application made before the official ending of the scheme provides confidence to those contractors involved."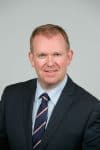 "A number of projects were underway and in planning that were entirely dependent on the grant and were at risk as the scheme officially ended.  Not doing so had the potential to undermine the public's belief in the retrofit programme.  At a time when both the industry and the public require certainty to make the sorts of investment required to make the deep retrofit programme a success, it's very positive that this issue was resolved quickly.
The CIF has engaged extensively with the SEAI and the Government in highlighting its importance to the industry and to the overall credibility of the scheme for the future."