Alan Nevin | Flynn Management & Contractors | Leading Change
With success, comes responsibility, and the team at Flynn Management & Contractors are keen to lead by example with exemplary programme management and health and safety records.
It has been yet another successful year for Flynn Management & Contractors, with several high profile projects closing on time and within budget with a lot to look forward to this year. It is a time, says Commercial Director, Alan Nevin, for confidence and excitement. "I think that the sentiment in the industry right now is very positive, and certainly the approach that we are taking is one of conviction that we are well placed to offer our current and future Clients an excellent service based on mutual trust. The opportunities that are there for contractors, particularly contractors like ourselves, are huge."
Nevin came to Flynn in September of last year with over 26 years of high profile experience under his belt. Having spent a large chunk of his career with another leading Irish contractor, and time in Saudi Arabia working on large projects, he brings a wealth of experience to the thriving company.
"We have strategies in place for our company and especially our staff to continue our growth in a sustainable way over the next five to ten years and to continue to establish ourselves as a top ten contractor in accordance with the Company ethos. It is an exciting time for our entire team."
The collaborative approach that the team at Flynn's take has resulted in a large amount of repeat business, according to the Commercial Director. "Client satisfaction is a cornerstone of the industry, and it is of paramount importance to us, when we are carrying out projects, that our client's expectations are met or exceeded. We seem to be able to do that well and consistently. Client development and client retention are key aspects to our business. Our industry is relatively small in international terms and so maintaining client relationships is key. Repeat business is the lifeblood of our business and our ethos has certainly paid dividends as so far in 2018 where we are seeing significant amounts of repeat business."
The company is currently working on large construction projects at Earlsfort Terrace and Burgh Quay, says Nevin. One of the main concerns of these projects is working in live environments in extremely busy locations. "We played to our strengths throughout these projects, and the results will speak for themselves," says Nevin.
During 2017 it was particularly exciting to be involved in the refurbishment of the much-loved Bewley's Café on Grafton Street. "Bewley's on Grafton Street was an iconic project which we were delighted to be a part of. The Design and Build project, which was delivered in conjunction with a fantastic design team, headed up by Scollard Doyle and McCarthy & Associates, was a great success for the Company. We finished on time, and considering the logistical issues it went extremely well for us." The outstanding elements of the original café have been carefully restored by the Flynn Management team including Harry Clarke windows, the banquettes, the ten open fireplaces and the Egyptian-motifed façades on Grafton Street and Johnson's Court.
Working on high profile projects throughout the country requires a standard of excellence on all jobs, and health and safety is the number one concern at Flynn Management & Contractors, says Edel Corrigan, Health & Safety Manager. "Effective Health & Safety Management is the foremost priority for Flynn Management & Contractors, which is evidenced by our Grade A Safe-T-Cert accreditation for six years running and OHSAS 18001:2007 certification. We constantly go above and beyond regulatory compliances and seek to achieve Best Practices on all our projects. And it's great now to get recognition with a NISO Safety Distinction Award win this year." The Distinction Award recognises the achievements of companies who have demonstrated the existence of a proactive health and safety management system, combined with evidence of strong management leadership of continual improvement, health and safety management reviews and superior performances both on and off site.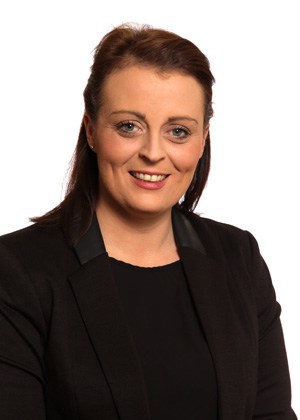 The key for the team, says Corrigan, is to consistently work to ensure that their workers are their number one priority. "There have been a lot of technological advances in the construction industry, but it still remains a somewhat dangerous workplace. For a company like ours that has grown to the size that it has, it has been crucial to ensure that our safety culture grows and improves with the company itself. A lot of it has been about creating a positive safety culture and our workers not seeing safety as a hindrance to them in their workplace, but showing them the importance of being able to go home safely after a day's work."
Mental health and wellbeing is a relatively new concern for the industry, but one that the team at Flynn Management & Contractors take extremely seriously, says the Health & Safety Manager. "It is important for us to show our workers the importance of their own health and wellbeing and the impact that their occupation can have on them outside of the workplace. We have run a number of programmes including training, health screenings and safety incentives over the year.
We try to achieve an all-people approach where we involve people in the decision making process on how things can be done and how control measures can be implemented, but also what is the practicality of that."
As an industry leader in the realm of health and safety, it is up to companies like Flynn Management & Contractors to lead the charge when it comes to ensuring the safety of their workforce, and crucially, to realise that this is a field that is constantly evolving. There will always be challenges, asserts Edel Corrigan, and finding solutions is part of the job. "As an industry there is a movement towards making people more aware of health as well as safety in the workplace. Occupational health and wellbeing are extremely important; it's a stressful environment. We work in an industry that is largely dominated by men and it is not always conducive to communicating well about health issues, particularly mental health issues. We believe it is essential to educate people that there are issues that can have long-term effects on your health, but there are also solutions to these problems. We want to provide an environment that is sustainable in the long-term for our workforce."
Alan Nevin says that health and safety feeds into every aspect of a project with their teams, whether it's a weekly site visit, or a director's meeting, it is the first and last item of business. This, he says, is a key aspect of team development at the company. "It's part of our company culture. In terms of developing our team we try to target people who are clearly technologically proficient but equally important to us is that the individual would fit into our company, suit our ethos and the approach we take towards the industry, health and safety being of course a huge part of that."
Sourcing the right people will be an issue going forward if we don't work to improve the image of the industry in the eyes of our youth, says the commercial director. "I think a key challenge for the industry going forward is going to be resources. We need to concentrate on getting young people interested in the industry from school age. We need to concentrate on selling the industry a little better than we have been and encourage young students to want to become involved in it and be the lifeblood of the industry going forward."
The content of this site is subject to copyright laws and may not be reproduced in any form without the prior consent of the publishers. The views expressed in articles do not necessarily represent those of the publishers. This article first appeared in the 'Leaders in Construction' issue of Irish building magazine June 2018.