€250,000 raised in Dragons at the Docks event
Over 800 participants took part in this year's Dragons at the Docks property industry fund raising event held at Grand Canal Dock, Dublin 2. The dragon boat racing competition saw 70 teams compete in races and, in the process, raise €250,000 for charity.
The overall winner was the team from Cairn Homes, with Collen Construction coming second, and Investec coming third in a competitive final race. Last year the competition was won by the team from construction company Sisk.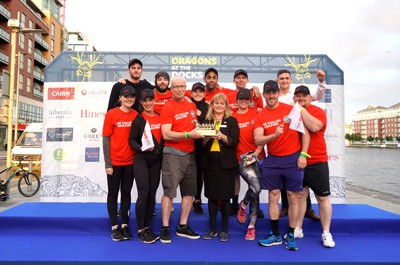 Huge congratulations to the 'Collen Sailfish' Dragon Boat Team on winning three awards. The winning team from Collen construction took first place in the Building Contractor's Challenge, second place in the Dragons at the Dock Challenge (Grand Final) and were presented with a perpetual trophy, hand-sculpted by Derek Doyle, for winning the overall Fastest time of the day with a new event record of 50.6 seconds.
Nine of Ireland's biggest property companies were the cornerstone sponsors of the second year of the event, with Dalata Hotel Group, Glenveagh Property and Hines joining the original six companies who launched the event last year: Cairn Homes, Green Reit, Hammerson, Hibernia REIT, Ires Reit and Kennedy Wilson Europe Real Estate.
75% of the funds raised will go to the Dublin Simon Community, with the balance to be distributed to local charities in the Grand Canal Dock area.
Sam McGuinness CEO of the Dublin Simon Community said: "We are honoured to be the charity partner at the Dragons at the Docks. With the support of everyone involved we are making a life changing impact to the lives of vulnerable people living in unimaginable circumstances. Funds raised at the 2017 event allowed us to acquire two apartments and a 2-bedroom townhouse in Dublin now providing more people who have been through the trauma and abuse of homelessness with a home to call their own.
"This year, utilising funds raised at Dragons at the Docks, Dublin Simon Community plan to acquire five more apartments, for individuals and couples. Working together, we have the ability to deliver many more permanent homes, ensuring that people never have to face the uncertainty and anxiety of homelessness again. On behalf of Dublin Simon Community and most importantly the people who rely on our services, thank you for helping to rebuild lives."

Pat Gunne, CEO of Green Reit, speaking on behalf of the nine cornerstone sponsors of the event, said: "It's great to be part of the second year of the Dragons at the Docks for what is an even bigger and better event than last year. With over 700 people taking part and many more coming down to enjoy the event, it is fantastic that there has been so much support to help us raise money for important causes like the Dublin Simon Community."
Each team comprised 12 competitors (10 rowers, a reserve and a drummer), and racing at Grand Canal Dock was followed by a BBQ and entertainment at HQ Restaurant.
Teams competed in six different challenge groups, the divisions included:
Property Companies Challenge: Hibernia REIT, Kennedy Wilson, Cairn Homes, IRES, Hammerson, Green Reit, Glenveagh, Dalata, Hines, Ballymore, Relm/Bartra
Property Agents Challenge: Bannon, Colliers, Cushman & Wakefield, Hooke & McDonald, JLL, Aramark Properties, BCP, CBRE, Lisney, Knight Frank, BNP Paribas, QRE
Building Contractors Challenge: Collen, Flynn Management & Contractors, Walls, Duggan Systems, Mac-Group, BAM Construction, Sonica Fitout, Sisk, Virtus, Avestus, John Paul, T&I
Financial/Advisors Challenge: AIB, Goodbody, Davy, Ulster Bank, Barclays, Deloitte, HWBC, KPMG, Investec, Wells Fargo, Bank of Ireland
Built Environment Challenge: DBFL Consulting Engineers, Scott Tallon Walker, Henry J Lyons, MCA Architects, O'Mahoney Pike, Cronin Sutton Consulting, Lafferty, Cora Consulting Engineers, Mola, GSA/I3PT, Linesight
Legal Challenge: Leman Solicitors, Evershed Sutherland, Beauchamps, Maples and Calder, Mason Hayes & Curran, A&L Goodbody, William Fry, Arthur Cox, Matheson, ByrneWallace, McCann Fitzgerald
Main Picture above – Pat Gunne, CEO of Green Reit, and his team.