Hegarty Demolition – Industry Focus
The management team at Hegarty Demolition on the current challenges in the market, and how they are navigating the changes in the industry.
An established market leader, Hegarty Demolition's dedication to excellence has solidified its place amongst the industry leaders of Irish construction, and it's no surprise to its directors. "Hegarty Demolition is a Complete Service Provider, the recognised expert in demolition, basement construction, building conservation and civil engineering. Its involvement in prestigious commercial projects such as the redevelopment of Temple Bar, Croke Park, Dublin Docklands, St. James's Gate, Bolands Quay Redevelopment & ESB Headquarters redevelopment has shown it to be the market leader in these areas," explains Noel Gill.
Employing around 150 people, Hegarty is proud to say that it maintained a core works staff through difficult economic times. Hegarty Demolition Ltd was formed in 1990 in response to the massive growth in Urban Development experienced by Sean Hegarty Earthworks, which had been founded 20 years earlier, specialising in earth moving, site development, civil engineering and plant machinery hire, which was led by Sean Hegarty, Liam Hogan, Joe Flannery (since retired) and Jim Duffy. In 2013, Paul Hogan was introduced to the management team and in November 2017 Noel Gill, Eamonn Grogan, Kieran McKeown and John Tierney were announced as new company directors. The move showcases Hegarty Demolition as a future-thinking company, and with a solid team of directors in place, the ability to diversify and cement the company's reputation as an industry leader.
The current shortage of skills is a major issue across the industry, says Noel Gill. "We need a fresh refocus and re-training for existing skilled persons to broaden skillsets and new training apprenticeship schemes specifically designed for the industry and the trades associated with them." Gill suggests that along with upskilling, the current education system needs to be brought in line with the rapid changes occurring within the construction industry.
Paul Hogan believes that cost of living is affecting the Dublin based construction workforce, and says "There is no doubt that the cost of rent is having a negative impact on labour, with many choosing to take lower paid employment outside of Dublin."
Equality of labour is a major talking point of 2018, and attracting women to the construction industry remains a challenge, according to Hogan. "While there has been a slow but noticeable change in the last number of years, a lot more remains to be done. There is still a gender stereotype associated with the construction industry and we need to change the perception. I would like to see the industry marketing the professions and trades within the industry in a better way to second level students in order to attract the best talent, regardless of gender."
Health and Safety remains the most important part of any project that Hegarty Demolition are involved in, says Noel Gill. "HDL aim to improve safety culture from each project, with the wide branch of our works portfolio covering various elements of works we have a number of challenges with regard to health and safety. Our Safety Management team is headed by an experienced qualified professional manager. We are registered in OHSAS 18001 since 2007 with an aim to maintaining zero lost time accidents at work."
The company participated in Construction Safety Week 2017 to great success, says the company director. "Part of Construction Safety Week and as part of the largest Demolition project undertaken within the ESB Redevelopment in conjunction with PJ Hegarty we fully participated in daily events leading from Plant  Awareness briefings, PPE Compliance & Mental Health."
While challenges remain in the industry from both within and abroad, it is important to note that there are steps being taken in the right direction, says director John Tierney. "Financing has been an issue in the past," he explains. "Traditionally, our overreliance on commercial banks has been an issue, but new sources of finance are emerging, and that's a positive step."
Public procurement processes need to be addressed in order for the industry to continue to grow, says Tierney. "The public procurement processes are very difficult. There is too much risk being placed onto the contractor and this needs to be reviewed."
The ten year €116 billion National Development plan is good for the industry and is badly needed, says the director, but there are other areas that Government need to address. "The Government's Ireland 2040 National Planning Framework needs to be more specific and fleshed out, in my opinion."
Now is the time to capitalise on our geographical position, says John Tierney. "When it comes to attracting foreign investment, the IDA is doing a great job. Post Brexit, being the most predominantly English speaking country left in the EU should give us an advantage and we need to exploit the bad decision of Brexit."
Delivering the correct infrastructure on time will be one of the major issues when it comes to delivering on the Government's plan, says Kieran McKeown. "There needs to be greater detail in the plan. Milestones need to be set out and met. There needs to be a positive, progressive attitude by all stakeholders in achieving goals that have been set out by the framework."
Specifically, we need to make Ireland infrastructurally attractive to foreign investment, he continues. "I think that employee accommodation along with an efficient and reliable public transport system are vital to companies relocating to this country. Implementing the national development plan is key in this respect."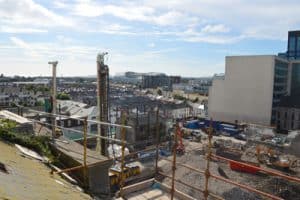 "Labour is a huge challenge", says McKeown. "I think the shortage of skilled labour in the industry is the biggest challenge in delivering the NDP. There needs to be a concentrated effort to attract young people to the industry and incentives in attracting migrant skilled workers back to Ireland," he points out. "The industry is thriving at the moment, particularly in the capital. Increasing the number of skilled people across all disciplines of the workforce can deliver greater production and quality, which in turn will deliver quality to clients."
"Another key challenge is the ongoing crisis with regard to landfill availability and reuse of construction and demolition material" says Eamonn Grogan. It is becoming increasingly more difficult and costly to dispose of soil & stone and construction wastes. The government needs to take the lead in developing a coherent plan to enable the reuse of crushed concrete rather than landfill this potentially valuable product.
2018 is a hugely positive year for Hegarty Demolition. "We are keen to take advantage of the money now being spent on conservation and restoration, which was not available during the recession," continues Grogan. HDL plans to do this by continuing to utilise the highest level of construction technology and innovations, says Paul Hogan. "We use drone technology to monitor and assess upcoming and demolition in progress, where access is difficult," he explains. "We have our own in-house, fully licensed drone pilot and also have a range of remote control demolition robots as well as fully electric and hybrid excavators."
When it comes to counting achievements, there is one accolade that the team at HDL
is most proud of, says Noel Gill. "Our greatest achievement to date is to maintain a healthy and safe works culture among our staff.
We have many staff still on our books that started out with the company in the seventies and eighties which highlights the very professional approach and long term view held by the company."
Pictured above are: Back row l/r: Liam Hogan, Eamonn Grogan, John Tierney, Jim Duffy. Front row l/r: Noel Gill, Kieran McKeown, Paul Hogan.