Sisk Steconfer JV welcomes opening of new Luas Cross City extension
Sisk Steconfer JV (SSJV) has welcomed the commencement of passenger services on the Luas Cross City, the extension of the Green Line through the City Centre to Broombridge.
Construction works for Luas Cross City were carried out by a joint venture between John Sisk & Son (Holdings) Ltd, Ireland's No1 provider of construction services with extensive operations across Ireland, the United Kingdom and mainland Europe, and Steconfer, a global railway construction company based in Portugal.
The Luas Cross City construction project started in June 2013 and has delivered 5.9km of track with 13 new Luas stops taking Luas through the city centre and north to Broombridge. The Luas Cross City line will now become part of the Luas Green Line when passenger services start at 2pm on Saturday 9th December.
Commenting, Pat Lucey, Managing Director of Infrastructure at John Sisk & Son, said: "The LUAS Cross City project has been one of the most challenging we have ever been involved in and its completion on time is a testimony to the quality and commitment of the people who worked on it from Sisk, Steconfer and our supply chain. The co-operation and teamwork with our client, Transport Infrastructure Ireland (TII), and the many stakeholders was essential and is a template for how complex infrastructure projects should be carried out in a busy urban environment.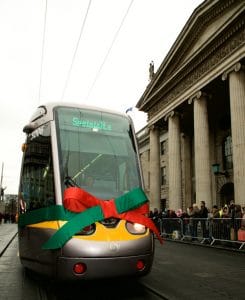 "Since January 2015 nearly 3,400 people have been involved in the project with a peak of almost 600 in March 2017. The mantra of the project was "Keep Dublin Moving" and it took the combined efforts of all parties to deliver on that and still finish on time.The opening of the Luas Cross City extension has come at an ideal time of year and I hope many people will enjoy using it in the lead up to Christmas and into the New Year," Mr Lucey added.
Luis Bairrao, Managing Director, Steconfer said: "Steconfer is delighted to have brought our extensive experience, specialised expertise and highly technical skills related to rail infrastructure to this prestigious multidisciplinary project here in Dublin City. One of our key objectives has always been to provide our clients with the most cost effective and innovative solutions ensuring the delivery of projects on time and within budget.
"The opening of the Luas Cross City extension before we usher in the New Year, consolidates our reputation internationally. We are proud that we have successfully achieved this in collaboration with John Sisk & Son for our client Transport Infrastructure Ireland (TII) and for the benefit of the Irish public into the future," Mr. Bairrao added.
Main Picture above: Pat Lucey, Managing Director of Infrastructure John Sisk & Son, Minister for Transport, Tourism and Sport Shane Ross TD and Michael Nolan CEO of National Infrastructure Ireland at the official launch of Luas Cross City.
Key construction statistics:
Total Single Line Track: 13.4km
Total weight of the tracks: 1,520 tonnes
On street, concrete track bed and shoulders poured: 13,600m3
Total ducting and pipes under the surface: 178,000m
Daily average distance walked by a foreman: 12km
Projected total man hours to complete SSJV works: 3.0 million hours
Number of people who worked on the mains infrastructure project: 3,398 overall, 583 at peak (March 2017)