Ulster Bank Construction PMI – Growth of activity remains marked, but slows to 29 month low
Growth in the Irish construction sector eased again, with slower rises in both activity and new orders recorded. That said, rates of expansion remained marked and firms upped their rate of job creation. The Ulster Bank Construction Purchasing Managers' Index® (PMI®) – a seasonally adjusted index designed to track changes in total construction activity – dipped for the third successive month in August, posting 55.1 from 56.6 in July. Although signalling a further sharp rise in activity, the reading was the lowest since March 2015.
Commenting on the survey, Simon Barry, Chief Economist Republic of Ireland at Ulster Bank, noted that: "The construction sector continued to experience solid, though slightly slower, growth in August according to the latest results of the Ulster Bank Construction PMI survey. The headline PMI did ease for the third month running, in the process reaching its lowest level since March 2015. However, at 55.1, last month's reading remains well above the 50 breakeven level and indicates that firms continue to report widespread expansion. That is notably the case in relation to both the Housing and Commercial sub-sectors, with a further sharp monthly increase in residential activity leaving Housing as the best-performing sector last month. However, civil engineering remains an area of weakness with respondents reporting a third consecutive monthly decline in activity.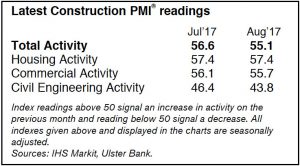 "While the overall story remains one of continuing construction sector expansion, the latest PMI readings suggest that momentum behind the recovery has slipped a little – a trend that bears watching in the months ahead. One important reason not to be overly concerned about near-term prospects is the very healthy pattern of new orders that remains very much in place: the new orders index again showed strong growth in new business levels in August. And these gains in actual and prospective activity continue to underpin rapidly-rising demand for labour within the sector, with the employment index quickening for the second month running in August. The August survey also featured an update of a special question we ran at the same time last year regarding firms' views about the possible impact of Brexit. As was the case last year, most (two-thirds of) firms see no change in activity over the coming year as a result of Brexit, with broadly similar proportions of respondents expecting activity to be boosted or reduced over the next 12 months."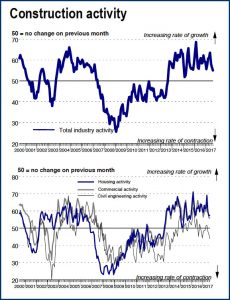 Further sharp rise in housing activity
Housing was the best-performing sector in August, with companies registering a sharp monthly rise in activity that was unchanged from the previous month. Activity on commercial projects continued to rise, albeit at a reduced pace. Meanwhile, civil engineering activity declined for the third month running.
Weaker increase in new business
As was the case with total activity, the rate of expansion in new orders eased in August. The latest increase was still substantial, however, amid reports from panellists of improving activity within the sector. New business has now risen in each of the past 50 months.
Rate of job creation quickens
In contrast to signs of slower growth in activity and new orders, employment increased at a faster pace during August. The rate of job creation was substantial and the fastest since April. Panellists mainly linked rising employment to increasing workloads.
Latest data on business sentiment also signalled positivity, with optimism improving from July. As well as current growth of new work, confidence in the wider Irish economy and construction sector itself were factors leading companies to predict an increase in activity over the next 12 months.
Rises in new orders led to another increase in purchasing activity, although the rate of expansion eased for the fourth month running to the slowest since May 2016.
Input prices rose sharply, largely due to higher raw material costs. That said, the rate of inflation eased to a nine-month low as sterling weakness versus the euro led to reduced prices for items sourced from UK suppliers.
Finally, suppliers' delivery times lengthened at a considerable pace again in August, largely reflecting raw material shortages.
Simon Barry is Chief Economist Republic of Ireland Ulster Bank
[rev_slider BluBeam]