Enterprise Ireland – When Opportunity Knocks
Stephen Hughes, Head of Construction, Enterprise Ireland on the plethora of opportunities for the Irish construction industry that exist on our doorstep.
As Head of Construction at Enterprise Ireland, Stephen Hughes is at the coalface of addressing the issues that concern the Irish construction sector on an international basis. His career trajectory has taken him from Galway to Glasgow and to London as the Director for Northern Europe with Enterprise Ireland where he saw first hand the increasing importance of construction as a part of Enterprise Ireland's portfolio. "Working in London was really interesting, because prior to 2008 construction had been a relatively small part of our portfolio but obviously because of the economic crash and beyond that it started to become increasingly more of a focus," he tells me from his Dublin office, where he has spent the last seven years handling two portfolios; Construction/Clean Tech/Consumer and Public Procurement.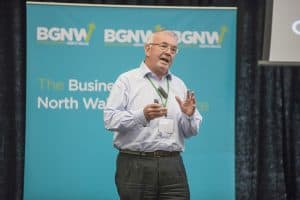 The construction sector in Ireland is unique in terms of our other industries, he says. "The one thing I've learned about this industry is that it is very resilient and it has to be, because it does live in deep cycles. While other industries have shallower ups and downs, there are deep dips and peaks to the construction sector." Hughes points to the huge recent downturn as a case in point, and says that it is something that we have to learn from. "To a large degree we let the cyclical nature of the industry get out of control in the noughties, and the consequences were enormous," he says. "I hope we have enough controls in place at all levels – within the industry, wider business community and within government to be able to recognise earlier what actions we need to take. It's alright recognising what's happening, but if we don't know what actions we need to take in order to counteract what's happening we will find ourselves in a similar place."
Hughes cites himself as cautiously optimistic when it comes to forecasting the future for the construction sector. "From my perspective, the part that's most relevant and interesting is the internationalisation part of these opportunities for us." One of the unforeseen benefits of the economic crash from Enterprise Ireland's perspective was that it did cause companies to have to consider another option. "Up until then nearly all construction companies had the majority of their contracts in the domestic market, and the crash has taken lots of them on an export journey which they might not otherwise have embarked upon." The severity of the downturn is not lost on Hughes, but he says that there were positives to come out of a catastrophic situation. "I know that the consequences of the crash had dire results for lots of people but our hope is that now that some of the companies have started on that journey, they'll continue to grow as they move forward."
The implications of Brexit have yet to be seen on our shores, and Hughes says that preparation and knowledge are key.
"The UK has been, and we believe will continue to be, an important market for the construction sector.  But the vote of the British people in June 2016 to leave the European Union is a game changer.  While the UK will continue to be one of our largest export markets, there is now a strategic imperative to prepare for a hard Brexit scenario.  The specific terms on which the United Kingdom will withdraw from the European Union have yet to be negotiated and these will not become clear for some time.  However, at this critical inflection point our response to this challenge must be to scale in existing markets, and expand our global footprint."
"In January, Enterprise Ireland launched a new strategy, 'Build Scale, Expand Reach' which covers the four-year period from 2017–2020.  The objective of the new Strategy is to transform the innovation and competitive capabilities of Irish enterprise, especially through a strong commitment to LEAN programmes, in order to consolidate existing market share, and expand the global reach of ambitious Irish companies into diversified export markets."
The digitisation of the sector is an inevitable next step, says Hughes, and achieving an industry standard of BIM Level Two would allow us to continue to compete on the world stage. "CitA and Enterprise Ireland carried out a survey in 2015 and 2016 around digital and BIM and one of the questions we asked was whether people thought we should follow the UK in terms of mandating BIM at a government level. We've seen a strong shift to a higher percentage in favour of going ahead with a mandate. Whichever way you go there will always be issues that need to be considered, but that shouldn't stop us going on that journey because if we don't embrace it we will fall behind in all aspects of our capabilities, whether it's building our own buildings here or supplying products and services to buildings internationally. This beholds us to embrace that idea and take it forward."
While there are undoubtedly challenges in adopting BIM across the industry, Stephen Hughes believes that none of them are insurmountable. "One of the advantages we have over many markets is that we are small," he states. "We can embrace something and embed it a lot quicker than if we were in the UK and France which are very big, complex markets. We have great BIM capabilities here. We have wonderful educational institutions that are teaching BIM as part of courses and we have had companies who have taken a leading position around using BIM in the fit outs of their latest projects."
[rev_slider BluBeam]
The future is bright for the Irish construction industry, says Stephen Hughes. "While we are entering unchartered territory with Brexit, there is every reason to be confident in our ability to meet new challenges based on the capability of Irish businesses to grow world class enterprises targeting global markets, leveraging from Enterprise Ireland's renewed support platform. We have the right supports in place to help high growth construction businesses scale to become large enterprises and employers of the future."
When it comes to BIM, the collaborative effort of industry leaders across the sector can only be a good thing. "There is a lot of consultation going on and that is brilliant, because the only way this is going to work is through consultation, partnership and inclusiveness. Listening to the concerns of all parts of the community will result in BIM being delivered in a way that everyone is happy with. There is lots of global evidence of how it's worked in different markets, so we can learn from those and take the best of this and embrace it for our own solution here in Ireland."