Irish Construction Leaders spreading their wings
Irish construction companies are entering foreign markets, competing and winning large contracts for high-tech projects, and building projects which are on par with anywhere in the world, that's according to the Irish building magazine's 2016 'Leaders in Construction' interview series as featured in the magazine's latest issue.
Irish building magazine and Linesight joined forces again in 2017 to produce the special 'Leaders in Construction' interview series. Now firmly established as the voice of the Irish Construction Industry, this year's interview series with construction leaders identified a number of positive developments in the sector including the expansion of Irish contractors into foreign markets.
Commenting on the interview series, Colin Walsh, Marketing Director, Irish building magazine said: "After undertaking a series of interviews with a cross-section of Ireland's Top 50 Main Contractors and Specialist Services Subcontractors it is evident that contractors are growing fast, and experiencing increases in turnover, up to and over 200% for 2016 in some cases based on 2015 figures. John Sisk & Son continue to maintain pole position as the largest main contractor in Ireland with a global turnover of almost €1.1bn with nearly €700m of this coming from Ireland. BAM were second with a global turnover of €400m with €385m of this coming from Ireland. Jones Engineering are the leading specialist services subcontractor with a turnover of €385m, with €205m of this coming from work in Ireland."
Irish contractors are working around the world and undertaking high-tech projects, such as data centres and pharmaceutical plants. Irish contractors are winning work due to their capabilities to deliver high-tech projects using digital construction tools and industry innovations such as Building Information Modelling and Lean Construction.
Examples of Irish successes abroad include Collen Construction, working in Germany since 2013 have recently opened its first European office in Frankfurt. Roadbridge have completed projects in the UK, UAE, Qatar, Oman, Poland, and New Caledonia since 2009. Ardmac is operating across the UK and Benelux Region and also have partnerships in the USA and Asia. Ardmac have recently commenced their first pharma project in Switzerland. Mercury Engineering are undertaking data centre projects in mainland Europe and Scandinavia and have a growing international portfolio. Doran Engineering have built data centres in the Netherlands and have finished a biomass power station in Sheffield. Kirby Group are operating in the UK and Northern European markets offering high-value construction and engineering services. Group Managing Director Jimmy Kirby said they are also looking at specific opportunities outside of Europe.
Designer Group has started its first US energy project in North Carolina and has an impressive portfolio of work in the UK. STS Group CEO Eddie Walsh spoke of the work STS Group are undertaking in Belgium, Switzerland, Germany, England, France and Italy, working on data centres and pharma projects. His company was an early adopter of Building Information Modelling and Lean Construction practices, and recently acquired a Belgian company for to help them expand in the Benelux market. The Leo Lynch Group have invested in their Facilities Management business in Dubai and Abu Dhabi, and CEO Sean Smith said the signs are promising after setting up in the region.
Leaders also highlighted the need for investment in Ireland's infrastructure. This is critical to encourage Foreign Direct Investment. The investment of FDI clients in Ireland was critical to Irish contractors getting the experience of building high-tech facilities and then using their skills to win work in foreign markets. John Sisk & Son CEO Stephen Bowcott said "We know of a number of companies that considered Ireland as a base but opted for elsewhere in the end. The influencing factors included the length of time it takes to get from the airport to the city, the lack of executive housing for their management, the lack of international schools for their children as well as the high levels of taxation for their employees."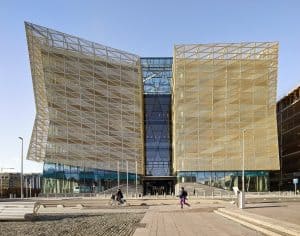 Construction is incredibly technological with modern construction technology and construction IT and construction people get to see behind the curtain and the great level of technical skill and organisation required in building, and this is satisfying work. This was a point made by Walls Construction Managing Director Eugene O'Shea when he talked of the company's work on the recently completed Central Bank project on North Wall Quay. "When you know how buildings are put together and how they function, it's exhilarating," he said. Walking around the Central Bank and looking at what the public don't see – the technology that goes into a building like that and how you can have 500 people in a reasonably small space every day and everybody knowing what to do; to bring those complex projects to life is very fulfilling."
"Irish contractors are increasing their investments in modern industry innovations such as Building Information Modelling & Digital Construction, Lean Construction and Prefabrication. BAM Ireland are leaders in the BIM area and are winning many awards. From the interviews, it is obvious that contractors are concerned about the construction skills shortage and think more needs to be done; with many sighting the lack of graduates and tradespeople as a critical problem saying work must be done to promote the trades as a career choice," added Colin Walsh.
Contractors are currently hiring, Designer Group plans to hire 100 extra staff in Ireland in the coming year and many of those interviewed are looking to increase staff numbers further after steady increases in the past two years.
The full listing of the Top 50 Main Contractors and Specialist Services Subcontractors can be found in the current issue of Irish building magazine.