Waterford Institute of Technology engineering graduates achieve 96% employment success rate
Just days after finishing their exams final year students on some engineering courses at Waterford Institute of Technology (WIT) were deciding which of a number of job offers in front of them to refuse. Up to 70% had secured early offers.
As the engineering sector is experiencing a significant shortage of skilled staff, Dr Ken Thomas, Head of the School of Engineering at WIT explains that it is vital graduates are fully prepared for availing of opportunities. A part of this is the Building & Engineer Your Career initiative which won the Employability Award at this year's Grad Ireland awards.
"The Building & Engineer Your Career module on School of Engineering courses was designed to help students find work. The benefits to our students in a sector that has well-paid opportunities nationally and internationally is that they know their worth and start their careers on a strong footing," says Dr Thomas.
[rev_slider BluBeam]
He adds that alumni links was a key to the success of the module; past graduates accounted for 50% of the 26 employers who contributed their time and expertise to the module. 
Colm Tynan, Programme Leader, BEng (Hons) in Sustainable Energy Engineering gives an example of the demand that is there for engineering graduates. "For the last 4 years we have had 100% employment from this programme. The industry is really booming at the moment but  I don't think parents realise how buoyant this sector is," he says.
The School of Engineering has also been very pro-active in helping engineering students settle in with its BYTE initiative which helps students get to know each other through team-building, and ladies coffee mornings to help boost female take up in engineering.
Angela Collins, Head of Careers at WIT, explains how the Building & Engineer Your Career module made WIT students stand out from the competition, "By developing their self-awareness and confidence the students achieved several notable commendations which elevated their CV and personal pitches above that of other students which resulted in a 96% employment rate among this student group last year," she explained.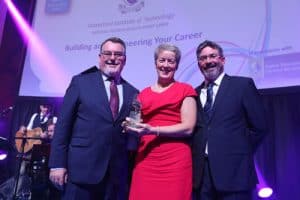 The WIT Careers Centre works closely with students, recent graduates and employers and the module showed students the benefit of engaging with the Careers Centre.
"At WIT we put a focus on making graduates employable and we strongly believe to be employable is secure. We aim to give students the necessary skills to enable them to begin the process of taking control of their career development."
In the past year more than 1,000 employers advertised opportunities on the Careers section of the WIT website. As well as receiving class presentations, almost 6,000 students received career guidance through email and more than 2,000 submitted CVs for review. Close to 700 availed of one-to-one career guidance appointments, quick query sessions or mock interviews.