LCI Members discuss the Growth of Lean Construction in Ireland
Lean Construction Ireland (LCI) has organised events, webinars, and launched a new website in the past year. There is a growing interest in Lean Construction in Ireland. Irish building magazine spoke to Richard Fitzpatrick of the National Paediatric Hospital Development Board to get a client's perspective and Gary Widger of Mercury Engineering to hear from the supply side about the progress of Lean in Ireland. Darrin Taylor, Co-Director Lean Enterprise Excellence Group at Waterford Institute of Technology, spoke to us about what is happening throughout 2017.
LCI is an independent and voluntary not-for-profit association whose members passionately believe that Lean Thinking and Practices can enable and sustain enhanced effectiveness, efficiency, productivity, and profitability for the Irish Construction Sector, Clients, and Supply Chain. The Leadership Group comprises approximately 30 individuals from across the AEC sector supply chain, client-owners, and academia.
Irish building magazine spoke to Richard Fitzpatrick and Gary Widger and questioned them about the growth of Lean Construction in Ireland, what it offers stakeholders and what can be done to further implement Lean.
Richard Fitzpatrick, National Paediatric Hospital Development Board:
Richard Fitzpatrick is Director for Programme Management and Project Controls for the National Paediatric Hospital Development Board (NPHDB), and a member of the Executive with responsibility for delivering the New Children's Hospital – the largest single capital investment in any healthcare project in Ireland. Richard is Chair of the LCI Leadership Group.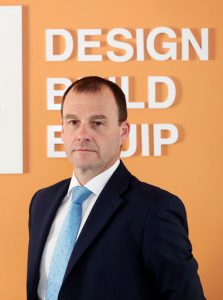 We asked Richard what has stimulated the growth in the interest in Lean Construction in Ireland and if he is happy with the progress made. "The capital investment programmes being planned by both the public and private sectors over the next 5 years require the construction sector to look at a different delivery model in order to ensure these programmes are delivered on time, within budget, and to the highest safety and quality standards. Lean Construction is an approach that will enable the construction sector successfully respond to the challenges presented by these capital programmes and ensure best value is delivered to all stakeholders. Lean Construction Ireland has seen significant progress made, with the sector starting to show a greater desire to understand Lean and its implementation which has been demonstrated in part by the increasing number of attendees at the various Lean Construction Ireland events. Further works need to be done to ensure all stakeholders fully understand the benefits and value of Lean, which is a key objective for Lean Construction Ireland in 2017/2018."
Lean can offer the Irish Construction Industry and its Clients great benefits. Richard described this, saying "Lean offers all stakeholders involved in the delivery of capital projects the opportunity to work in a collaborative, positive, and engaging manner, and ensure the required outcomes are achieved where all stakeholders will share in the benefits. Organisations that implement Lean on their capital programmes have a distinct competitive advantage over those that do not, both in terms of securing key supply chain resources and also in terms of increased shareholder value."
Clients are becoming more knowledgeable about Lean and some are asking for Lean in Ireland. However, there is more work to be done to promote Lean. "In some sectors, clients have been asking for and promoting the need for Lean, and in some case making Lean a requirement, on their capital programmes. It is recognised however that there is a need across the construction industry to increase clients' knowledge and understanding of Lean and thus Lean Construction Ireland will be progressing and promoting the Lean message to clients in 2017."
We asked what is needed to further implement Lean in Ireland. Richard said, "The demand from both the clients and the supply chain to deliver capital programmes differently and challenge the status quo of current project thinking and delivery methods. Recognising Lean is the means by which this can be achieved, combined with clients' and the supply chain's understanding of the benefits and value of Lean, will facilitate its adoption as part of the project delivery process." He also spoke of the challenges to Lean adoption in Ireland. "The key challenge is recognising the need for Lean, understanding what this should look like on a project, and understanding how Lean needs to be implemented to ensure the benefits and value are shared with all project stakeholders. Lean Construction Ireland is engaging with the Irish AEC sector to address these issues and ensure Lean thinking and practices are a key fundamental for the delivery of capital projects."
Gary Widger, Mercury Engineering:
Gary Widger, Head of Innovation & Change has a proven track record in the design and delivery of innovative business transformations that add value across large companies in Europe, Asia and US. He holds a first class Mechanical Engineering Degree, MBA, and Diploma in Strategy, Innovation & Change from Smurfit Business School. He is a member of the LCI Leadership Group representing Mercury Engineering, Ireland's largest M&E Engineering services provider.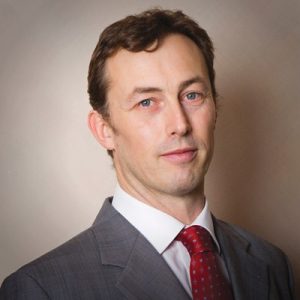 Knowledge in Lean is growing in Ireland and this is evident when speaking to the professional organisations and industry experts. Gary said, "The level of knowledge on Lean is growing across the industry every day.  It is now common for people to understand core concepts such as the 7 Wastes, Value, DMAIC, Last Planner and 5S.  The LCI would like our level to go deeper and wider, but overall we are heading in the right direction."
Gary told us what he thinks has stimulated the growth in the interest in Lean Construction in Ireland. "Construction clients from the pharmaceutical, life science and hi-tech manufacturing sectors are playing a key role. As Lean has already been adopted and delivered gains they view it as a prerequisite that their supply chain partners are equally adept."
There are many older Lean Construction communities around the world who can influence our Lean philosophy and practices. Gary said, "A good way to get an insight into how Lean has been adopted globally is to follow the pattern of LCI communities in different regions. The US led the way almost 20 years ago, followed by the UK in 2006. Since 2010 the Nordics, Germany, Australia and Ireland have all initiated their LCI communities."
Lean can offer the Irish Construction Industry and its Clients a structured approach to reduce waste and improve value delivered. "Lean offers a universal language for continuous improvement", Gary said. We asked if clients are asking for Lean in Ireland. "Some clients are demanding Lean through the Integrated Project Delivery (IPD) contracts that are structured to share gains from collaboration between partners."
Gary said "A belief that projects can be delivered in a better way" is what is needed to implement Lean in Ireland". He spoke of the challenges and what is needed to overcome them: "We need the free and continuous education of our workforce similar to what was delivered for Safety and Quality."
LCI's Work
The new LCI website, which was launched in February, provides a portal to various information, materials, and links of relevance and interest to members of the LCI Community. There is a calendar of events and activities, a repository of information and other materials from past events. There is also a knowledge section with presentations, case studies, publications, and links for people interested in Lean.
In the past year, LCI has held a number of successful webinars delivered by experts on Lean topics. There have been 7 Webinars delivered to an audience of construction professionals on such topics as "Lean Transformations", "Waste Walks", "Direct Observations", "the Cost of Quality", and "BIM & Lean". Recordings of these are freely available via the LCI website, and you can read about Direct Observations in our interview with DPS Engineering's Richard Casey in this issue.
There have been two regional/local breakfast sessions, facilitated by a sponsoring/host organisation, examining particular topics held (one in Cork and one in Waterford), with more planned for the same locations in March/April 2017, and elsewhere later in 2017.
What the LCI has planned for 2017
Speaking to Irish building magazine, Darrin Taylor spoke of what is planned for 2017. "LCI continues to progress on delivering its vision and objectives and will continue to organise and host various events and activities across the island of Ireland on Lean Construction themes and topics. It will continue to develop and improve the information on Lean understanding and implementation on its website and via social media. It will continue to advance its overall engagement with, and broaden participation from, the Irish AEC sector and Lean Construction community. It will continue to develop relationships with key stakeholders, and advance synergistic opportunities in, for example, Lean and BIM. It will support the development of educational and training courses in Lean Construction, including the capture of good practices, research and case studies in Lean Construction in Ireland."
Message to Readers
LCI invites all individuals and organisations in the Irish AEC sector interested in learning more about Lean Construction to visit the website and to come along to the various free events and activities, details of which can be found on the website.
Lean Construction is taking hold in Ireland; Lean and BIM are different but complementary and mutually reinforcing approaches to excellence in design and build; public and private Clients are increasingly demanding Lean Construction on their capital projects; and Lean can provide not only added value for companies in the AEC supply chain, but also significant competitive advantage in this changing and more demanding landscape.
Lean Construction can enable all in the capital project value chain to benefit.
For more information:
www.leanconstructionireland.ie
Irish building magazine will have news on Lean Construction in Ireland and interviews with practitioners throughout issues of the magazine in 2017. Our goal is to provide readers with the best information on Lean Construction from Ireland and abroad.
The contents of this site are subject to copyright laws and may not be reproduced in any form without the prior consent of the publishers. The views expressed in articles do not necessarily represent those of the publishers.