Initial Phase of €160m Cherrywood Infrastructure Plan to create 180 new construction jobs
Hines Ireland has officially broken ground on the first key phase of construction at Cherrywood in South County Dublin.
Today's landmark event will pave the way for a brand new Town Centre and 4,000 new homes within the Hines landholding over the coming years. Work is now underway on the first phase of the €160m project by the landowners and Dún Laoghaire Rathdown County Council which will initially see the development of a major road, cycleway and pedestrian pathway network as well as three very large parks over the next fifteen months.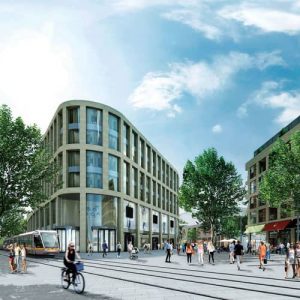 The first phase of development will create 180 new construction jobs in order to build three parks and 5.4 kilometres of roadways, pedestrian footpaths, cycle paths and greenways. It will also see the early planting of over 3,000 mature trees including oak and cherry varieties which will make for a well-established landscape prior to the arrival of Cherrywood residents. Planning permission was granted via the fast track Strategic Development Zone (SDZ) by Dún Laoghaire-Rathdown County Council. Hines has partnered with Jons Civil Engineering – John Cradock JV Ltd to roll out the first phase of development which will be completed by Spring 2018. It will bring the total number of people currently working on the Cherrywood project to over 280.
The new park facilities will comprise 82 acres at three separate locations in Cherrywood. Tully Park (22 acres) will be immediately adjacent to the planned town centre and will be equivalent in size to St Stephen's Green; Beckett Park (13 acres) will be located at the northwestern end of the SDZ and will be similar in size to Dublin's Merrion Square. Ticknick Park (47 acres) will be the largest park facility by far and will include five multi-use grass playing pitches, a pavilion building, greenway cycle and pedestrian routes as well as connecting paths acting as a gateway to the Dublin Mountain Way hiking routes. All three parks will be interconnected by a network of dedicated pedestrian and cycle routes running through the new town.
Commenting at today's breaking-ground ceremony in Cherrywood, Brian Moran, Senior Managing Director of Hines Ireland said: "We are delighted that construction is now under way for this phase of development for the new town of Cherrywood. Since acquiring the site in 2014, Hines' vision has been to deliver a high quality, amenity-led environment at Cherrywood through the development of large parks and an excellent transport infrastructure. The upfront delivery of the roads, cycle and pedestrian network and three wonderful parks is a pivotal moment for the Cherrywood project. These will be the green lungs for this modern new town and this not only strikes the right environmental note for Cherrywood to come but it also underpins our commitment to expedite the delivery of the 4,000 modern new homes within the Hines land holding. We are acutely aware of the enormous public demand for new housing stock and the submission of planning for the new €875 million Cherrywood Town Centre in the coming months will include 1300 new smart design apartments as part of this  highly ambitious plan."
The Guest of Honour at today's ground-breaking, the Minister for Housing, Planning and Local Government Simon Coveney, TD said Cherrywood would in time prove enormously important in addressing the very real need to construct quality housing initiatives of scale in the greater Dublin area: "Cherrywood is a flagship project which promises to make a major contribution to the government's aim of achieving a dramatic increase in the delivery of much need housing in the greater Dublin area. The project has been prioritised by my Department as a Major Urban Housing Development Site and we are working in close partnership with Dun Laoghaire Rathdown County Council to expedite its early delivery. Notwithstanding the major push for new quality housing supply, I am heartened also to see key environmental and amenity facilities coming to the fore with the up-front delivery of three major parks, roads, cycle and greenways at Cherrywood. Hines has a strong global reputation for developing and delivering urban mixed use projects of this type and I wish them every success with this ambitious venture."

Also welcoming today's developments, the Minister for Jobs, Enterprise and Innovation and TD for Dún Laoghaire, Mary Mitchell O'Connor, said Cherrywood promises to be a strong source of employment growth in the years to come:"Hines' plans for Cherrywood are especially welcome at a time when Dublin is suffering from a housing shortage. As TD for Dun Laoghaire I appreciate that this development will not only provide much needed housing and commercial property solutions– but will also deliver many good quality jobs for the area."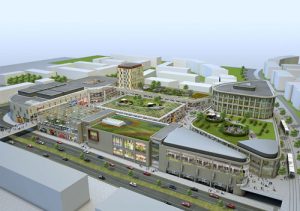 Once completed the Cherrywood Parks will be key recreational and environmental amenities along with the new network of roads, footpaths and cycle ways and serving an expected population of 30,000 residents who will eventually live in the 8,000 homes to be constructed across the entire Cherrywood SDZ.
A detailed planning application is to be submitted in the coming months for the new €875 million Cherrywood Town Centre comprising an iconic covered retail town centre including shops, restaurants, a multi-screen cinema and bowling alley, as well as 1,300 apartments immediately adjacent to the Cherrywood Luas. This will result in the creation of an expected 3000 jobs during its construction and development phase.
The 400-acre Cherrywood site was acquired in November 2014 with SDZ approval for the construction of a new retail-led mixed-use town centre and zoning capacity to upgrade the second largest office park in Dublin.