'Leaders in Construction' David Phelan, Business Development Director, Suir Engineering
A Suir Mark of Success
Adapting with the changing market has enabled Suir Engineering to establish itself as an industry leader.
Suir Engineering has over 30 years of mechanical, electrical and instrumentation expertise with many blue-chip clients in sectors including commercial, health and social care, manufacturing and industrial, science and technology and utilities. It has undertaken various projects at data centres, power stations, and pharmaceutical and food and beverage facilities and within the renewable energy industry. David Phelan, Business Development Director of Suir Engineering chats with Irish building magazine about changes in the business and how in order to succeed, it is essential to keep moving forward.
In mid 2015, the company was hit with a period of uncertainty, when its parent company Imtech NV, based in the Netherlands, went out of business. This period ultimately became a large opportunity for the company to change direction. Within days, senior management had orchestrated a management buyout and the company reverted back to its original name of Suir Engineering.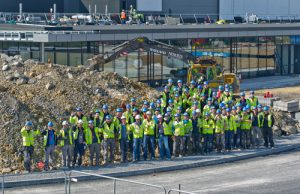 This bold move paid off, and the company has grown from strength to strength under its new leadership. David Phelan agrees. "In recent months, we have been successful in securing multimillion euro projects across all of our key sectors. Some of the companies we work with include Danone, Pfizer, Johnson & Johnson, Bausch + Lomb, Scottish Energy (SEE) and Ipsen Pharmaceuticals. We are the first Irish M&E contracting company to be contracted by West Pharmaceuticals to work on their state of the art packaging facility currently being constructed in Waterford."
Phelan points to bedrock clients like Intel as landmark case studies for Suir Engineering. "Intel have been a client of ours for over eight years. We've worked with them on projects that cost hundreds of thousands of Euros and also on multi-million euro projects. We worked with them de-installing tools that they no longer require, and installing new tools, manufactured on the other side of the world, using the latest technology. I say tools, but these machines can require the most sophisticated moving and lifting mechanisms to put them in place" Phelan says that engaging clients like Intel encourage Suir to ensure that they are constantly pushing the boundaries of the industry and utilising the latest technologies and methods in order to service their clients in the most efficient manner, and deliver projects on time without error.
Technologies like BIM have contributed greatly to the industry, and Suir sees it as an essential part of their job to ensure that they are engaged with every new technological advance that comes on the market. "Our job is to employ the most advanced technology and systems to make sure that we understand the project completely," he says. "BIM allows us to better understand the client's end requirements. It assists us to competitively price the job and ensure that we have the skills to produce it to a standard of excellence that we are committed to. We have a team of BIM technicians checking the job before it gets to site, ensuring that our construction professionals won't come across any unnecessary roadblocks like, for example, services clashes for the duration of the project. "
BIM has made the process of carrying out a project much easier, especially when dealing with multiple contractors, says Phelan. "BIM has united all of the people associated with a project and brings them together at a very early stage. It makes the process far quicker and more collaborative. " The ultimate payoff with a tool like BIM, rests with the client, according to Phelan. "The cost savings are undeniable. From a client's point of view, when he gets his 3D model at the beginning of the process, he knows exactly what he is going to get. He sees every twist and turn and nut and bolt in that building. He can lift ceilings and look inside walls. The savings are priceless."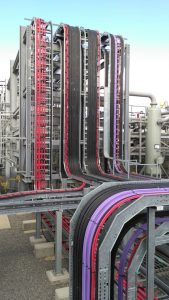 Suir Engineering are so enthusiastic about Lean principles that they have applied the principles to the inner workings of the company. "Lean is knitted very closely with BIM and offsite fabrication," says Phelan. "We have a Lean team that is devised of various individuals from across our whole organisation. We believe that the purchasing department and the accounts department is as essential to the end result as any of our construction professionals. We see Lean as a full-circle operation, and we need everyone to be on board." He cites his 65 plus office-based staff working in offices in Dublin and Waterford as essential to the success of the projects that Suir work on. "At the end of the day, it's our guys on site that do the physical job and make our money, and in order to succeed, they need to be serviced and supported. From our office staff to our management team, we are there to make sure that they have every single tool and training and service available to them in order to ensure that they provide the very best service to our clients."
[rev_slider BluBeam]
Clients, and their importance can be seen at the core of Suir Engineering's corporate culture. "Transparency and honesty is essential to the way we work", states David Phelan. "We are very upfront with our approach to a project. If we become aware of an issue, we identify it, and bring it to the client at an early stage, crucially with a solution. In the business that we operate in, there will always be issues and we believe that it is the way that you deal with them, we believe that our customers will appreciate it in the long run. "
Green shoots within the company are evident across the board. Employing over 500 staff, Phelan says that Suir Engineering is committed to fostering talent within the industry. "We believe that we are the biggest direct employer of building trades-people in Ireland," he expands. "From an early stage, we have offered a very competitive advancement scheme to our employees. At any one time we have up to 60 people at various levels of apprenticeship training. They go through their education programme and we provide them with onsite training to give them the opportunity to experience the industry from the outset" In-company training is not limited to apprenticeships. "We have very successful post-graduate and graduate programmes here at Suir Engineering," qualifies Phelan. "University students doing a degree in Quantity Surveying, Health & Safety and Engineering come to us for experience during the summer months, or during the college year if their courses require it. We give them the experience to see the industry from the inside out, and if it has been a mutually enjoyable experience, we are happy to try to engage them in a full-time capacity once they graduate."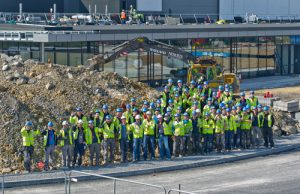 Today, all sectors that Suir Engineering works across are performing well. Like many of his colleagues, Phelan cautions steady progress in the apparent upturn. The skills shortage is a huge issue in Ireland, he says. "It's crucial that future growth for the construction sector is managed. It's essential that stakeholders work more closely together, so that as contractors and service providers, we are properly resourced to meet the needs of future construction requirements". Ireland needs to remain an attractive development opportunity for foreign direct investment, he suggests. "We need to remain competitive so that we are still attractive to foreign companies considering locating in Ireland. As it stands at the moment we would be concerned that there will be a shortage of resources towards the end of this year and into 2017. We most progressively look at and implement incentives the will encourage people back to Ireland."
David cites below-cost tendering as an extremely dangerous issue as we move into busier times within the industry. "Both clients and contractors have an obligation and a responsibility not to fall into this trap," Phelan says. "The cheapest price is not always the correct solution. Profit should not be a bad word. It is only fair that you get fairly paid for a decent job."
As Suir Engineering enters a period of growth and expansion, they look forward to continuing to work in Ireland and to look abroad. "Our hope is to grow the business by 10% every year," says David Phelan. "We plan to develop our mechanical offering in a steady fashion, in order to make it comparable with our better-known electrical division, and we will continue to explore suitable international opportunities with specific clients and sectors." Over thirty years Suir Engineering has adapted with changing economies and market places, showcasing an endurance and determination that places it at the forefront of the Irish Engineering sector, and as a determined leader of construction.
This article first appeared as part of the Irish building magazine 'Leaders in Construction' interview series 2016. Click here to read the entire issue
The content of this site is subject to copyright laws and may not be reproduced in any form without the prior consent of the publishers. The views expressed in articles do not necessarily represent those of the publishers.