'Leaders in Construction' Padraic Rhatigan, Managing Director of JJ Rhatigan & Company
A commitment to excellence is a key 
to the success of 
JJ Rhatigan
&
Company.
The upsurge in the economy has sparked a rise in construction projects across the country. Construction output increased by ca.14% in 2015, and accordingly, JJ Rhatigan & Company (JJR) has posted strong growth figures in line with this trend. With over 60 years' experience that spans across all sectors, JJ Rhatigan and Company has been performing positively in all of its regions throughout Ireland and the greater London area, confirms Padraic Rhatigan, Managing Director of JJR.
A second-generation leader of the company, Padraic says that this is down to many different reasons. "Our cost-base differs in the various markets and we need to ensure that this is handled in a very efficient and practical manner. We are experiencing strong growth in the Commercial, Medical Devices, Food & Drink and Residential sectors." Education and Healthcare remain a solid focus for the company. "With the State's continued investment in education and healthcare, we have seen an increase in projects in these sectors", he says. "JJR has just recently completed ten primary and secondary schools as part of the NDFA Schools Bundles 1 and 3 projects, with a total value of €46.9m. We are also just commencing works on LOT 5 Schools in the Cork and Limerick region."
In addition to this, they continue to expand their healthcare portfolio, with the recent completion of projects including an extension at the Mid-Western Regional Hospital in Limerick and Wexford Hospital and a refurbishment project of the Scott Building at the Midland Regional Hospital, Tullamore. Padraic notes a key factor to the company's recent success can also be attributed to the opening of their first UK office in London in 2012 which now has an established and growing portfolio of projects in the residential, commercial/office and hotel sectors valued in excess of £85m, as well as the opening of a Cork office in 2014 to manage their portfolio of projects in the South, with a current forecast value in excess of €60m for 2016.
With the resurgence of office and commercial developments, JJ Rhatigan & Company has expanded their portfolio in this arena with a number of projects currently on site including Teleflex Medical International Headquarters, a 3 storey 4,162m² office block in Athlone, Kevin Street Garda Headquarters in Dublin, a 5 storey building of approximately 6,840m² in size with 5,400m² double basement, and the Galway Regional and Divisional Garda Headquarters, a 5-storey 11,200m² civic building housing 21st century facilities. The construction of the Galway Garda Headquarters will result in the creation of ca. 200 jobs over a sustained 2-year period. Other projects currently on site include Charlemont Street Regeneration Project for McGarrell Reilly Developments in Dublin, Maynooth Student Accommodation, Lord Edward Street Mixed Development in Limerick and an extension project at the Nutricia plant in Cork.  Later this year in a joint venture with Balfour Beatty, work is anticipated to commence on the first Primary Care Centre PPP Project in Ireland with the construction of 14 Primary Care facilities nationwide, which has a total capital value in excess of €120m.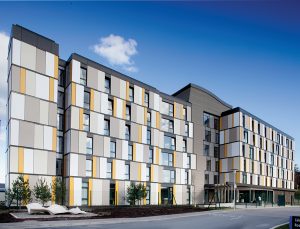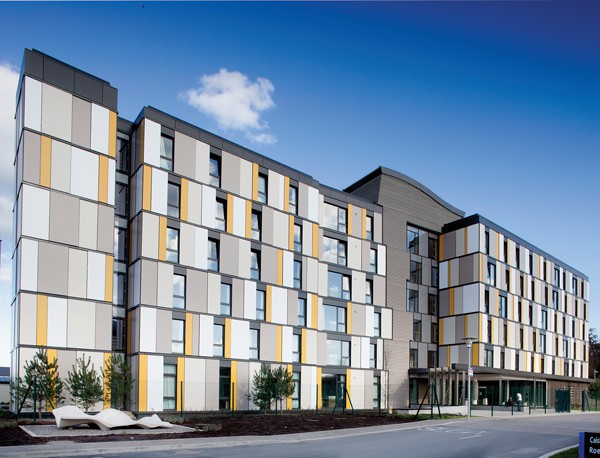 One significant project the company is very proud to have completed is the recent redevelopments at the New DCU, St. Patrick's College in Drumcondra (€33m). Padraic explains "the project involved the construction of three new buildings of approximately 11,000m² and the refurbishment of existing teaching and administration blocks (ca. 4,000m²)." Noted as a beacon in international education, "the new build includes a leading edge four storey Library, a new Lecture Theatre Building with capacity for 500 students and a new Sports Hall. In the main entrance area, a three-storey high coloured glass feature wall was erected, which is a striking feature in the design."  Designed by Taylor Architects, the new DCU Library at St. Patrick's College transforms the campus into the 21st Century offering a contemporary flagship building that engages with the city. Building on the company's relationship with the college, JJ Rhatigan & Company has also recently commenced another €18m phase of works on Block F at the new DCU, St. Patrick's College which involves a two storey extension (4,500m²).
Padraic Rhatigan says that the strong client base that JJ Rhatigan & Company has formed over the years is down to a mutual respect, trust and the value that JJR brings to every project that they work on. "Our customer satisfaction is reflected in the huge percentage of repeat business achieved every year. We have established long term positive partnerships with Clients across various sectors which include the NDFA, NUIG, OPW, DCU and UCD, delivering high quality projects on time, within budget and to exemplar Health and Safety standards." As a further endorsement, JJ Rhatigan & Company has won 'Contractor of the Year' at the recent 2016 Irish Building and Design Awards hosted by Marty Whelan. As the biggest annual awards ceremony in the industry, the Awards recognise and acknowledge the best and most innovative in Ireland's Building and Design projects over the past year. Commenting on the award, Padraic Rhatigan said "We are delighted to have won this prestigious award, which is a great recognition of the hard work and commitment of all the team at JJR, and underpins the strong collaborative partnerships we have built up over the years with clients, design teams and subcontractors across Ireland".
Health and Safety is a key priority of JJ Rhatigan & Company and is the cornerstone of their company culture. "JJ Rhatigan & Company has an accredited safety management system through the CIF's Safe-T-Cert Scheme and has received the highest rating in this accreditation for the last four years in a row. This is the driving force behind all of our work procedures," explains Padraic. "We set targets for the company annually and continuously review our practices and procedures to ensure we not only meet regulatory requirements but exceed them where possible. We believe that every injury is preventable and as a result we target zero work place incidents. We embed that philosophy into every JJ Rhatigan & Company project through a combination of technical and field procedures and ongoing training programs. We have just launched an initiative across our sites, where we aim to further embed a safety culture to prevent risk taking behaviour by all on site. This is being driven by management in a 'lead by example' initiative promoting safe practices from senior levels right down to operatives on site."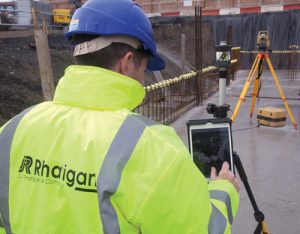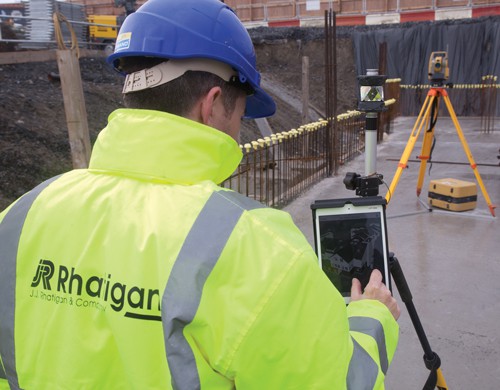 So how has the company embraced technology? Following the positive integration of Union Square, a document management system in 2010, JJ Rhatigan & Company embarked on their BIM (Building Information Modelling) Journey in 2013, making a strategic decision to transition to a fully collaborative BIM Environment. "We adopted BIM to give our teams the technology and processes to enable them to work more efficiently with greater control over project information. In order to achieve full integration and collaboration, investment in the Autodesk BIM 360 Enterprise Licence was essential. We are the first Irish-owned Building Contractor to have made such an investment, and we are already starting to see the benefits. It has improved collaboration and communication with the client, design teams and subcontractors and is speeding up the decision making process throughout a project. This is further supported by the recent investment we made in 20 Topcon DS-205i Robotic Total Stations, which allows engineers to bring a 3D model to the field." And to ensure BIM is fully embedded across the team, the company has trained over 110 staff to date across all elements of BIM including software and protocols.
"We are committed to continuous professional development for staff at all levels across the organization. We have forged strong links with many Third Level Institutions including GMIT, DIT Bolton Street, Athlone IT and Waterford IT to provide training courses and work placements."
And does Padraic Rhatigan see any obstacles for the construction industry in 2016? "Given the history of the construction industry and in particular the impact of the recession in the last few years, it is important that we set our expectations at a level that is sustainable and practical," he asserts. "Throughout the recession, it would be fair to say that we, like many companies, have repositioned the business to be a leaner, meaner and more efficient organisation. We anticipate that this will help our efficiencies going forward and hope that it will lead to a sustainable participation into the long term within the Construction Industry." The main obstacle that will dictate the growth of the building sector, he says, will be the availability of funding for private sector projects. "It appears that the State will continue to invest in the Education, Healthcare and other critical sectors. While the volume of skilled graduates and skilled workers may be less than what we would like, the efficiencies that modern technology has delivered should ensure that this gap would be closed as we move forward. Furthermore, the desire of many of our immigrants to return to sustainable employment in Ireland should be beneficial to the industry."
Over the next five years, JJ Rhatigan & Company intends to continue to grow organically throughout Ireland and the greater London area. Their vision, says Padraic Rhatigan, is to continue "Setting Standards in the industry through the provision of innovative, sustainable construction solutions that exceed client's expectations, and are delivered to the highest level of integrity, quality and safety, within budget and on or ahead of schedule."
This article first appeared as part of the Irish building magazine 'Leaders in Construction' interview series 2016. Click here to read the entire issue
The content of this site is subject to copyright laws and may not be reproduced in any form without the prior consent of the publishers. The views expressed in articles do not necessarily represent those of the publishers.
[rev_slider Deltek]