'Leaders in Construction' Stephen Bowcott, Managing Director, John Sisk & Son
The Constructor's No.1 Choice
A fifth generation family-run business with over 150 years' experience, John Sisk & Son remains one of the country's strongholds when it comes to the construction industry. Speaking exclusively to Irish building magazine, Mr. 
Stephen Bowcott, 
Managing Director, John Sisk & Son.
Sisk is a huge employer in Ireland, with 1254 people currently on its books. Turnover in 2016 is expected to reach between €750 and €800 million, figures well up from last year's €540 million. Of that, 60% will be repeat business, demonstrating the firm's capabilities in attracting and retaining key clients across a variety of sectors.
Stephen Bowcott was appointed Managing Director of John Sisk & Son last September. A stalwart of the industry with years of experience in high end management positions, Stephen is a good match for both the Sisk heritage and also for the firm's particular brand of family values. "I think when you're talking about the current construction industry and about construction firms in general, it's important to differentiate between development, housing and construction. Many economic, political and business commentators fail to appreciate the fundamental differences between the various elements of the broader industry and as a consequence fail to develop an informed perspective on how the industry can play an integral role in broad economic performance in Ireland.  Currently in Ireland, our percentage of GDP going into construction is way below anyone else in Western Europe. It is crucial for sustained economic recovery that construction output increases to about €18 billion a year from the current low level of €13 – €14 billion."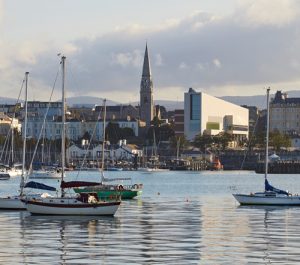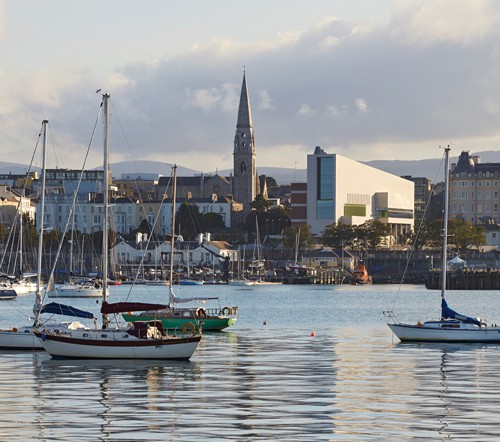 Sisk works across a range of sectors, most notably for tech companies, pharmachem, commercial offices and energy. High rise residential is also performing well for the firm while the retail sector continues to improve in Ireland and across Europe. Landmark projects aren't in short supply at Sisk. The Aviva Stadium, which scooped the overall winner accolade at the Irish Concrete Society Awards in 2010 was completed by Sisk, as was Convention Centre Dublin, Diageo Project Phoenix, Grand Canal Square & Theatre, Greystones Marina, Mater Hospital, Microsoft and UCD Science Centre. In 2015, the much lauded Sisk-built DLR Lexicon (Dún Laoghaire's new Central Library) won an RIAI Award and also won the overall award at the 2016 Irish Concrete Society Awards. Dundrum Town Centre, Aras an Chontae Tullamore, Monaghan Courthouse, Allergan Westport, Vistakon Limerick, Jansen Cork, Athlone Library & Cultural Centre, Limerick County Hall and Hanover Quay Apartment Development are all projects that have been recognised for their outstanding build by various associations over the years. The firm has also been awarded for its safety achievements; in 2015 the firm won gold at the National Irish Safety Organisation Awards. It also won gold at the 2015 Considerate Constructors Scheme Awards and another gold medal at the RoSPA Occupational Health & Safety Awards in 2014.
Current projects include Capital Dock for Kennedy Wilson, large commercial developments for Clancourt, the Rohan Group, Burlington House Developments Limited and various work for Microsoft on datacentres. Outside Dublin, the firm is working on the Mayo Green Energy Plant, Bon Secours Hospital Cork and a €70 million redevelopment of Páirc Uí Chaoimh in Cork, Belfast energy for Waste, West Pharma in Waterford and the Emergency Department in UHL.  Unlike other contractors, Sisk hasn't found the regions outside Dublin bereft of work. "In Dublin we'll probably turn over about €350 – €400 million this year but we'll also turn over €300-€350 million outside the capital which isn't far off 50/50. We're finding that work is spread right across the country however outside Dublin prices are not recovering with some contractors still bidding far too low, particularly in public works where they are not understanding the risks they are taking under that form of contract which is resulting in pain for both the public client and the contractor. Labour rates are not in keeping with national rates. We are keeping to the rates at national level and trying to ensure our supply chain is doing the same." Stephen says that some contractors outside Dublin are not paying the rates required to work in this industry and that this is something that needs to change.
In 2016, less than 5% of Sisk's turnover will be dedicated to the public sector and the reason for that, says Stephen, is the adversarial nature of the Public Works Contract. "We've been working extremely hard with the CIF on this and despite the changes that have been made to the contract, it is still driving an adversarial approach from anyone who enters and wins that work." Stephen says the firm would love to work with government on public works but that it's simply not a form of contract the firm is comfortable with. "Over the next while, we really need the terms and conditions of the new Children's Hospital to be aligned and reflect more of a collaborative approach; that's what the board of the Children's Hospital are desperately trying to do, they're trying to make the contractor and the supply chain work in partnership."
Before the recession hit, Sisk was turning over €1.4 billion in Ireland alone. That figure ended up dropping to between €400 and €500 million. "We had to streamline the business and sadly lost a few members of staff. A positive step we took at the time though was transferring about 200 of our staff to the UK. About 180 have since come back to Ireland and some of our staff in the Middle East are also now starting to come back. That's great news for us." In order to weather the recession, the Sisk Group diversified into new sectors including healthcare while the construction arm of the business looked more to Europe. "We now have European work in the pharmachem sector and retail businesses. We also diversified in the UK into energy, industrial and power. That was one way of ensuring we kept as many people employed in the company as we could."
Stephen says he is thoroughly enjoying his new role at Sisk. "There's a great team here and a superb business ethic. It's also an excellent brand and one that undersells and over delivers. When it comes to our customers, the lovely thing about them is that despite difficulties during the recession, we have stuck with them and they have stuck with us. We are now building for quite a few of them having come out of the downturn."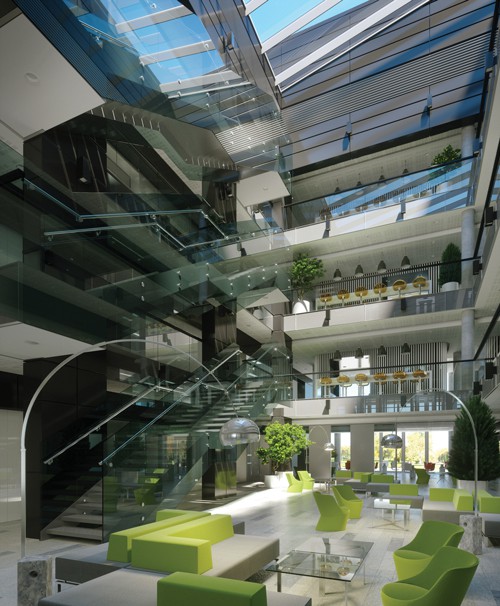 According to Stephen, one of the risks we have in Ireland is that the supply chain is getting extremely busy. "Some of the resources that exited Ireland during the difficult times are not coming back quickly enough. There are two reasons for that; one is housing and the other is a lack of confidence in the sustainability of the construction revival." Since October, Sisk has been in discussions with CIF to set up a semi-skills training school. "One of the key issues in relation to reinforced concrete structures is you must have steel fixers and formwork carpenters. We reckon there will be a shortage of about 1000 to 1200 of these workers over the next two years so to try and avoid this, we've basically written a brand new course which trains both general operatives as well as people from the unemployment register. It will take between 12 and 24 weeks for training to complete and for these people to become a semi-skilled fixer or carpenter." Workers will not be fully skilled and they won't replace apprentices but they will support tradesmen so they can work more effectively. "The first training course should be on the ground by August this year. I think this is an excellent example of government departments, the industry and the private sector working really well together. We're hoping the CIF rolls this course out throughout Ireland; there are 67,000 unemployed construction workers on the unemployment list that could potentially benefit from it."
Health & Safety is the absolute top priority at Sisk, with every single person in the organisation told there's no cost to effective implementation. "We tell all our staff to spend as much as is needed to make sure every single person in the organisation adheres to and understands our safety protocols and procedures. We run a safety behavioural programme that every single member of staff has been through which instructs staff and the Workforce on how to behave safely, not how to do your job safely. We're proud of our commitment to health and safety; just recently the president of one of our international clients told us that Sisk was its safest supplier in the world."
Stephen expects the firm to achieve BIM Level 2 certification by late summer. The firm is in the process of mandating that every project over €10 million will be BIM generated. "A number of our engineers are working in BIM every single day, this has been the norm for our pharma sector for the last decade. We're driving the technology as hard as we can and really it's only held up by the client not wanting to make the jump. We do understand that for some of the consultancy practices in Dublin in particular there's quite an investment required for them to train their people in BIM. We're finding that it's absolutely essential in pharmachem, in our technologies and also on some of the commercial office blocks too."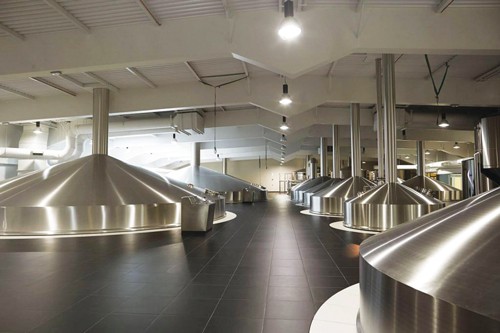 Stephen's vision for the future of Sisk involves ensuring the firm is the constructor's No 1 choice. "We want to be the 'go to' company and we want to ensure we have a sustainable business from a community point of view. We are by far the biggest constructors in Ireland, therefore our impact on every worker has to be positive. We strive to employ as many local people to projects as we can and we're very keen to have training centres throughout Ireland to make sure there isn't a lack of tradespeople. It's also important to us that we maintain the Sisk brand on behalf of the family." Essentially, being the firm to lead positive changes within the industry is Sisk's goal. "We also want to make sure we train and resource properly and that we continue to have a positive influence on public bodies."
This article first appeared as part of the Irish building magazine 'Leaders in Construction' interview series 2016. Click here to read the entire issue
The content of this site is subject to copyright laws and may not be reproduced in any form without the prior consent of the publishers. The views expressed in articles do not necessarily represent those of the publishers.
[rev_slider subscribe]