McKeon Group – A true family business
Repeat clients and a commitment to quality and safety has placed McKeon Group at the top of their game.
A true family business, McKeon Group has been operating since 1950 and boasts an impressive client list from the OPW, DCU, Fingal County Council, IBM, Google, GE, Keelings and the HSE.
The company isn't just a building firm; by offering electrical, mechanical and technology services, clients can be assured of a stress-free project with cost-effective solutions and smart financial control. "Our main selling point is our expertise across these interrelated disciplines and the fact that we have our own in-house engineers, electricians, plumbers, plasterers etc allowing us to guarantee the high levels of quality which we have become known for in the industry. The OPW recently said it's a pleasure working with us as we're true 'builders'. We also supply design and build services in lots of cases which is another aspect that differentiates us," says Tomás Jr, Director (Electrical & Technology) at the firm.
Back in 1950, McKeon Group operated as a sole trader. "My father returned to Ireland from England in 1950 and started out by building houses and schools. He really was an entrepreneur – he had his own truck when it wasn't common and he used to make concrete blocks by hand. He also set up a joinery shop and started making brush handles for the Health Board as it was known at the time. I think that's where I picked up some of my own entrepreneurial spirit," says Tomás Mac Eoin Sr, Managing Director at McKeon Group.
A childhood spent on sites with his father was excellent practice for the real thing. "It was great to go to work with my father when I was a child and I actually did the same thing with Clíona and Tomás Jr. They were exposed to the business from an early age which no doubt helped when they joined full-time." Tomás Sr was working as a teacher when he made the decision to return to the fold. "At the time I was helping out in the business on the admin side so I was burning the candle at both ends. I took a leave of absence and never went back."
A huge number of repeat clients has allowed the firm weather the more damaging effects of the recession. "The service we offer to clients has ensured they keep coming back to us. When required, we've been known to work throughout the night to ensure projects are completed on time. We always go above and beyond; a good example would be the bad winter we had a few years ago when we were asked by one particular client to shovel snow! All our lads were given shovels and got to work. Our clients know that if they call us, we'll be there," says Tomás Jr.
According to Tomás Sr, statistics for the survival of third generation family firms is about 10%. That's good going for a firm established 65 years ago. "We've remained a family business since 1950. That's something that's very important to us. I was at an event recently which was focused on best practice in relation to formalising and professionalising a family business. I realised we're actually quite far ahead in terms of the professional image we portray. That attitude is carried across the entire company; everyone mucks in when a job needs to get done," says Clíona. "We also have a pool of experienced and quality subcontractors and suppliers that we can call on as necessary. Some of these relationships span decades and they have become an extension of the McKeon Group family."
The company has grown and expanded over the years to become a leading Irish contractor offering a complete building solution on refurbishments, fit outs and design and build contracts. Its' ability to differentiate itself from its competitors has ensured its success. "Internally we often talk about the Three Bears analogy. We're not the small contractor and we're equally not the large multi-national company. We're somewhere in the middle, we offer quality and value for money.
Basically we're just right! For a company of our size, success has come down to the investments Dad made in technology and being at the forefront of the latest industry innovations. Things like having a mobile phone in the late 80's before anyone else. For years now we've also had up to the minute reports on job costings so down to the last screw we can see what the job is standing us. At all times we maintain a huge level of control over projects."
The firm has had ISO certification since 1998, an achievement unheard of for a construction company of its size at this time. "It's meant we've retained control and it also means we have policies and procedures in place for all types of eventualities," says Clíona.
The firm's commitment to remaining at the forefront of the industry when it comes to technological advances has resulted in a strong Health & Safety programme. "Like Tomás Jr, I didn't come into the company directly. I completed my degree in Business Studies in DCU and was actually working in another company when Dad asked if I would consider doing a qualification in Health & Safety. My initial intention was to give them a hand-out but as I got more and more involved in the different aspects of the business, moving over to the firm was a natural progression," says Clíona. From the off, the firm was ahead of the industry when it came to putting safety procedures in place. "We're extremely proactive in providing Health and Safety training to our staff, both internally and externally."
Tomás Jr has been responsible for adding an extra tech edge to the Group which has helped ensure survival during the downturn. After college, he established a broadband company with two classmates. In 2006 he struck out on his own by setting up a telecoms/electrical company. "We decided this company would come under the umbrella of the McKeon Group. The umbrella was further extended in 2011 when we took on a new manager on the mechanical side of things to complete the Group's full building service capability. This made us much more competitive as we were able to offer our clients a complete service." The Technology Division is a big focus for the firm at the moment. "We have recently hired an industry expert to head up the division to expand and grow it. Our technology services include designing and installing integrated telecommunications, audio visual, home automation, security, network and wireless technology systems. These services can be provided independently or packed together with our other services to offer the complete building package."
Wage cuts and staff willing to work serious hours meant the company was able to ride out the recession. "We were also lucky in that we have a large number of repeat clients. So while the volume of work may have decreased, we were still very active." Recent key projects include Tyrone Court in Inchicore, consisting of 123 apartments;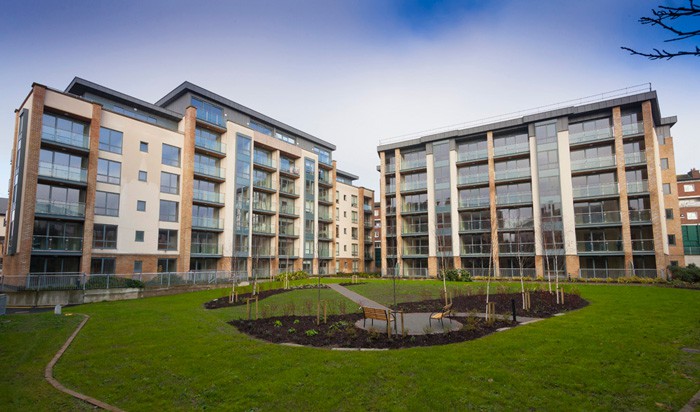 Innovation House at DCU; Malahide Castle; INTREO Office Refurbishment and Fit-out in Swords; Fingal County Council Chamber Building upgrade; Campus Residences Apartment Upgrades at DCU; and Ballygall Health Centre Refurbishment for the HSE.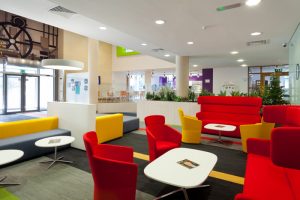 Goals for the future include doubling in size over the next three years. "The idea is to build on the multi-million projects while retaining our smaller projects. We've gone through the lean years and it's time to expand again. We have just moved into a purpose-built facility in Ashbourne to cater for our expanded team but which will also serve as an example of what we're capable of in terms of design and build," says Tomás Jr. "We've also recently been shortlisted for the Fit Out Awards 2015 in the Category 'Fit Out Contractor of the Year'. This is the first time we have entered such an award and it is a fantastic achievement for us which demonstrates our capability and the quality and scale of our projects." Not being afraid to take chances is something both Tomás Jr and Clíona have learned from their father.
"Over the years, Dad has been brilliant at spotting things early. It was through his encouragement that we took on the mechanical division and that was in 2011 in the middle of the recession. I think it's important that we continue that tradition of recognising and capitalising on opportunities that others may not see," says Clíona.