Construction starts on Facebook's newest data centre at Clonee
Facebook has announced that construction has begun on the company's newest data centre at Clonee, County Meath.
Minister for Skills, Research and Innovation, Damien English T.D., took part in the groundbreaking ceremony alongside Tom Furlong, VP of Infrastructure at Facebook, Jackie Maguire, CEO Meath County Council, and Brian Fitzgerald, Chairman Meath County Council and Martin Shanahan, CEO IDA.
Development of a second building at the same site was also confirmed, bringing the total size of the facility to 621,000sq ft – the equivalent of 8 Aviva stadiums. The facility, Facebook's first in Ireland and second in Europe, will become part of the infrastructure that enables billions of people to connect with the people and things they care about on Facebook and across its family of apps and services.
[rev_slider StelradAugust17]
Facebook is also pleased to announce that the new data centre, as well as its international headquarters in Dublin, will be supplied with 100% renewable wind energy from BrookfieldRenewable's Irish operations. Brookfield owns and operates a portfolio of renewable wind energy projects across Ireland totaling 465 MW and all renewable wind energy supplying Facebook's facilities in Ireland is located in Ireland.
Ireland has been home to Facebook's international headquarters since 2009 and the facility at Clonee continues Facebook's significant investment in the country and in Europe. The company recently announced the creation of a further 200 jobs in Dublin in 2016, to add to the 1,300 employees it currently has.
Tom Furlong, VP of Infrastructure at Facebook, said:
"We're thrilled to have found a home in Clonee and begin building our new data centre as we continue to expand our infrastructure in Ireland. Everything here has been as advertised — from the strong pool of talent for construction and operations staff; to the great set of community partners who have helped us move forward quickly; to the opportunity to power our facility with 100% renewable wind energy."
"The new facility will be one of the most advanced and energy-efficient data centres in the world thanks to its cutting-edge Open Compute technology and use of 100 per cent renewable wind energy. The centre will be a crucial part of the infrastructure that helps Facebook connect billions of people around the world."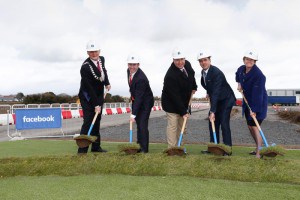 Minister for Skills, Research and Innovation, Damien English, TD said:
"The Government's policy of making Ireland an attractive location for investment by the multinational ICT sector had delivered major projects amongst them this new Facebook facility. Ireland has a growing position internationally in the provision of major Data Centres, which represents a fast expanding segment of the IT business. This is contributing to Ireland becoming a major world player in this area and helping to embed and expand the operations of the major Internet companies located here. I welcome Facebooks further commitment to Ireland with their investment in this Meath facility and I wish Facebook and their employees further success in the future. "
Cathaoirleach of Meath County Council Cllr. Brian Fitzgerald said that this morning's ceremony was another positive step towards the building of the data centre:
"This is a very important project for Ireland, for Meath and particularly for the community in Clonee, having an internationally recognised company like Facebook in our county sends out a great message that Meath is an attractive place to invest in and to do business."

Chief Executive, Jackie Maguire again welcomed Facebook to its new European operational base:
"The hard work of all the stakeholders, including IDA Ireland, to attract this world class enterprise to Meath has paid off. This project will bring additional jobs to the county and a welcome stimulus to the local economy. This development sends out a clear message to the business community in Ireland and abroad that Meath is open for business. It confirms that the challenges in our Economic Development Strategy for County Meath 2014 – 2022 are achievable."
Martin Shanahan, CEO, IDA IRELAND said:
"IDA IRELAND is focused on facilitating investments into regions throughout Ireland. Facebook's new data centre in Clonee, Co.Meath will provide a significant boost to the local economy – it's a clear demonstration of the company's ongoing commitment to Ireland.  When it comes to attracting the world's best and most efficient data centres, Ireland is proving to be very attractive to the world's top technology and internet based companies."
Ralf Rank, Managing Partner at Brookfield, said:
"With over 10,000 megawatts of operating hydro and wind capacity and a 7,000 megawatt renewable development pipeline globally, we are uniquely positioned to offer consumers long-term, carbon-free renewable power. We are pleased to have Facebook as our first retail customer in Ireland and welcome the opportunity to work with a corporate leader focused on increasing the  use of renewable power"