Primark's 
redeveloped HQ on Parnell St, Dublin 1 is the kind of workspace we all want to spend our working day in. 
Irish building took a look inside.
Transformed into a modern and innovative working environment, the new HQ unites a listed 20th century heritage building with a 1990's office building introducing a new central atrium space.
An open plan layout, wide vistas, the use of glass and exposed soffits  with a diverse mix of floor finishing and spaces  helps to promote face to face contact which, according to research, plays a major role in the health, wellbeing and productivity of workers. The space also works to showcases Primark's dynamic brand and heritage and is designed to provide employees with a closer connection to the company's retail stores. A number of bridges were introduced into the existing atrium and into the new atrium space  to create a sense of fluidity and movement, allowing employees to move freely between work areas, break-out areas and floors while the whole design carefully reflects the needs of the company's international headquarters.
Housing Primark's 600+-strong workforce, the building has been renamed 'Arthur Ryan House' after Primark's founder. Several new spaces have been created, including a 'Knowledge Centre', which houses a selection of retail-related reading materials, retro Primark signs and fashion displays and awards, providing a nod to the company's prestigious history. To encourage health and wellness, a Wellbeing Zone has been created which includes a fully functional exercise suite to be used for yoga classes, complete with audio equipment and free-weights. Bike stores at basement level have also been upgraded to encourage staff to use healthier forms of transport.
Other new spaces include a reception with a separate business lounge for international guests to meet and work. This provides private meeting rooms, a refreshment area, international plug sockets and AV facilities. A photographic studio has also been created, where the latest retail offerings can be photographed in-house and uploaded to their website. A design studio has been installed, providing an inspiring and practical space for Primark's design team. Architectural and interior design practice, MoreySmith, oversaw the transformation of 22-24 Parnell Street into 11,613sq m (125,000sq ft) of offices while Bennett Construction Limited was responsible for the building work. 
At the official launch of the new store, Primark CEO, Paul Marchant said: "We are honoured to welcome An Taoiseach today to officially open Arthur Ryan House in the presence of our esteemed guests, staff and our chairman, Arthur Ryan. The redevelopment coincides with a particularly exciting time for Primark. We need to be able to attract and retain top talent nationally and internationally and we believe Arthur Ryan House now reflects the highest standards of brand image and excellent working facilities for over 600 staff based at Primark's International headquarters." He added: "We are delighted to have collaborated with MoreySmith to deliver our amazing International HQ in Dublin. The end result is transformational, not only through changing our ways of working but also in creating the opportunity for cross functional interaction. Our offices are now a true representation of our brand – contemporary, energetic and fun. Project teams from both companies worked seamlessly to deliver Arthur Ryan House, named after our founder and Chairman. We are very proud of the final result."
Primark HQ is MoreySmith's second Irish project and follows a number of similar scale spaces they've completed with headquarters for Coca Cola, Red Bull and ASOS under their belt. The firm's design brief was to transform the way Primark staff worked. Cluttered cramped offices were to be replaced with organised and spacious work areas, with staff now using spaces dedicated for their use.
MoreySmith also conceived the idea for a connection between the Mary Street building (a 20th-century listed building) and Chapel House. "Our approach was to connect the two buildings to create a new central atrium over a previously redundant exterior courtyard. We designed the atrium space to negotiate the seven different floor levels between the two buildings. Chapel House was aesthetically a very dull space. Whilst it was structurally sound, it wasn't exactly inspiring in any way. It had very deep floor plates with very limited natural light so our design agenda also had to ensure people were getting access to natural light. To allow for this, we took the existing atrium down a further level to allow natural light to penetrate as deep into the floor plate as possible," says Lesley Kelly, Associate Architect at MoreySmith.
The design concept for the glazed atrium-covered courtyard was very much MoreySmith's idea. "Primark wanted to create a heart and a hub in the building that people could use for break-out spaces, meetings etc. We saw this central courtyard as a great opportunity as it was perfectly situated in the heart of the two buildings." The atrium design encourages informal meetings and creates a lively buzzy centre for Primark employees and their visitors to congregate and enjoy the sense of space, complete with a deli-style café catered by Gather & Gather. The most successful part of the new project is, says Lesley, the atrium and the design studio spaces. "The atrium and design studio spaces are where we weaved two new scenic glazed lifts through the building to allow for really clear views through to the new atrium and back to the heritage elements, including the exposed brickwork of Mary Street.
According to David Smith, Project Director at Bennett's, the courtyard area knits the two buildings together. "It's an amazing space but a particularly challenging one in that we  were 14/15m up in the air putting in steel structures, atrium framing and glass while below, workers were progressing with the fit-out. Below that again, was the live  Penneys retail store on Mary St  while either side of the new atrium  were stockrooms and offices that continued to trade normally. It was a difficult environment but we adhered  to our agreed deadlines and completed the project on time."
Having worked with Primark on several other projects, Bennett's was well placed to take on the challenging job. "We made the shortlist for the project and luckily, we were successful with our commercial tender. We had actually completed the Mary Street store about 12 months before so it was nice to go back and work on Chapel House," says David Smith, Project Manager at Bennett's.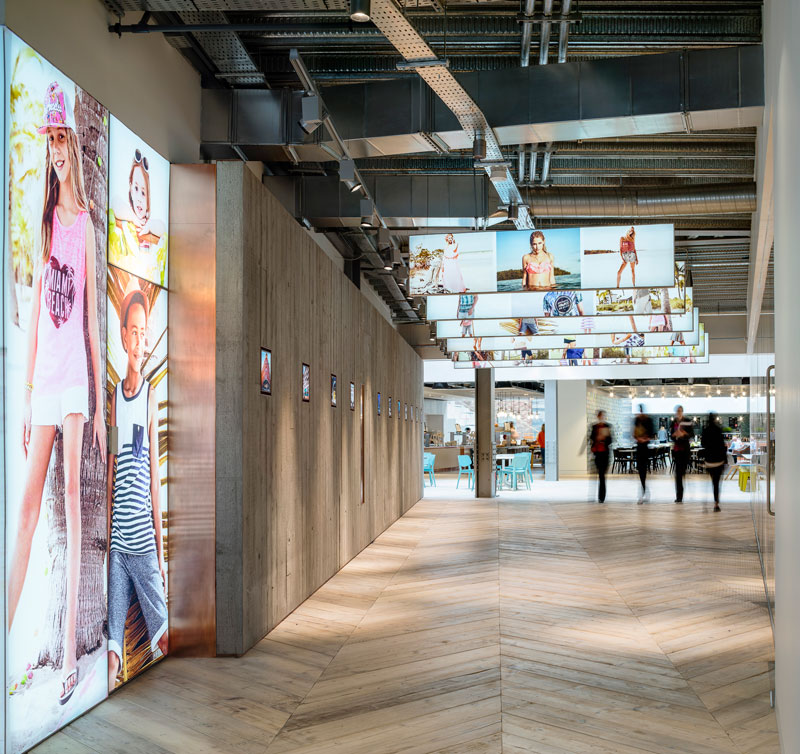 The Mary St building, as it was then called, was purchased by Primark in 2011. "There were a lot of old worn carpets and old ceilings but structurally, Mary St was sound enough. Obviously in completing the work we had to be sensitive that it was part of a listed building and there were certain aspects of it that needed to be restored and preserved," says David. Traditional companies like The Old Mould Company worked to bring back some of the original detailing such as coving and cornicing. "When you come up the glazed lifts now, you see all the exposed bricks but these had been plastered over in the past. We stripped  back the existing surface finishes and restored all the brickwork.  This  is just one of the really nice touches you see throughout the space." It was part of Bennett's brief to expose finishes that were worth maintaining from a visual design viewpoint  "Obviously if there was a conservation order on building elements, it was a given they would be retained but where we came across hidden gems that we felt should be included in the finished product, the brief was to do just that."
The project was completed in three phases. "The 4th and 3rd floor of Chapel House were completed, followed by the 1st and 2nd floor which included the main reception and courtyard. Phase 3 incorporated the refurbishment of the existing offices in the Mary Street section of the project.  A total of 22 weeks were allocated for each phase and In between each phase, we had a weekend where staff went home on a Friday evening and had all their belongings packaged up at their desk which we then moved to their new workstation for Monday morning. There were a few challenges associated with this and there was quite a bit of weekend work which is fairly standard when you're coming out of a recession," says David.
Open discussions with the Client along with monthly and quarterly meetings on design development ensured Primark were involved every step of the way. "We worked with their branding team to understand what they wanted to convey throughout the project. The result was that we completed a heritage wall which included a lot of their older artefacts and items from their knowledge centre. Original photographs, plaques and memorabilia from various stores in Ireland were also included, as were materials like felt and other fabrics that tied in with Primark's own brand. As there's a historic link with copper on the Mary Street roof, we also used quite a lot of the material throughout the building. Internally, the Primark branding and colours were sensitively placed," says Lesley.
As David has said above, careful consideration has gone into restoring and exposing as much of the original fabric of the listed structure as possible. Unsympathetic partitioning and suspended ceilings have been removed to reveal original brickwork and cornicing. The building benefits from an attractive grittiness befitting of Dublin's industrial heritage, which MoreySmith has drawn out through considered design features such as reclaimed scaffold board floors and ceilings, copper detailing and industrial reclaimed factory lighting together with elements such as the brick wall in the atrium.
The colour palette is also in keeping with Primark's brand values and ethos. Bespoke fabric walls representing the fashion trends, bespoke door handles and graphics unique to Primark help to bring life and energy to this office environment.
From Bennett's point of view, one of the main challenges of the build was progressing work in a live environment. "Primark didn't vacated the building during any of the three phases. There are four floors on top of each other so when we were working on two of the floors, Primark was either sandwiched above us or below us while  we were stripping out and completing the building fitout. Maintaining progress on construction and being aware that you have a live retail floor below you was always a consideration, but it was one we had made provision for."
A substantial amount of work went into designing temporary partitions and demarcation lines to ensure Primark staff and construction workers were able to work side by side. "This was an important aspect of the build and took an amount of time to develop fully. As this was a tight city centre site, a further  consideration was the lack of external  access which necessitated the need for  cranage work by night and weekend. This required a planned and disciplined  logistical operation. Getting materials in and getting old materials out in a building which is adjacent to the Ilac Centre and Parnell Street created a  challenge on the construction side." The construction team regularly met with locals to brief them on what was happening. "We also meet with the Dublin City Council representatives  to walk them through our permit requirements for cranes or shutdown of lanes and roads etc. Our attitude was one of open communication where we tried to keep stakeholders in the loop at all times, so that the project delivery would be  smoother."
Most of the materials from Chapel House were stripped out and segregated. "Timber and metal were of course kept aside for recycling but were not reused for this particular project. All existing mechanical and electrical systems were also stripped out while new efficient boilers and lighting control systems where the lighting adjusts according to the daylight hours were installed." According to both David and Lesley, there's a "rustic" feel to the new project. "It's different, there's certainly not much like it in Dublin at the moment. You walk around one corner and the design instantly evolves. I'm sure the design concept will have an influencing effect on other practices around the city" says David. Lesley agrees, saying "We have set a new benchmark for workplace design here in Dublin, proving that with a thoughtful, considerate and innovative approach, it is possible to transform any office environment into a thriving, inspiring and motivating space."
Bennetts' long-standing relationship with Primark has seen a substantial amount of work in Ireland and also in Germany where they've been working on the retailers' stores for the past five years. Current work includes a complete refresh of the O'Connell Street store ahead of the centenary celebrations next year. "It's an old building and was probably last refreshed 15 years ago. Again, our brief is to ensure that the store continues to trade  seven days a week. It's all about proper planning, communication and agreeing methodologies.  It couldn't be done successfully without a serious commitment from Primark to deliver high quality facilities for their staff and customers.  We rely heavily on our  sub-contractors and suppliers to buy into the programme commitments and on their expertise to deliver high quality finishes on all our Primark projects."
With 293 Primark stores located in 10 countries, further expansion plans are in place to open additional stores in the US and across Europe with Primark also set to open in Italy next year.