Wavin… Setting the Standard
While there is always work in the pipeline at Wavin, Ireland's leading manufacturer and distributor of plastic pipes and fittings, Country Director for Ireland Michael O'Donohoe is happy to report that his workflow is on the increase. 
Although Wavin in Ireland is almost synonymous with terracotta-coloured underground sewer and drain pipes, Wavin Ireland provides much more than these well-known products – it offers above ground systems, including plumbing and heating systems (notably Hep2O push-fit plumbing and under-floor heating and cooling systems), rainwater harvesting systems and soil and waste systems. Other key product offerings include storm-water management systems and specialty ducting systems for telecoms applications. In fact, Wavin provides more than 3,000 products for the building, construction and farming industries and for local authorities and state utilities.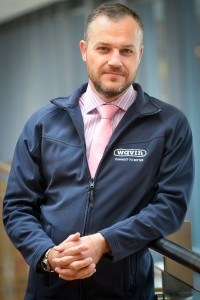 The company was founded in Zwolle in Holland in the 1950s after founder Johan Keller, a director of WMO, a water utility, worked to develop an alternative to iron piping, which was prone both to corrosion and to giving drinking water a metallic taste. In his workshop in 1953, Keller produced the world's first plastic pressure pipes for potable water with diameters of 100mm and larger.  There was an astonishing level of interest in the breakthrough, both across the Netherlands and internationally, so WMO decided to found a dedicated pipe-making company in 1955, with a name formed from the contraction of the words 'Water' and 'VINyl' and initially employing 52 people.  Demand for the pipes was high and the company grew rapidly. In 1958, after Germany and Denmark, Ireland became the third country outside of the Netherlands to be home to a Wavin factory and that manufacturing plant in Balbriggan remains in operation today.
In 2012, Wavin became part of Mexichem, one of the world's largest chemical and petrochemical companies and a leader in piping systems in Latin America.  In total, last year Mexichem had some 19,200 employees and a turnover of US$5.6 billion.  The Wavin brand name is found in more than 25 countries and some 6,000 people are employed by the brand, which generated revenue of more than €1.2 billion in 2012.    The Irish operation is tiny by comparison, currently comprising some 80 employees, but in this country Wavin's market leading position is significant.
Indeed, in Ireland, Wavin's strong association with terracotta-coloured pipe work is so firmly engrained in the nation's psyche that Wavin risks becoming a generic word in the same way that people use the word 'Hoover' to describe a vacuum cleaner or 'Jeep' to describe a 4×4.
"The problem is that when Irish people ask for lengths of  Wavin, Wavin is not necessarily what they get," says Country Director for Ireland Michael O'Donohoe. "In Ireland, there is sewer pipe sold as 'Wavin' that is manufactured by other manufacturers and, which we believe, is in many cases inferior to the product that we supply.
"We go to a lot of expense having our products fully tested and independently certified by third-parties such as the British Standards Institute and the National Standards Authority of Ireland to confirm that our products fully meet the Irish building regulations. Some products from other manufacturers have no certification at all and are consequently often made to a lower specification.  If sewers and drains are properly installed according to the building regulations, the end user shouldn't have problems in the future with blocked drains or grounds collapsing, but we have a problem conforming to the regulations in this country as our experience with pyrite and paper-thin walls constructed during the boom clearly demonstrate.
"The government are supposed to have tightened up on the regulations, with a requirement since March last year, under an amendment to the building control regulations, for an 'assigned certifier' on new builds and extensions greater than 40m2 in size. The assigned certifier, usually the architect, must state that they are happy that the materials and workmanship on the project conform to the building regulations – so the assigned certifier needs to ensure that the plumbing system and/or the drainage system are of the standard required. One way of doing this is to always insist on Wavin."
To assist specifiers and certifiers, Wavin has produced a 'Key to Compliance' leaflet containing a reference guide for Wavin pipes, fittings and inspection chambers. There is also a detailed information pack available on the Building Control (Amendment) Regulations available on a USB key.
However, O'Donohoe is concerned that the government appears to be back-tracking on the introduction of tighter building controls.  He said: "There is now self-certification allowed on one-off self-build houses – this could well be the start of a slippery slope.  And, generally, there is not enough double-checking that regulations are being adhered to – we have only two building control officers per county and that is nowhere near enough, especially where construction activity is at its busiest." Wavin is currently involved in a number of proactive measures to highlight this issue, says O'Donohoe.  "We are focussing primarily on educating those who specify a job, architects and consulting engineers, but we are also trying to raise awareness among end-customers so that they will insist on Wavin." 
As part of its marketing campaign this year, Wavin is relaunching its website and is using the slogan 'Connect to Better' to promote its high-value proposition.  That said, it is a company that is dependent on overall market activity. "Our business is volume led," says O'Donohoe. "We would have employed 250 people at the height of the boom in 2006, now we have 80 employees.  To reduce numbers we had redundancies and a recruitment freeze, but now this year is the first year since the downturn that we will be taking on new people.  As the business grows back, we will be taking on personnel across the different departments and disciplines within the company.
"At the moment, we are seeing increased activity in what you might call the Pale, an area stretching from Waterford to Louth– really anywhere that is within commuting distance of Dublin, because that is where there is construction activity – not just residential, it is also where many of the FDI companies are investing.
"Exactly where the activity is most in the towns surrounding Dublin, we can't say exactly because we have no way of tracking the whereabouts of our end users, as we distribute our products through builders' merchants. A kilometre of piping could be sold in Portlaoise, but we would have no way of knowing where it was laid.
The recovery which is clearly evident around Dublin and its environs is however beginning to slowly be felt in the other major cities in Ireland including Cork, Galway and Limerick, but we still have a long way to go to get back to normal construction activity which in the case of housebuilding is around 25,000 units per annum, measured against an estimated 10,000 this year.
The Main Problem
One development that is currently having an adverse effect on Wavin's progress, says O'Donohoe, is the arrival of Irish Water. He explains: "Hardly any money is being spent on mains upgrades since Irish Water took over from the local authorities. It has impacted directly on our watermain business. Because of the bureaucracy that has been created, they have not yet initiated the level of spending that the local authorities were doing on an annual basis, yet everyone knows that the mains water system needs upgrading and ongoing maintenance. While water meters are being installed across the country, our experience is that expenditure on the water mains system has more than halved."
However, there are other areas of the business that are growing. For more than 20 years, the company internationally has offered under-floor heating (UFH), which Wavin Ireland launched in 2009. The portfolio is quite extensive and comprises systems suitable for most types of floor, including:  sand/cement and liquid screeds; timber battens and timber joists; fully floating timber floors; raised access floors and acoustic floor. The systems range from the basic, where an installer sets out the pipe centres and layout during installation, to the more complex, where, as part of a completely warranted service, Wavin designs a bespoke system with direct-to-site delivery of all materials, installation drawings and instructions. These more advanced systems may involve pre-assembled floor panels with factory-installed pipework or they may involve panels with pre-cut channels in the insulation allowing for pipe installation on site.
Wavin has long been a user of CAD and thus is embracing the BIM revolution that is sweeping the construction industry. O'Donohoe says: "Wavin is embracing BIM at every level and at every opportunity. BIM is the future – right across Europe there is BIM compliance legislation coming into play in the construction sector.  This is good for the construction industry and it is good for manufacturers like us. We are making a huge investment in BIM to make sure we have BIM-compatible drawings for all Wavin products, firstly with our international products, then with local products, such as those that are only sold on the Irish market.
"For us it is important to grasp this opportunity and to make it easier for architects and engineers to specify our products, especially because of the iterative nature of design drawings – once an architect specifies a particular product for a particular job, they tend to specify that product again and again in future drawings. So it is important to have our products specified first! To that end we have a growing team of project sales people whose primary role is to educate and inform specifiers of our value-added solutions and services. We can offer a wide range of CPD presentations covering the Irish Building Regulations, Energy Efficient Heating and Cooling Options, Siphonic Roof Drainage, Stormweather Management, Low Noise Systems etc.
Another area of innovation for Wavin is the area of water management, harvesting and flood control. The company plans to launch later this year its QuickStream siphonic drainage system for roofs, which provides a rainwater harvesting solution that is primarily aimed at commercial and industrial property owners but which is also increasingly being specified for domestic applications as a result of the arrival of water charges.
A siphonic roof drainage system has several advantages over traditional gravity drainage: pipe sizes are smaller because the water is channelled through pipes without air, so installation costs are reduced, and the system also allows lateral pipework to be installed without a gradient, further optimising available space.
In flood prevention, Wavin has developed a number of solutions, including the AquaCell geocellular stormwater management system, which is modular in design, very versatile but with a high loading capability so that it can be installed, say, beneath roads or car parks. "Whether you believe in global warming or not," says O'Donohoe. "There appears to be increasing incidents of flash floods across the world and there is a growing awareness of the need to mitigate this.  This is a growing area of business for us.
"If you look at how we are now involved in rainwater harvesting and in flood abatement, we are actually very much an environmental company. Our green credentials are good: some of our core products are made with PVC that has 60% recycled material. For both customers and the environment, on any project, choosing Wavin is the right choice."