Tramore House Regional Design Office awarded Engineers Ireland CPD Accredited Employer Standard
Tramore House Regional Design Office (THRDO), a shared service provider to Local Authorities in the South East in the delivery of major and minor road infrastructure has been awarded the much-sought-after CPD-Accredited Employer standard by Engineers Ireland.
CPD has played a crucial role in the successful completion of projects by THRDO. This leading organisation encourages employees to develop their skills and knowledge through formalised structures and initiatives, including further education and management skills development.
[rev_slider CITA]
The parchment presentation took place at Engineers Ireland on Friday, September 4th 2015. Glen Jones, senior engineer with THRDO, said the CPD framework has provided "renewed engagement with learning which is focused on meeting and delivering on the needs of our business. The standard brings together the employer and the employee. It means that we are constantly looking to add value to both parties by ensuring that our CPD offerings remain focused and relevant to the development of the our core tenet which is the delivery of our engineering services to our clients."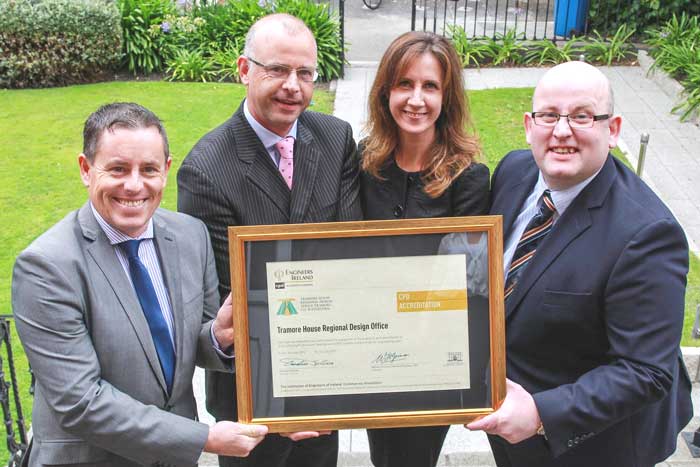 : Owen Duffy, Executive Engineer (THRDO); Glen Jones, Senior Engineer (THRDO); Caroline Spillane, Director General (Engineers Ireland); Thomas Brennan, Executive Engineer (THRDO)