CIF – Strong foundations to build recovery on
Recent news for the construction industry has been good and is set to get better, says the CIF's Director General Tom Parlon.
Speaking to Irish Building on the day that the government announced the construction of a new power station in Mayo, creating 350 jobs, and news started to emerge that BAM is to be named as preferred bidder for the €100m PPP courts bundle, Parlon pointed to an Ulster Bank report indicating that construction activity in the state has risen for three months in a row and also news from the CSO that construction industry employment rose by 6,300 in the first quarter of this year.  The government announcement, at the end of May, that €91m is to be invested in housing was also very welcome, he said.
"The government is due to announce a revised capital programme shortly and all indications are that government capital spending is due to be increased.  There are also a number of imminent announcements to be made by FDI companies – in particular, is substantial investment being made in data centres by the likes of Facebook, Google and Microsoft and these will be large projects from an employment point of view.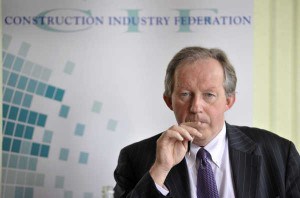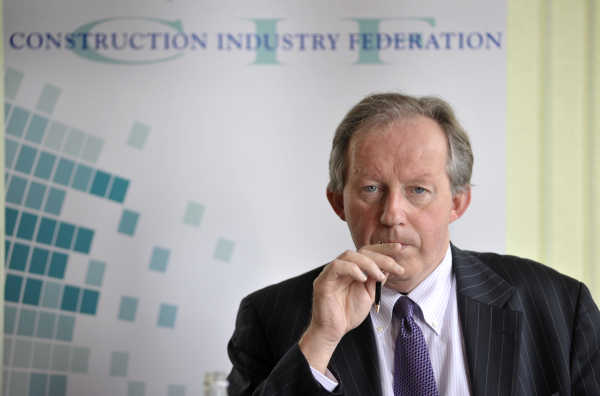 "Last year, the industry grew and all the indications are that growth this year will be equally positive if not more so. Unfortunately, it is still extremely slow and patchy outside of Dublin –we've been talking to the operators of very substantial quarries who have been telling us they have been barely doing two truckloads of business every day – it's a problem that stretches across the country.
"Last year, construction activity was 7.5% of GNP, it should be at 11 or 12% and once we get it to that level the issue is to stop it from galloping away – but I don't think that will happen because there is a major restriction on the availability of cash and of lending. "
Reacting to reports by CBRE and DTZ Sherry Fitzgerald that there was a dearth of large-sized residential development lands available in Dublin, Parlon pointed to the fact that Ireland's cities had 'the lowest housing densities in the world' and that new planning laws were in development to address this issue. He also said: "There is still plenty of agricultural land within the M50."
On the legislative front, things are also looking good for the industry. He said: "The Construction Contracts Act 2013 must be the slowest piece of legislation ever to come into force, but progress is being made. Dr Nael Bunni has been named as chairperson of the Ministerial Panel of Adjudicators and it looks as though the government will start recruiting members of the adjudicators shortly."
The Construction Contractors Act promises to give sub-contractors greater certainty about when they will be paid as it should put an end to 'pay when paid' clauses where main contractors withhold payments until they themselves have been paid by their clients.
Progess is also being made on reforms to Public Procurement Contracts, said the CIF chief: "The provision for the use of Bills of Quantities as a primary reference document will reduce the level of risk transfer and the provision on the direct tendering of specialist sub-contracted works are both welcome and should be in place by July.
"As the job market improves, having the necessary skilled personnel will become a challenge but work to improve the number of apprenticeship schemes is progressing. We are meeting with the Minister for Skills, Research and Innovation Damien English to work on a pilot scheme to increase the number of apprentices in the wet trades and we are talking to the Department of Education and Skills about promoting the construction industry as a place for a life-long worthwhile career whether as a professionals or a trades person."
This article appeared in Irish Building Magazine Issue 3 2015