90 companies participate in Dublin Lean Construction event
The Minister for Jobs, Enterprise and Innovation Mr. Richard Bruton TD has opened Enterprise Ireland's Dublin Lean Summit at Dublin Castle.
The summit is organised by Enterprise Ireland and supported by the Department of Jobs, Enterprise and Innovation and the EU-Japan Centre for Industrial Cooperation.
Participants of the Summit include 90 of the world's leading companies, from Europe, Japan and Ireland. These companies will share their experiences of the impacts of Lean on their businesses and how it can drive competitiveness in global markets.
[rev_slider londonbuild]
International speakers include Toyota, LEGO, Audi, FIAT, Bosch, Siemens, DHL, Schaeffler, Recaro and NorskHydro. Irish companies attending come from a range of different sectors as well as on the FDI side such as; De Puy, Lake Region, State Street, Zimmer, Acelity, Intel, IBM, Pfizer, Aerogen, Dairymaster, Openet, Paddy Power.
Opening the conference Minister Bruton said: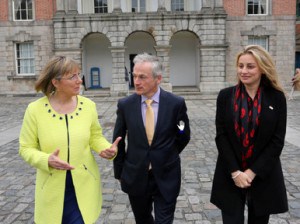 'Maximising efficiency and productivity is critical to any business's ability to survive, export, grow and ultimately add employment. Lean is one of a range of tools we have put in place to support the growth of Irish companies, and we have seen impressive results in the past 3 years with over 17,000 extra jobs created in Enterprise Ireland-supported companies, and record levels of exports achieved. Today's event is a great initiative and provides a real opportunity for knowledge sharing. I hope that people here today who are focused on developing productivity in their own businesses get the opportunity to share with others and ultimately learn lessons which will help them grow their companies in the future.'
Enterprise Ireland's CEO Julie Sinnamon added:
'Process and product innovation is at the heart of gaining competitive advantage in business and a key priority for Enterprise Ireland.  We help Irish companies lever-off the excellent innovation platform that exists in Ireland, to drive competitiveness, as a key accelerator of firm performance.  As a result, Irish companies are competing and winning strong positions in niche sectors globally.  This event is a great opportunity to showcase great Irish innovation, and of course, to learn from the experience of international experts.'
Over the last five years, Enterprise Ireland has supported over 700 Lean projects in companies resulting in significant improvements across a number of areas.
A recently published Department of Jobs, Enterprise and Innovation report on the Enterprise Ireland Lean Business offer clearly identified the impacts of the Lean initiative which include:
20% increase in productivity
40% increase in sales
6,200 people trained in Lean
11% increase in employment