FenestraPro Premium for Revit – Efficient Facade Design for Architects
FenestraPro, a leading provider of software that enables energy efficient facade design, is delighted to announce the launch of FenestraPro Premium for Revit, continuing the development of the FenestraPro Add-in range for Autodesk Revit.
FenestraPro Premium for Revit is the complete package which enables architects to design environmentally efficient building façades more effectively, while ensuring compliance with increasing environmental standards and requirements thus enhancing green building design at an early stage in the design process.
"We at FenestraPro are committed to developing innovative software in the area of environmental building design, to improve energy efficiency and produce near zero energy in new and refurbished buildings." said David Palmer co-founder and CEO of FenestraPro.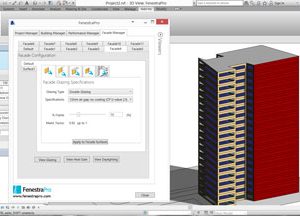 According to FenestraPro co-founder and COO Simon Whelan, "By leveraging the emergence of Building Information Modelling (BIM) and in particular Autodesk Revit, we are continuing to ensure that designers can conceive better performing buildings and reduce the carbon footprint of new and existing buildings dramatically".
As an innovative design tool, as opposed to standard industry analysis tool, FenestraPro Premium for Revit provides key design parameters relating to the façade based on the predicted energy performance of the building itself from the conceptual massing and energy models of Autodesk Revit, the leading BIM software.
FenestraPro Premium for Revit will enable Architects to:
Enhance design by considering performance at a conceptual design stage of a facade
Improve design processes significantly, and understand the implication of design decisions
Maintain control over the aesthetic
Balance thermal performance, heat gain and daylighting
Optimise the Glass to Wall Ratio, and the optimal distribution of that ratio around the building based on performance
Maximise passive solar heat gain and establish measures to prevent overheating
Apply design decisions direct to model
Produce detailed report on the design and performance of the façade
Foster stakeholder engagement and collaboration
For further product information, for a free trial or for Reseller information contact FenestraPro on 353 (0) 1 656 6281, info@fenestrapro.com or see www.fenestrapro.com