Dublin Airport to Invest €14 Million To Expand T2 Car Park
Dublin Airport is investing €14 million to expand its short-term car parking facilities to meet growing customer demand for spaces located close to the terminals.
Work has started on a major upgrade at the Terminal 2 multi-storey car park, which will more than double the number of available spaces.
The €14 million project will add a further 1,400 spaces to the T2 car park, as four new floors will be added to the existing structure, which was originally designed to allow for future expansion. The upgrade will bring the overall number of car parking spaces within the T2 multi-storey facility to more than 2,500.
[rev_slider ARconferencedublin]
The extra car parking spaces are required due to the significant growth in traffic at Dublin Airport over the past three years and strong demand for short-term car parking, particularly at Terminal 2. Passenger numbers at the airport increased by 8% to 21.7 million last year and have risen by 16% in total since 2011. In the first quarter of this year, passenger traffic at Dublin Airport has increased by 17%.
"This is a major investment in additional customer car parking at Terminal 2," said Dublin Airport Managing Director Vincent Harrison.  "We are expecting another year of passenger growth in 2015 and this increase in car park capacity means more customers will be able to park conveniently close to T2," he added.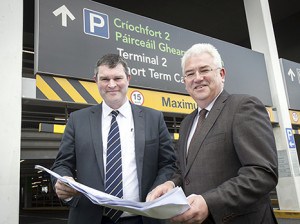 Terminal 2's short term car parking is predominantly used by business travellers between September and April. The construction work, which is being carried out by Balfour Beatty, will take place during the quieter period for business travel, which is during the summer months.
The 1,400 additional spaces will be handed over on a phased basis during construction and the project is due for completion in December 2015. The new extension will be made from steel rather than pre-cast concrete, which reduces the weight of the structure and the cost.
The T2 car park will be open as normal during the construction works, but the number of spaces available will be reduced.  A traffic management system will be in place for the duration of the project. A further 350 car parking spaces will be available close to Terminal 2 in the recently upgraded T2 Plus surface car park.
The existing T2 multi-storey car park opened on a phased based between November 2010 which coincided with the opening of Terminal 2 and February 2011.
Dublin Airport will welcome a total of 21 new services this year, comprising 16 short-haul routes and five new long-haul routes to Washington, Chicago, Los Angeles, Addis Ababa and Halifax, Nova Scotia.