Competitiveness of Construction Sector to benefit from 'Lean' Approach
Over 220 delegates from across the Irish engineering and construction fraternity attended a seminar organised jointly by the Lean Construction Institute (Ireland Community of Practice) in collaboration with PM Group in Cork recently.
The seminar aimed to raise awareness of Lean principles in the Irish Engineering and Construction industry and demonstrate how members can implement Lean as a collective group through knowledge-sharing and collaboration between owners, designers, contractors and trades.
For some attendees it was a first insight into the difference a Lean approach could make to their business while others were looking at how this approach could deliver further cost savings and schedule certainty on industrial projects.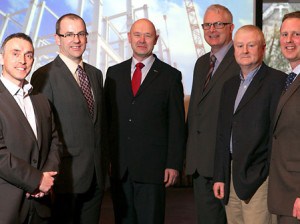 Amongst the speakers was renowned Lean Practitioner Richard O'Connor, who has led Lean Initiatives in the UK including the 16,000 sq m Birmingham Gateway Development and the development of a Lean Improvement Strategy for the Hinckley Point nuclear building project.  Commentating at the event Richard said   "Lean equals better value and taking a Lean approach to the complete project life cycle yields strong business benefits. We have recently seen reductions of 30 to 60% in construction programme duration and productivity improvements of 20 to 35%."
According to Colm Fitzgerald, Head of Construction Services at PM Group; "Irish companies who are collaborating to adopt a Lean project delivery approach have become far more competitive, not just here in Ireland, but also on the international stage, where we are competing and winning new business from multinational clients". 
Also speaking at the event was Dr Richard Keegan, Enterprise Ireland Lean specialist, who stated "Ireland needs to be competitive, and Lean gives us the opportunity to address internal competitiveness challenges using best practice and working together to develop the capability of our people and processes.  Enterprise Ireland clients are reporting good results with the Lean approach – including 10 to 20% productivity improvements and 8 to 11% employment increases – and internationally, people are becoming aware that Ireland is adopting a Lean approach".