Atkins appointed to maintain Ireland's high-speed road network under MCAAS second generation
Atkins, a member of the SNC-Lavalin Group, has been commissioned by Transport Infrastructure Ireland (TII) to oversee the maintenance of 844km of Ireland's motorway and dual carriageway network, under the second generation of the Motorway Contracts Audit and Administration Services, MCAAS-2.
In the role, Atkins will procure supervision, monitoring, audit, design, technical, advisory and asset management services for greater Dublin and the eastern seaboard area (Region East), and Cork and south/south-east Ireland. (Region South). Additional specialist support for the likes of sustainability, energy efficiency and pavement and road safety design will also be provided.
Seán McDonnell, Technical Director at Atkins, said: "MCAAS-2 is a key step in protecting the future of Ireland's motorway network. Building on our vast experience in motorway maintenance in Ireland, we look forward to drawing on our expertise from across the country to support TII with the next phase of this project."
Kevin O'Rourke, Head of Network Operations at Transport Infrastructure Ireland, said: "The operation of our motorway assets is one of our key focus areas and we are delighted with the contributions by the MCAAS commission since 2013 to date in delivering motorway operations and we look forward to continuing to work with the Atkins team in MCAAS-2."
"SNC-Lavalin has a strong track record of managing assets and increasing value through these investments," said Ian L. Edwards, President and CEO, SNC-Lavalin. "In particular, we can point to a rich portfolio of highways projects all over the world where we're helping clients to manage and maintain critical infrastructure drawing on expertise from across the Group."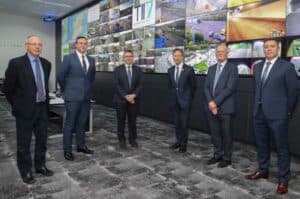 Region East
201km of Network A under Motorway Maintenance and Renewal Contract (MMaRC)
209km covered by five PPP contracts: M50 Upgrade, M1 Dundalk Western Bypass, M3 Clonee – Kells, N7 – N11 Arklow – Rathnew, and M11 Gorey – Enniscorthy
Region South
340km of Network C under MMaRC
94km under four PPP contracts: M7 – M8 Portlaoise – Cullahill, M8 Rathcormac Fermoy, N25 Waterford City Bypass, and N25 New Ross Bypass
The work in Ireland is being carried out under the second generation of the Motorway Contracts Audit and Administration Services (MCAAS-2) programme which focuses on asset management, asset repair and asset renewal. SNC-L also led the first generation of MCAAS, having been appointed in 2013 to support the management of the entire motorway network.
"This appointment will see us build on the work undertaken over the last 8 years as we continue to support TII in providing sustainable transport infrastructure which unlocks economic growth while respecting the environment," said Philip Hoare, President, Atkins, Engineering, Design & Project Management, SNC-Lavalin
Peter Walsh CEO TII stated, "On behalf of TII, I am delighted to be awarding Atkins the MCAAS commissions for Region East and region South. Asset management is critical for helping us drive the continuous improvement needed so the country can continue to get the best value from our high-speed road network and thereby safeguard the future of one of Ireland's most important assets.''