John Paul Construction supports Cork's Penny Dinners
As they break ground on the Broga House development in Cork, John Paul Construction made a significant donation to one of Cork's most important charitable organisations, Cork Penny Dinners.
Embracing the spirit of giving back to the local community, the company donated the sum to well-known Cork organisation, Penny Dinners. With the charity's base located just a stone's throw from one of their current developments – Broga House Student Accommodation on Washington Street – John Paul Construction felt it appropriate to mark the great work carried out by their neighbours through the generous contribution.
Speaking on the company's decision to support one of Cork's oldest charities, Niall O'Connor, Construction Director at John Paul Construction, said: "We were aware of the amazing work carried out by Catriona Twomey and the team at Penny Dinners, so it was a no brainer for us to show our appreciation by giving back, in some small way, to the community they care for 365 days a year."
He added: "The donation has already been put to very good use. From the delivery of hot meals around the city to the homeless, providing Emergency First Responder courses to enable those living on the streets of Cork to help one another, to facilitate the return to school or college for recovering addicts that live in Penny Dinners' shared housing facility, it's truly a humbling feeling to learn what a difference our contribution is making."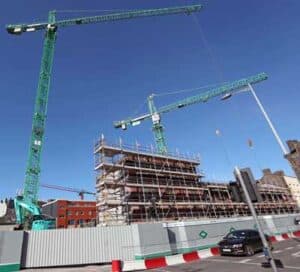 Located adjacent to Penny Dinners headquarters on Little Hanover Street, Broga House, is one of John Paul Construction's most high-profile projects in Cork. The project will see the transformation of the former Square Deal site into a 280-bed student accommodation and mixed-use building. Designed and built by John Paul Construction, the development will span 8,500m2 along with internal courtyards, roof terraces, a laundry, a gym, study rooms, a library, a private dining room, reception, and a café on the ground floor for both residential and public use.
The project has created an estimated 200 jobs and is set to be completed in time for the kick-off of the 2022/23 college year.
Despite such a diverse portfolio, the company has found the time to champion yet another initiative close to its heart. As a supporter of the STEAM Education Ltd 'Engineering-in-a-Box' programme, which inspires and encourages children to consider a career in engineering, John Paul Construction facilitated the participation of five classes from Cloghroe NS, Cork, in the scheme. Partnered with STEAM engineer Shane McDonogh, the students spent 10 weeks using their imagination, along with their mathematical and scientific skillset, to solve various engineering-related challenges.
Founded in 1949, John Paul Construction is a leading international specialist in construction, infrastructure and fit-out, with a portfolio of major projects for national and global clients across all sectors.
For more than 70 years, they have continued to build an impressive track record in Cork in particular, with their earliest projects in the region featuring the construction of the runway at Cork Airport, as well as the development of bridges associated with the Lee Hydroelectric Scheme and the intake of natural gas to the Marina ESB power station.