A new model of delivery for Water Services Infrastructure
The Early Contractor Involvement (ECI) Programme is a new capital delivery model that encourages engagement with contractors from the start of the project life cycle, driving collaboration and efficiency on capital projects.
It is internationally recognised that collaborative working arrangements in the delivery of construction contracts have produced substantial benefits, particularly through improved project performance, productivity, timelines and risk reduction.
Irish Water has researched emerging international capital delivery approaches in order to select a model that can provide efficient delivery of schemes to bring Ireland's water and wastewater infrastructure up to standard. Irish Water identified a need to enhance collaboration through the integration of design and construction teams as early as possible in the development of projects and to provide more opportunities for digital construction and innovation to drive value and quality. Following the review of these emerging capital delivery approaches, the Early Contractor Involvement (ECI) model was identified as the best fit to effectively deliver a range of water and wastewater infrastructure across Ireland. 
Early Contractor Involvement
The ECI Programme is a programme contract that encourages engagement with contractors from the start of the project cycle, to offer input into the design and planning phase, right through to construction and final handover. It is in contrast to the traditional one-off design–build model where the contractor is typically brought on board at the end of the design phase.
The ECI approach places emphasis on a number of key principles such as increased collaboration between the contractor and client, adoption of a commercial pain/gain mechanism, appropriate allocation of risk which leads to greater cost certainty, reduced volumes of tendering and associated inefficiencies, and it encourages supplier-driven innovation which realises efficiencies at an early design phase.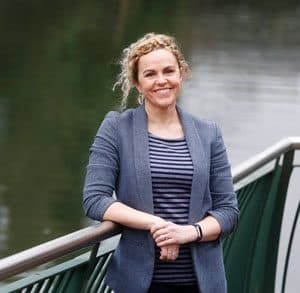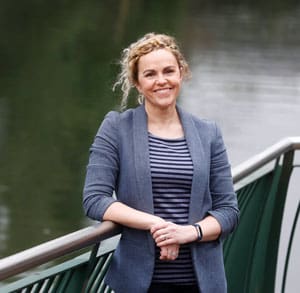 The ECI Programme utilises a bespoke form of contract to enable early resourcing by contractors and encourage a less adversarial claims culture by appropriately managing risk and encouraging collaborative working through design and construction project stages.
Dr Caroline O'Reilly, Irish Water Programme Manager for the ECI Wastewater Programme explains, "The contract is based on open-book Target Cost principles, to provide an efficient mechanism for delivering and awarding works as well as incentivising the contractor to work with Irish Water in a collaborative manner."
The Irish Water ECI Pilot Programme was launched in 2019 and has been evolving ever since, with three main contractors participating: Glan Agua Limited, EPS Group and Veolia Water. Irish Water has mobilised this approach across 5 programme contracts with over 50 active projects and an anticipated €400m investment for essential water and wastewater projects across the country over the contract duration.   
There are a number of essential projects in the programme pipeline including nine untreated wastewater agglomeration projects and ten priority water supplies which are currently on the EPA's Remedial Action List.
Collaborative Working
A change in culture and behaviours is required across all parties responsible for project delivery to move from the transactional and sometimes confrontational traditional delivery model to the Collaborative Working Strategy employed in the ECI Programme. Strong leadership is required to communicate the common vision and model the way by clearly demonstrating the correct behaviours at all times.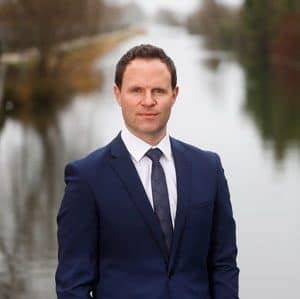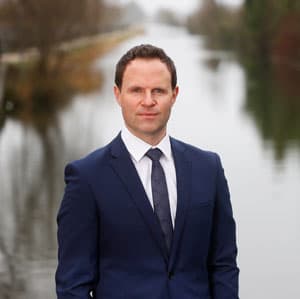 John Hynes, Irish Water Programme Manager for the ECI Water Programme explains that, "The ECI Programme's success depends on how well the partnering organisations can collaborate by combining the potential of their teams and openly sharing knowledge and best practice, to achieve the common goals and objectives of the programme."
The ECI contractor selection process took the form of a team-based assessment, which involved bringing together six members of the tenderer team and six members of the Irish Water team to work together on a number of challenges and exercises, where behaviours linked to Irish Water's core values were assessed.
Hynes adds, "We have set up a Collaborative Working Forum, a Joint Behavioural Charter and embedded coaches across all programme contracts that lead collaborative initiatives, and continuously look to improve our ways of working."
With teams working remotely and geographically dispersed across the country, new technologies like Building Information Modelling (BIM) offer practical ways to improve collaboration, effective data sharing and design capabilities. The ECI Programme has also adopted regular anonymous team surveys and feedback to measure collaborative performance.
Driving Innovation and Value Creation
To date, the increased collaboration between Irish Water and the contractors has resulted in building improved working relationships and led to significant schedule efficiencies and reductions in the whole-life cost of projects. As the overall scope of works can be more outcome focused with an ECI contract, there is more room for innovation to achieve the required project outcomes. A collaborative approach has resulted in optimum level of resourcing being allocated to design, safety, stakeholder management, risk mitigation and streamlined asset data gathering.
Optimised Programme Delivery can be achieved through operational efficiencies from optimised labour and plant utilisation within the supply chain, along with the reduction of duplicated roles and time spent on procurement and tendering. Greater accountability for design and project management enables the contractor to accept risks with lower premiums and risks are assigned to the appropriate party with gain share opportunity encouraging out-performance. This improved risk management leads to increased cost certainty over the total project life cycle.
Unique Opportunities
From a client perspective, the ECI model provides a unique opportunity for Irish Water to gain direct information and market knowledge from the supply chain, particularly in terms of current innovative technological developments. This is critical for the evolution of Irish Water's specifications and standards, resulting in a well-rounded review gathered from the three leading contractors.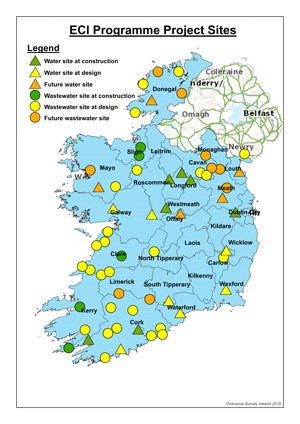 For contractors, the ECI Programme offers an opportunity to unleash supplier-driven innovation and realise efficiencies at an early design stage. This supply chain-led design emphasises safety-focused construction, improved buildability, standard designs and products. It also provides opportunities for innovative construction methodologies such as offsite prefabrication and modularisation to drive improved quality, safety and time efficiencies.
The ECI model provides cost certainty to the construction phase through an open, transparent and collaborative assessment of project particulars and risks during the design stage. Amongst a number of programme templates developed to date, the ECI Shared Risk Register is proving very useful to all parties. Risk and reward are shared between parties on the ECI Programme.
Another benefit of the ECI approach, according to Brendan Sheehan, ECI Programme Manager at Veolia, is that, "ECI offers contractors the opportunity to plan for a pipeline of guaranteed work removing the uncertainty of year-on-year budgets. It allows us to further invest in upskilling all staff and recruit more graduate engineers and increase the pool of engineers in the water and wastewater sectors."
Leixlip Water Treatment Plant Upgrade
In 2019, two Boil Water Notices were imposed on water supplied by the Leixlip Water Treatment Plant, affecting over 600,000 customers. Emergency ultraviolet (UV) disinfection works were needed and the project was handed over to Irish Water's Asset Delivery team, in partnership with Fingal County Council, in December 2019. Hynes outlines how, "The flexible approach of the ECI Programme meant that the contractor (Glan Agua) had the ability to react to emerging business needs which helped to prevent the reoccurrence of another Boil Water Notice across the Greater Dublin Area. Within six months, the project moved from concept design to target cost approval, which would have typically taken up to three years using a traditional construction model."
Increased transparency and collaboration between Irish Water and the contractor resulted in effective risk mitigation and estimating certainty for the project, through collaborative design and upfront site investigation works. This collaborative and open approach has continued throughout the construction phase of the project. The ECI team has allowed for a strong relationship to be formed with the Operations team which has been vital to finding a satisfactory resolution and completing the works safely and effectively.
Dr John Fox, Contracts Director at Glan Agua notes, "The key learning to date from my personal perspective and from consulting with my colleagues is that it has being a real eye opening experience to 'live in the shoes' of individuals who, in a historical design-and-build contract would have been sitting at the other side of the table.
"The ECI Programme, which aims to bridge this gap, leaves stakeholders less segregated and ensures emerging issues are resolved through combined effort. As the ECI Programme develops  year on year, this delivery platform will undoubtedly go from strength to strength."
Castlemaine Wastewater Treatment Plant Upgrade
In early 2019, Irish Water, working in partnership with Kerry County Council, commenced work on the upgrades to the Castlemaine Sewerage Scheme as part of the ECI Programme. Dr O'Reilly explains, "This project was delivered by Glan Agua on behalf of Irish Water and was the first project delivered under the programme. Although it was a small project, it was quite significant due to the piloting of this collaborative procurement process. The project was completed on time and on budget with a number of construction challenges managed effectively through the client and contractor teams working in partnership. This collaborative environment fostered a number of design efficiencies that were utilised on not only the Castlemaine project but have been transferred across to other similar projects on the programme through lessons learned and knowledge sharing, thus providing value for money at a programme level."
For example, as part of the works, Glan Agua engaged with suppliers to design High Density Poly Ethylene (HDPE) conical hopper settlement tanks to improve the delivery lead times and installation beyond what was available in the marketplace. They were proposed as an alternative to the concrete and Glass Reinforced Plastic (GRP) as specified in the Irish Water Technical Specifications. Installation of the tanks took one day per tank, as opposed to the normal one-two weeks per tank for the traditional installation.
Dr Fox says, "By getting the contractors involved in the planning and conceptual design phases, Irish Water can leverage on the construction experience gained by the contractors. Working in partnership means all teams are committed to delivering long-term value for money whilst also meeting environmental commitments."
Athlone Water Treatment Plant
Irish Water, working in partnership with Westmeath County Council, is upgrading the water treatment plant in Athlone, Co. Westmeath to ensure a more secure water supply to provide for social and economic growth and demand. Veolia Water Ireland are carrying out the works on behalf of Irish Water.
Under the ECI approach, significant capital and schedule efficiencies have been achieved to date. Within seven months, the project moved from concept design to target cost approval, a significant achievement by all parties.
"By allowing contractors to get involved early in project development substantial benefits can be realised. It offers Irish Water the ability to react to emerging business needs. By working with the client in a collaborative manner, contractors can offer innovative bespoke solutions meeting Irish Water's specific project needs," notes Sheehan.
Quin Wastewater Treatment Plant
Irish Water, in partnership with Clare County Council, is progressing the delivery of the upgrade to Quin Wastewater Treatment Plant (WWTP) under the ECI framework. The project is currently at the commissioning phase.
The upgraded WWTP is designed for a population equivalent of 1,350 and will provide for an EU Urban Wastewater Directives compliant solution.
"This is the first project to be delivered under the ECI Framework by EPS and despite restrictions due to COVID-19 is currently on programme and within budget," says Denis McElligott, Contracts Manager, EPS Water.
Utilising the collaborative ECI approach, a detailed upfront review by all stakeholders of the project designs provided for a streamlined and lean construction period. Particular emphasis was placed on health, safety, quality and environmental deliverables throughout the construction of the works and this is reflected in the HSQE audit outcomes.
Due consideration was given to the local residents as access to the site was adjacent to a private housing development through on-going engagement; maintaining an excellent relationship was a priority that was delivered on.
"Stakeholder collaboration, in conjunction with the health, safety, quality and environmentally focussed approach will be the template by which all future projects will be delivered on programme and within budget under the ECI framework," adds McElligott.