Chadwicks: Building for the Future on a Foundation of Excellence
Established by William Thomas Chadwick in 1902, Chadwicks has contributed to the fabric of everyday life in Ireland for over a century by supplying products and building materials to homes, hotels, buildings, and transport networks throughout the country.
Chadwicks has a long and proud history in helping the construction industry select the right materials to get the job done. Today there are over 40 branches across the country offering expert advice, value, best in class customer service coupled with an unrivalled product range.
To continue to meet its customers' needs, Chadwicks has now further expanded its offering to include a broader range of Civils products expertly designed for new builds, roads, sites, and paving projects.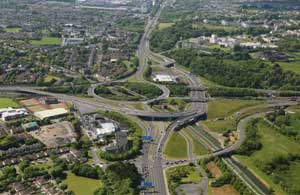 As part of this commitment to broaden its Civils range, Chadwicks has expanded its partnerships with brands such as Wavin, Terram, ACO, MFP Plastics, Polypipe, Radius Systems and Wrekin to widen the range across major product lines.
These products are available across branches nationwide with the widest range of stock available at Chadwicks Civils Division Xtra branches in Lucan, Robinhood Road, Bray, Drogheda, Naas, Limerick, and Sligo. Seamlessly connected through the branch network, the team is always on hand to provide expert advice throughout the country.
New product lines 
Chadwicks has expanded the products it offers in lines such as electrofusion and geogrids, ducting, water mains, access chambers and drainage channels. Customers can also avail of a wide range of paving solutions expertly designed for all civils projects.
All branches will now stock Terram, a non-woven geotextile fabric that prevents the intermixing of sub-base and subgrade layers. The material is ideal for use beneath driveways and roads, or land stormwater drainage systems.
Chadwicks is the only builders' merchant offering Cetco Voltex waterproofing membranes. Voltex incorporates the high-swelling and self-healing properties of Volclay sodium bentonite to form a monolithic, low permeable membrane to protect the structure from water ingress. It contains zero VOCs and can be installed in almost any weather condition.
A wide selection of Electro-fusion piping and fittings, which use built-in electric heating elements to weld joints together have also been introduced to the range. Wavin Hepworth Clay Sewer Pipes are also available exclusively through Chadwicks, offering durability, longevity and a more environmentally friendly option for customers.
Notable Projects
For decades, Chadwicks  Group has provided its expert range of Civils and environmental protection supplies to building contractors, consulting engineers, local authorities, county councils and government organisations for projects across the country. Not only have civils products proved instrumental in the development of these projects but they have also been featured in some of Ireland's most well-known landmarks.
From supplying the surface water management system and high impact covers in Dublin Airport to providing the drainage channel running the length of Dublin Port Tunnel, the range of civils products are proven to be trustworthy and reliable.
Chadwicks Group has been heavily involved in the development of vital transport links throughout the country, providing materials for projects like the M50, the original Luas lines and the nationwide motorway programme. As well as this, materials from the Civils division have been used in the construction of some of Ireland's most notable sporting stadiums, namely Croke Park and the Aviva Stadium.
Reliable Network
With a presence in more communities in Ireland than any other merchant, the Chadwicks network allows branches to easily source products and materials from other locations across the country, meaning customers' needs are met quickly and efficiently.
When purchasing from a Chadwicks branch, customers also get the benefit of expert advice alongside best-in-class customer service. All colleagues undergo regular product training and have years of experience allowing them to provide unrivalled knowledge and expertise.
Chadwicks also take a leading role in offering sustainable technologies and materials to the construction sector. In doing so, it not only ensures the continuous growth of the industry but also helps to protect the communities in which it serves.
The new Chadwicks Civils range is available in branches nationwide now. A new Civils Division catalogue is available in branch and online now.