King & Moffatt – Future Focused
Efficiencies at scale, from prefabrication to embracing the latest technologies, are driving ambitious growth plans at King & Moffatt.
The end of their 2020 financial year, in June, saw King & Moffatt finish the first formal five-year strategy the company had instigated. "That was really the first time that the business sat down and looked at strategy, with the succession plan of Pat and John, our two founding directors," says Ciaran King.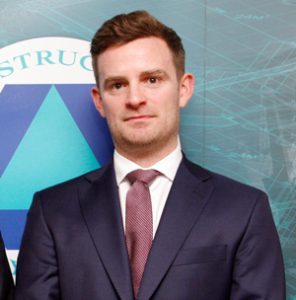 "After the downturn that came in 2008, we were doing a lot of hospitality, retail, hotels, leisure and residential projects—a lot of things that we found were the first to get hit by a recession. So, for our last strategy from 2016 to 2020, we changed our direction. We were looking at pharmaceuticals, logistics, commercial, food factories, industrial, and more recently getting into data centres. We identified these sectors as areas that were recession-proof, for lack of a better term."
King & Moffatt has now entered the first stage of a new five-year Strategic Plan, which will bring the company up to 2025. It has a clear and ambitious vision, with plans to double in size and grow to a turnover of €200m by 2025, with continued focus on strong international growth.
"A big thing is this: at King & Moffatt when we look for our clients, we look for strategic partners, we're not someone to work for 10 or 15 different main contractors. No matter what country we work in, be it Ireland, the UK, Holland, Germany or Poland, we try and identify two to three strategic partners," King explains. "That works both ways—we'll do whatever it takes to get the project over the line and we'll go to whatever country they want if they're always looking at us for their next job."
The company mission statement reflects this: 'To be MEP partner to our key clients in all the locations and sectors they operate by providing efficient Design, Build and Maintain services on all energy sources on their sites and connected assets.' Their commitment to this ethos recently saw King & Moffatt awarded the Irish Construction Excellence Award 2020 (ICE Awards) in the Specialist or Specialist Contracting category for their work on Center Parcs, a milestone contract delivered on time and on budget to the client's satisfaction.
International Growth
King has just spent time in Holland as they began onsite work for their first job in the region, for a long-standing client. "They knew of King & Moffatt's success overseas in Poland, Portugal and Germany, and they asked us if we'd be interested in coming on board. Late in 2019 and early 2020 we set up our Dutch company." With another key client planning a new food factory in the region next year, he expects to continue to grow the Dutch business.
"We won't go to a new country in mainland Europe and hit the domestic market. The only reason we will travel abroad to Europe is when our strategic partners and our clients want us to go with them and work on a project. That would have to be a project that's in line with our strategy. We're not going to new countries to do office, residential or hotel projects," he underlines.
"We have a full UK business unit; we've been delivering projects in the UK for over 20 years, but we've been set up over there with a full-time presence on the ground since the last recession. Since 2009 we have opened offices in Birmingham, Stoke and Edinburgh that support our UK business."
In terms of the potential effects of Brexit, he says, "Obviously, a deal has been done on Brexit now, which has at least removed the worst-case scenario, however there is still some impact on the movement of goods between the countries, so this is something we are monitoring closely. As an international company it would be preferable to have frictionless movement of goods and people between our markets, but on the whole,  we are very positive about the future of the company and the industry in Ireland, the UK and Mainland Europe."
Vertical Integration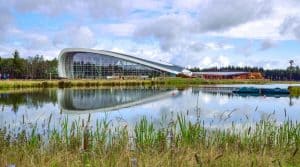 "We have developed and incorporated two new businesses," he notes. "King & Moffatt Offsite and King & Moffatt Connected, and both of these businesses are enjoying most of their success to date, through vertical integration into our supply chain. There were elements of our packages that we were selling out to subcontractors in our supply chain, and now we've taken this in-house to improve on quality and delivery."
King & Moffatt Offsite Ltd was incorporated in June of last year and since then has gone from strength to strength. "King & Moffatt Offsite has the most growth within all the companies within our group," says King. "It's got a growth of 10X and it's going to go from €2m a year to €20m a year in the next five years as part of our strategy 2021 to 2025. We want to sell more of our current services, but also sell more services out of our offsite facility. The majority of that growth is in the UK, which is our biggest business unit, but also in Poland, Germany, and Holland."
"We can see with all of our competitors, everyone is trying to deliver more services offsite because of the speed in which we have to deliver," says King. While in its early stages when COVID-19 hit, King & Moffatt Offsite accelerated their growth, due to travel restrictions—building a lot more offsite and shipping it out to each job. "As an international group with sites in Ireland, the UK, Germany and the Netherlands currently, we view King & Moffatt Offsite as very important strategically to the company, in providing greater certainty and assurance of quality."
"We have five different products that we sell out of this business: modular containment systems for electrical and mechanical services; fully kitted out distribution boards with trunking headers; modular wiring, BMS & FA Panels, mechanical skids and spools, which go to our projects overseas;" he notes. Looking ahead they have ambitious targets for the level of prefabrication going into their projects.
Benefits of Offsite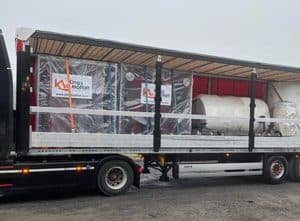 King points to the safety, efficiency, cost of labour, and employee satisfaction (at getting to work close to home) as some of the benefits of producing prefabricated MEP solutions in a controlled offsite manufacturing environment. In terms of safety, potentially dangerous practices such as working at height and hot works in restricted spaces are vastly reduced. "And we find we can track the quality a lot better, having it under the one roof in a manufacturing environment rather than traditional construction delivery which is delivered on site." Taking MEP services offsite also means early testing, commissioning and programme assurances can be secured.
Growth & Investment
Such is the growth in King & Moffatt Offsite, the company outgrew the original 6,500 sq.ft. facility within a year. This is now used as a training facility, while production has moved to a 28,000 sq.ft. site. The new recently fit-out facility, across the road from the current one, more than triples King & Moffatt's prefabrication manufacturing space in Carrick on Shannon.
King reveals it was a great pleasure to buy a CombiLift forklift for the new manufacturing facility after delivering a project for the Monaghan firm just a few years ago. "CombiLift was one of the first big projects that we completed as part of our last strategy. It gave us a lot of profile and raised awareness in Ireland and the UK, so it was great to go back to CombiLift and to be able to buy a forklift from them to use in our manufacturing facility, which we never would have envisaged we'd have back in 2016 when we won that job."
Local Employment
King & Moffatt already has over 320 direct employees and King expects the growth of Offsite will add to the success story for the Carrick on Shannon locality and surrounding counties.
"Our two new businesses, King & Moffatt Connected—which focuses on the mechanical and electrical design, through 3D and the whole BIM offering—and King & Moffatt Offsite, are going to generate a lot of employment supporting our business in Ireland and in overseas markets. That they're based in Carrick-on-Shannon, in Co. Roscommon, is really important to us because we're so proud of where we come from in the North West. Historically we've created so much employment in the area but the fact that there's very little construction around us meant we've always had to travel. It's great to be able to create employment that's based in the town. There are currently 14 employees in Offsite, and we see that growing to 20 by June 2021, and to 80 by June 2025."
Investing in People
"When identifying our strategy and where we were going, I really focused on our recruitment and our apprenticeship development," says King. "That was something that had fell off completely from 2008 to 2015 with the recession. Apprentices are most important in a business like ours: we are a people business in the services industry."
"We have been saying for years that we have the best apprentices in the industry, and in the past two National Electrical Awards our apprentices Sean Hoey and Shane Farrell won the Electrical Apprentice of the Year Award. This is a huge source of pride for the company.   
"The new facility also provides us with an excellent opportunity to train our staff in a controlled working environment and classroom setting away from the usual inhibiting factors of a construction site."
Training services cover a full gamut including: Apprentice Introduction Training; Annual Apprentice Training; Fuse Board; Electrician Training; Testing; Fire Alarm; Manual Handling; Abrasive Wheel; and MEWPS. "We hire a minimum of 10 apprentices every year between our different trades. All of our apprentices, prior to Covid, spend their first week in our training facility in Carrick-on-Shannon. There, they will do the full internal training programme, where it starts out with their company induction and manual handling and we take them through the basics and the materials, depending on what trade they're doing."
"Our primary focus is to train, train and train. We've grown a lot and we've introduced a lot of new systems over the past five years, and we will continue with how much we innovate as a business. We continue to introduce new systems, so we need to keep training all of our employees and everyone within the business."
Having pushed to move the business from storing information on servers to using cloud storage in 2013, when he first joined the company, King saw the advantage clearly when COVID-19 hit—it was seamless. "It was great that we were ahead of the curve coming into April, and there was no issue for us. Everything we've done, our document management system and all of our servers were already on Microsoft Azure. We have recently just engaged with Autodesk to move our cloud work sharing, collaboration, and data management product to help improve the movement of information through our system and to deliver projects faster."
Next up he is focused on further training for onsite teams in using BIM models: "They know their way around it, but I want them to really get value out of it," he enthuses. "Some site teams and some site managers who are tech savvy get stuck into it straight away, but we often forget we're coming from an industry that was in many instances behind the curve for years and people weren't used to the digital environment. Some people are a bit slow to adopt the technology.
"For quality, sign off and handover of our jobs, that's the next phase that we want to get involved in with our BIM models—so all of our check sheets, all of our handover and all of our commissioning documents are done within the 3D environment. This will be made a lot easier engaging with Autodesk and their market leading platform."