Obton to double investment in Irish solar energy sector
Obton has announced it is set to double its investment in the Irish solar energy market, with plans to expand its portfolio and solar energy projects to reach a total capacity of 1 Gigawatt (GW) by 2026.
This major increase will see the total value of their portfolio and projects reach an investment of €750m in the sector in Ireland.
This increased ambition from Obton, a Danish solar photovoltaic (PV) business, and its Irish partner Shannon Energy, is set to happen over the next five years.
It is anticipated that the significant expansion will also mean the number of jobs their venture in the Irish market will create is set to rise to 2,000 over the coming years.  These roles will largely be created during the construction phase.
This major expansion from the Danish-Irish partnership comes just over a year after Obton entered the Irish market in January 2020 with plans to develop up to 500 MW of solar projects, which would have represented an investment of €300m.
The partnership between Obton and Shannon Energy is one of four joint ventures the Danish investment fund has in Europe. Private equity fund FSN Capital last year purchased a 45% stake in the Obton Group.
Anders Marcus, CEO of Obton, said: "We are delighted to announce our expansion and increased investment plans for Ireland, as it represents our enhanced commitment and ambitions for the sustainable energy market in this country.  Our partnership with Shannon Energy has successfully facilitated our investment in the Irish market and we look forward to continuing to expand the role of solar as part of the Irish Government's ambitious objective of having 70 percent renewal energy by 2030."
Last year the Danish-Irish partnership submitted 11 solar projects in the first round of the Irish Government's Renewable Electricity Support Scheme (RESS) and was subsequently awarded contracts for the projects.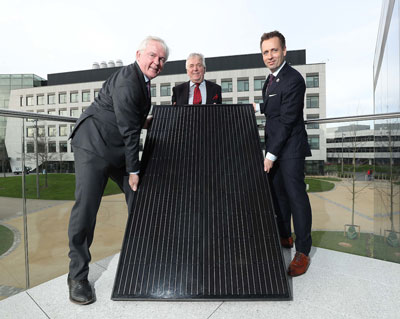 These projects are located in eight counties around the country, with sites in Wexford, Waterford, Cork, Longford, Galway, Offaly, Meath and Tipperary.  The combined 118 MW of power generated will be enough to fulfill the yearly energy requirements of up to 20,000 households.
Construction will begin this June on the first project in Ireland – Horsepasture, an 8MW solar park located in Clonmel, County Tipperary.  This project will have nearly twenty thousand solar panels deployed and connected to the National Grid, with energisation scheduled for next Christmas.  This project will kick-off the Obton contribution to the National Climate Plan for halving carbon emissions by 2030.
Gerry Shannon, Chairman of Shannon Energy, added: "The team at Obton and Shannon Energy are delighted to confirm this increased investment in the solar energy sector here.  As well as creating jobs and a clean source of energy, it also injects huge confidence into Ireland's green credentials.  This is just the beginning of this journey."
Commenting on the announcement, Noel Shannon, CEO of Shannon Energy, said: "We are extremely happy with the Obton relationship that has flourished and grown over the last two years.  We now have a team of specialists who are the boots on the ground from an Obton perspective.  We are now focused on acquiring more early stage opportunities to build solar projects on suitable Irish farms in order to reach our target of 1 GW in the coming years.''