Clúid Housing completes purchase of Dublin apartments in partnership with Legal & General
Clúid Housing has announced the acquisition of a 40-unit apartment development, Blackbanks View, in Raheny, Dublin. The €18.8m scheme is being delivered in partnership with LGIM Real Assets (Legal & General) and forms part of a larger €54m long-term financing agreement. Today's announcement sees Clúid welcome over 100 residents to their new homes.
Clúid is one of the largest approved housing bodies (AHBs) in Ireland and the first Irish AHB to secure a financing agreement of this scale with an international institutional asset manager. With a portfolio of over 8,300 homes across Ireland, Clúid has an ambitious growth strategy to deliver an additional 3,000 new social homes before the end of 2022.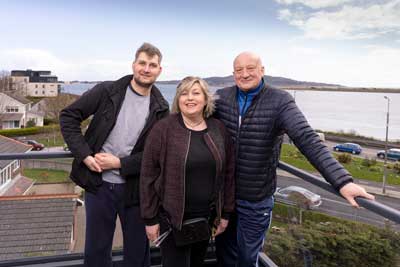 In December 2020, LGIM Real Assets (Legal & General) announced that it had provided €54 million in long-term financing to Clúid Housing, enabling Clúid to deliver more high-quality social homes, and provide a socially useful home for pension fund capital. Today's announcement sees the first of circa. 200 new social homes delivered as part of the financing agreement and is Legal & General's first investment in the Irish social housing sector. Clúid's acquisition of Blackbanks View also marks the arrival of long-term pension fund capital to the AHB sector.
Some 61,800 households are on local authority housing lists in Ireland. Official figures released in March show this figure decreased by 9.9% in 2020 with the Government reconfirming its commitment to ensuring that everyone can access a home, either on their own or with State support.
As part of the Government's ambition to increase the provision of social housing in Ireland, facilitating the evolution of established funding structures for social housing projects, the Department of Housing, Local Government and Heritage (DHLGH), and the Housing Agency have recently adapted their funding requirements to support innovation in the AHB sector.
Blackbanks View, developed by Dublin Loft Company (DLC), includes 11 one-bedroom, 24 two-bedroom and five three-bedroom apartments. The new homes are conveniently located close to social, educational, commercial, transport and recreational amenities including St. Anne's Park and Bull Island.
Clúid is poised to launch its first greening strategy this year and Blackbanks View is an excellent example of Clúid's commitment to a greener future. "The purpose of this Greening Strategy is to set a clear direction for Clúid over the next decade as we work to reduce our environmental impact, contribute to Ireland's emission reduction targets, and help create a sustainable future for all. Our greening strategy sets out our commitment to playing a part in this vital Climate Action work and I am pleased to confirm that Blackbanks View has been awarded an impressive BER (Building Energy Rating) of A2," said Fiona Cormican, Clúid's New Business Director
"Clúid Housing is committed to delivering good quality social housing and we are delighted to partner with Legal & General to deliver Blackbanks View here in Dublin. This new financing agreement provides a means for Clúid to scale up our ambitious targets and deliver homes for the most vulnerable in our society," Cormican continued.
"We pride ourselves on being an innovative organisation and by diversifying our funding models, we are achieving greater value for money without compromising the quality of the homes we deliver to our residents.
"Clúid's vision is 'a society where everyone has a great place to live'. We are particularly pleased to be able to welcome our newest residents at a time when having a place to call home is so important to us all. The ongoing Covid-19 pandemic has once again highlighted the importance of home. We believe that having your own home can be the catalyst for opportunities like seeking out employment, accessing education and other services that enable people to create homes and thriving communities.
"Clúid relies on partnerships to deliver quality housing and services to our residents. This scheme, delivered in partnership with the Department of Housing, Local Government and Heritage, Dublin City Council, LGIM Real Assets, and Dublin Loft Company is an excellent example of what can be achieved through effective partnerships."
Steve Bolton, Head of Corporate Debt, Europe, LGIM Real Assets, said: "We're delighted to continue to expand the LGIM business in Ireland, as well as our investments in affordable housing, bringing much needed long-term pension fund capital to the sector. The delivery of these new homes demonstrates the continued momentum of LGIM Real Assets' partnership with Clúid. Since announcing the financing in December 2020, Clúid has already delivered the first tranche of new social homes and welcomed over 100 residents.
Aligned with our social purpose, we have invested over £1.5 billion to date in affordable housing across the UK and now Ireland. It's very rewarding to see the tangible impacts that this kind of investment has and our investment with Clúid is testament to this – it matches our extended liabilities and delivers real economic growth and social value."