SAFEGATE Hygiene Pod by Cpac Modular
Cpac Modular Marketing and Bid Manager Alan Boyce talks to Irish building about the SAFEGATE Hygiene Pod which will provide clients with reassurance and peace of mind during the COVID years.
Meath based Cpac Modular is Ireland's leading modular building company, providing innovation and the highest quality space to meet clients' needs, covering schools, hospitals, private business, and the pharmaceutical and technology sectors.
Cpac Modular
Cpac Modular evolved from the well renowned Cabinpac, who have delivered temporary accommodation units for schools and offices for over 40 years, to the hi-tech modular building company it is today. In recent years Cpac Modular has expanded with the recruitment of new highly specialised personnel, new processes and BIM has been introduced with a new professional design team. Cpac Modular is at the cutting edge of innovation in modular building design and production, delivering volumetric units, separate to the traditional buildings.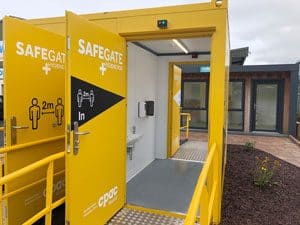 SAFEGATE is a direct response to clients' needs, an extension of Cpac Modular's work, to enable clients to do theirs. In an unsafe world, the SAFEGATE Hygiene Pod delivers controlled access management, giving clients reassurance and peace of mind. The Pod encompasses Temperature Monitoring, Hand Sanitation, Traffic Management, Face Mask Detection and Remote Monitoring. There are four models: BASE, BASE PLUS, ADVANCED, ADVANCED PLUS. The system is fully adaptable to the needs of the client and can integrate with existing wayfinding and access systems.
Beginning R&D, Alan says the concept was simple, the goal: helping people safely return to work. "Our technology partners were very helpful, and we coordinated closely with the project team members in developing the Hygiene Pod. It was designed by professionals working in isolation. We used BIM and 3D volumetric construction in designing and building this unit."
Features
People entering are managed by a green/red traffic lighting system – automatic locking functions on the entry doors can also be provided. Temperature monitoring technology is provided to scan individuals in one second increments; classification is Green – SAFE or Red – STOP. The temperature is set locally and is relayed in real time to monitoring personnel.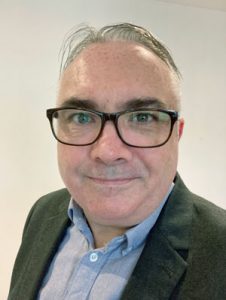 Management predicted that there would be changes over the course of COVID, however temperature remains the main COVID indicator. Pods are available fully plumbed with infer-red hand washing & drying facilities together with infer-red sanitiser dispensers. An intelligent CCTV system auto-detects the wearing of face masks and gives an alert if no mask is worn together with an audible instruction to put a mask on for entry. An intelligent CCTV system can be fully integrated with a variety of options and secure Wi-Fi enabled monitoring via tablet devices is possible.
Management was monitoring COVID-19 long before the Taoiseach addressed the nation on 17 March. They had conducted research and were preparing to return to work in a safe manner, pushing ahead to develop the Pod. "Cpac Modular only lost two days to COVID-19 as we used the SAFEGATE Hygiene Pods to monitor staff entering our facility. We were able to produce Pods for healthcare facilities, Saint Vincent's Hospital and Mayo General Hospital. The Pod allowed 4,000 people to return to work and we won the ConstructSecure Platinum Safety Award for our response to COVID-19."
Assurance
Cpac Modular want people to feel safe when they pass through the gateway Alan says. "Everybody that passes through has their temperature checked, they have a mask entering, and have washed their hands. The unit talks to COVID security on the other side of the gate and they are alerted if you do not comply. There is a high level of assurance, backed up by fully accessible IT databases which can be used later if assurance of entry or exit is an issue or where contact tracing needs to be verified."
The Hygiene Pod is designed for rapid install. "The Pod is highly durable. It can be unloaded from a lorry and set up with power and a water supply within an hour. The technology is easily updated too and there can be additions like QR code reading, ID and facial recognition. This is a smarter way of accepting people into your site," Alan adds.
Alan believes that, while advancements in vaccines are being accelerated, the challenges that COVID has brought are not going away anytime soon. "We will have to live with COVID for at least the next 18 months or maybe more. The key consideration is that when a vaccine does become available next year, employers and venue owners will not be able to identify who has been vaccinated and who hasn't. By having a Cpac SAFEGATE unit they can have this reassurance.''