Sisk to build Moda BTR Birmingham tower
John Sisk & Son has been selected as preferred contractor by Moda for the Great Charles Street neighbourhood in Birmingham city centre, the second Birmingham scheme being brought forward in the Moda portfolio with funding partner Apache Capital.
The £260m (€292 approx.) redevelopment of Ludgate Hill Car Park in the Jewellery Quarter of Birmingham includes 722 new homes alongside a gym, roof terraces, communal lounges and workspace, as well as a new public realm and space for retail and hospitality businesses.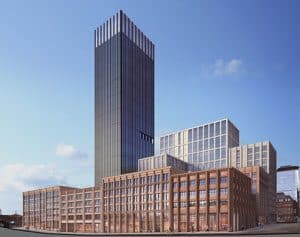 The new development consists of blocks ranging in height up to 39 storeys. The site has remained undeveloped for more than 70 years and will create around 470 new jobs and deliver £92m gross added value to the West Midlands. The scheme will take the total number of homes being delivered by Sisk for Moda in Birmingham city centre to in excess of 1,200, accounting for c. 20% of the city centre's five-year housing supply.
Sisk is also the main contractor on Moda Living and Apache's first development in Birmingham, The Mercian which will be the city's tallest residential tower. Once complete, the 42-storey building will boast 481 apartments for rent only and communal facilities for residents including a 200-metre running track. The appointment of Sisk at Great Charles Street demonstrates their tall buildings' expertise, having completed the tallest residential tower in Dublin, at Capital Dock, the tallest residential tower at Wembley, together with the tallest Premier Inn hotel in the UK at Canary Wharf.
At Great Charles Street, Sisk and Moda will continue their successful partnership with the West Midlands Combined Authority (WMCA) which is already helping to maximise local employment and training opportunities across the West Midlands. This partnership, spearheaded with Mayor Andy Street, established a training hub at Moda's Broad Street project which has been operating since 2018.
The hub has already supported 140 employment opportunities specifically for local people – including seven apprenticeships – by offering construction training and a guaranteed job interview after completing a 20-day course. Local employees at The Mercian have completed more than 80,000 hours of work. By the end of the construction John Sisk & Son estimate that at least 240,000 person hours will have been undertaken. As part of Sisk and Moda's commitment to Birmingham this hub will support a further 240,000 person hours for local people, from apprenticeships to graduate roles.
Ajaz Shafi, Managing Director, Sisk UK South said: "Sisk is delighted to be confirmed as preferred contractor for the Great Charles Street scheme. Our ongoing relationship with Moda demonstrates our capability with repeat clients both in the UK and internationally. Despite the challenges of Covid-19 and by working safely in collaboration with Moda and our supply chain, we have maintained progress on our Mercian project and are on course to top out the structure of what is Birmingham's tallest building on schedule which is a significant achievement. We have a quality supply chain in The Midlands that is fully committed to supporting Sisk on delivering these projects and we look forward to maintaining our dedication to job creation at our training hub which is of great benefit to the local community."
Tony Brooks, Managing Director at Moda Living, added: "Sisk, WMCA and Moda are proud to be helping people get back into quality employment as we deliver many new homes into the city centre. The positive human stories that have come from The Mercian have been incredibly inspiring. I'm looking forward to starting work on our Great Charles street neighbourhood later this year with the same team that worked on The Mercian, bringing another 722 high-quality homes for rent to Snow Hill and the Jewellery quarter. We hope to create even more employment opportunities for local people."