With bases in Galway and London, Vision Built offers design, manufacture and installation of offsite building solutions to the Irish and UK markets. Vision Built Managing Director Brian Kennedy speaks with Irish building magazine about the company's use of Modern Methods of Construction (MMCs) to provide reliable, sustainable and cost-effective buildings for the future.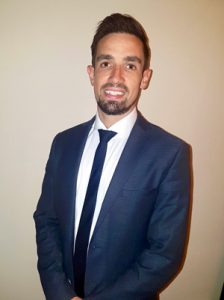 Established in 2012 Vision Built has 38 employees in its factory in Oranmore, County Galway. The company's London office is in St Albans, which has overseen the completion of many notable projects. Over the years the company has delivered a range of projects in Ireland and across the UK in many sectors including residential, commercial, health care, industrial and pharmaceutical. Some examples of previous projects include the Travelodge Hotel – Finchley; Premier Inn – Great Yarmouth; Travelodge Hotel – Elwick Place; Supercity Aparthotel – Furnival Street, London; HIX Hotel – Lambeth; Dublin City Council Rapid Build Housing. Brian says their customer base ranges from small, medium and large main contractors to developers and end-users.
Over the past decade the offsite construction market in the UK has grown quickly.  Vision Built have been a key supplier to this market and are looking forward to increasing their offsite delivery in the rapidly growing offsite construction market in Ireland.  Brian says, "There are huge benefits gained from offsite construction including programme, cost, quality, sustainability and safety. These benefits have been realised even more with the current challenges due to COVID-19 where buildings can be built in controlled environments adhering to protocols. For example, the Vision Built offsite structural system can reduce the building structure timeframe by 40%. We offer services from the planning stage right through to construction and handover. For our design services, we have an excellent offering with an in-house team of designers based in our Galway office." This team includes chartered structural engineers, architectural technicians and BIM technicians. "We work in a fully digital 3D environment and have worked on a large number of BIM Level 2 projects. Our design teams can deliver the full-framing solution for any project."
Products and System
Vision Built offer a range of pre-assembled load-bearing panels with insulation if required for full structure or infill. These panels can be assembled on site to provide a full structural solution to a project via the incorporation if required of hot rolled steel which is also supplied by Vision Built; this significantly increases the speed of construction of all projects. Our pre-insulated panels eliminate cold bridging and with Vision Built accredited junction details can bring the PSI value to as low as 0.04.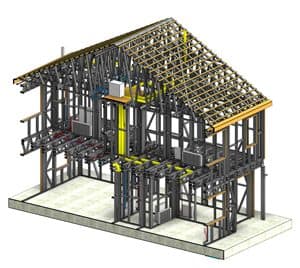 For structural infill systems, Vision Built offer a full design and supply of cold formed steel infills with swaged ends which allow for a full flush system. This allows for the infill of reinforced concrete or hot rolled steel structures. This forms the inner leaf of the external structure and can be designed to support most types of cladding and external leaf constructions.
Vision Built's framing system is a cold formed steel panelised product. "We manufacture various types of 2D panelised systems to allow efficient installation by ease of assembly on site." With specialised equipment at the Oranmore factory, the company is capable of high-precision work to a very high level of quality. "The designs from framing models are sent to the machines on the floor and the process is automated to achieve the best results. 'Design for Manufacture and Assembly' (DFMA) is a common term in offsite construction and is at the core of what we do at Vision Built.  This process involves the combination of our experience and expertise in build-ability, manufacturing and design to ensure ease of assembly on site."
Once the steel sections are rolled and cut they are then assembled into 2D panels on the factory floor. The panelised frame is accessorised depending on the design. Typically the frame is a fully insulated panel with external insulation and structural connections for the facade. The system is a warm frame construction and when erected allows for a masonry external leaf or cladding support system. The floor construction is a concrete slab poured on metal deck. It is a systematic design but gives great flexibility, strength, thermal, acoustic performance and fire resistance. The roof can be a concrete slab or a lightweight cold formed steel roof.
Early involvement is key to successful offsite construction. Working early with the client's design team can make the most of Vision Built's system efficiency on site Brian explains. "The flat-pack 2D panelised system is adaptable to designs and can be brought to site in kit form in various sizes and assembled easily on site. We offer a one-stop-shop for the full structural framing package from design through to final installation and certification sign off."
With Vision Built's highly accurate design and manufacturing capabilities, the resulting 3D manufacture drawings can be used to coordinate mechanical, electrical and follow on trades. "4D BIM allows us to plan programmes and coordinate with trades on site.
Building regulations and NZEB are critical for all current builds." Brian says the Vision Built system gives great thermal results for NZEB requirements due to the warm frame construction.
Factory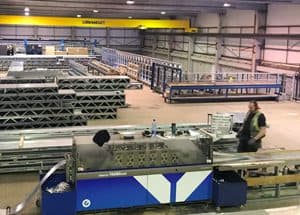 The Galway factory is expanding and will continue to increase in capacity this year with the purchase of more equipment. "Our factory has the current capacity to manufacture over 1,000 residential units per year." There is a wide range of skillsets within the design team including chartered structural engineers, architectural technicians, a highly experienced commercial team and a product development team. "The Vision Built product development team are continuously looking at improvements and exploring current traditional site methods that can be brought into a controlled factory environment."
Projects
The Vision Built team are currently supplying a portfolio of four Dublin City Council projects across the city comprising of 263 units ranging from one and two-bed apartments to three-bed houses and range in height up to 8 stories. These projects are going to site in June and components are currently being assembled as per planned Brian says.
Aside from Irish projects, Vision Built have several projects ongoing in the UK this summer, some of which are structural facade infill solutions, where the company's system is integrated with a traditional concrete or steel frame. "This product is extremely popular as we provide a full in-house design and supply service to the UK and Ireland. The team completed projects for Premier Inn and Travelodge in the UK with different cladding and frame solutions being assembled, with projects ranging from 5 to 10 stories."
Housing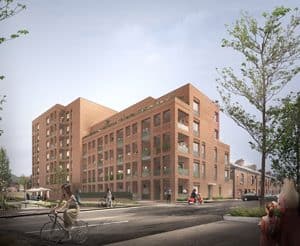 Housing in Ireland has been traditional, masonry construction and sometimes timber frame for many years. What Vision Built have is a systematic approach with a full-frame solution with an efficient sustainable design. DFMA is also a key requirement for low-rise to medium-rise residential. Brian says Vision Built offer scale and standardisation providing full-frame solutions without the requirement for on-site traditional methods. "The aesthetic can be changed based on customers and architects' requirements but we offer standardised deliverables in energy efficiency, fire rating, and sustainability while reducing cost."
MMCs are more popular in the UK where there is an existing larger offsite market and the industry has had knowledge of MMCs for a long time. However, interest is growing in Ireland and there is significant interest from housing providers. "Houses and apartment blocks are very suitable to MMCs and particularly to Vision Built's 2D panelised system. Local authorities and housing bodies want certainty in cost, programme and quality and also want improved Health & Safety standards which are all key benefits of the offsite system."
Standards
Steel is a sustainable product and Vision Built's system has a low carbon footprint compared to other traditional methods. Vision Built is one of a few companies to have National Standards Authority of Ireland (NSAI) certification up to 10 stories and also holds Steel Construction Institute (SCI) certification. The predicted design life for the system in its standard warm frame construction is up to 250 years as published by the SCI. The NSAI testing process is robust and requires the system to be tested for fire, acoustics, thermal, condensation risk and structural integrity. "Vision Built have completed over 30 successful fire test arrangements which gives our system great flexibility for different building types and specifications."
The 2D panel system is flexible, easy to transport and assemble compared to the difficulty in transporting a 3D modular structure.
New Products
Vision Built are continuously developing and extending the product range. "Our  2D panelised system which we call 'smart modular' gives all the benefits of offsite manufacturing but also offers a large amount of flexibility as it can be adapted to suit most building types and arrangements."
The Vision Built offsite system is very adaptable to customer needs.  For example Vision Built are currently building a 3D volumetric school which is being built in the factory and transported to site in time for school reopening in September. Also, the company has just released a new product, the C19 WC ECO Pod and garden office, to the market. Brian says this is to assist companies with welfare facilities on site and also help facilitate working from home.  These products are of particular benefit to businesses which require welfare facilities to be spread out over different levels and locations. These units are extremely mobile and can be moved up floors and inside an existing building while being easily connected with the smart plug and play utilities. These products are a few examples of the ongoing product development and innovations which the Vision Built team are working on.
Main image: Travelodge Ashford
The content of this site is subject to copyright laws and may not be reproduced in any form without the prior consent of the publishers. The views expressed in articles do not necessarily represent those of the publishers. This article first appeared in Irish building magazine.