Urbeo examining opportunities
Urbeo Group is planning to expand its investment activities in Ireland to areas beyond the residential private rented sector (PRS).
The move comes as Eileen Fitzpatrick, former Head of NewERA at the National Treasury Management Agency (NTMA), joins Chairman Kevin Murphy (Former CEO of Irish Life and Permanent) on the board as a non-executive director.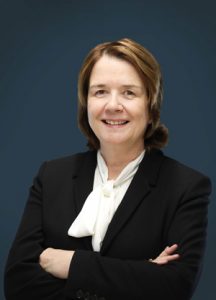 Ms Fitzpatrick has extensive capital markets experience providing investment and commercial advice on State-owned companies to the Government as Head of NewEra between 2011 and 2019. Previously she worked as Chief Executive Officer at AIB Investment Managers (AIBIM) between 2000 and 2006 and has held a number of senior investment and stockbroking roles at AIBIM, Goodbody Stockbrokers and NCB. She currently holds several other non-executive director roles, including with Bank of Ireland plc and KKR Ireland.
Urbeo Group will oversee the residential investment platform U by Urbeo, which has invested over €500m in acquisitions in its first year to build a 1,500 portfolio of apartments for rent.
Urbeo Group is also looking at opportunities to invest in other property asset classes, and examining shifts in the market due to the disruption caused by Covid 19 and the likely changes to the way people will live and work even after the pandemic has ended.
Commenting on the board appointment Urbeo Group Founding Partner Frank Kenny said: "We are very pleased to have someone with Eileen's extensive investment and capital markets experience join the board of Urbeo Group. We are at an exciting moment in the Group's development where having built a large residential portfolio, we are now considering leveraging our skilled team's capabilities to invest in other market segments."
Urbeo Group Partner Richard Ball said: "Our strategy to date has been working towards creating a €1bn portfolio of build-to-rent assets and establishing Urbeo as the preeminent PRS investment business in the country in terms of scale and quality of units. We have made great progress in this regard and will continue to acquire assets to grow to over 2,000 units.
We are now looking to expand into new areas, and believe that the likely changes in the way we live and work in the aftermath of the pandemic could yield interesting opportunities. Whilst Covid-19 has caused disruption and uncertainty we remain optimistic that there are significant investment opportunities for Urbeo to avail of in Ireland."
Urbeo's portfolio now comprises both inner-Dublin and suburban locations including the City Centre, Citywest, Hansfield, Finglas, Tallaght, Rathborne and two projects in Maynooth.
Urbeo's strategy seeks to partner with builders or developers to deliver rental housing projects in well-serviced locations with good connectivity to employment centres. Its focus is on the mid-tier of the market in the Greater Dublin Area where there is strong rental demand, with the bulk of the portfolio to come from newly built developments.
Urbeo has developed a consumer brand for its tenants called U by Urbeo promising high-quality service and 24/7 availability from a professional landlord. With the likely increase in people working from home, even after the pandemic passes, U is ensuring its homes are well-equipped to the shift in working patterns through a focus on superior design, finishes and furniture. U by Urbeo aims to be the residential option of choice for tenants seeking a new home in the Greater Dublin Area.