Burke Joinery – Ear To The Ground
When John Burke Senior founded Burke Joinery in 1986, he instilled several tenets into company culture that enabled it to become one of the biggest bespoke joinery suppliers in the Irish market.
A dedication to excellence, a commitment to continual improvement and a vested interest in what was around the corner solidified Burke Joinery as a future thinker in the industry, fostering ongoing relationships with the country's main contractors and earning John Burke and his company a reputation as a firm you could rely on. A firm that delivers on what it promised, with top notch service and no fuss.
Thirty-three years later, John Burke Junior is pushing the same boundaries as his father. In 2016, Burke Joinery began to work with Akustik +, a German company who were producing the most comprehensive product portfolio in the area of room acoustics and fire protection for interior fittings throughout the market. There was such a market reaction to the products and services offered in the acoustic sector that it made sense for Burke Joinery to expand. And so, this year Burke Acoustics was born, with John Burke Junior as its CEO.
Their offering is sound, in more ways than one, says Burke. "We are one of very few joinery companies offering an in-house design and consultancy team; this allows us to provide a unique service, involving our clients in every aspect of the manufacturing process, from the initial concept through to the final product."
With a solid product line as the bedrock of the business, Burke Acoustics are offering a unique product and service to market. "Akustik + is the backbone of the range," says Burke. "They have a wide range of different types of panelling systems and everything is timber based. This means that we are able to bring the natural timbers, the natural veneers back into any type of working or home environment as opposed to being stuck with what you would traditionally see. In a lot of spaces you would see fabrics, foams and that types of finish, so it's more aesthetically pleasing and allows us to bring that natural look with an extremely high-quality finish."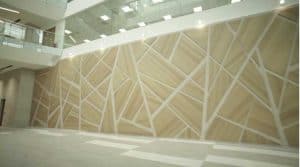 Quality underpins the ethos of Burke Acoustics, and the product range from Akustik + reflects this, according to the CEO. Utilising a brand with a reputation for excellence has enabled the company to hit the ground running, with an established product base. "They have done a huge amount of testing across the board; in acoustics, in fire testing. They have gone to the nth degree in terms of testing so what we are working with is a world class product and we are exceptionally proud to be able to bring it to the Irish market."
Already, Burke Acoustics has worked with some of the country's most prevalent contractors and architects. They recently worked with RKD and BAM on a major extension and refurbishment of the Glucksman Library, providing the University of Limerick with one of the world's most technologically-advanced libraries.
They developed a unique solution to a busy office environment with their Quiet Zone Telephone Boxes, utilising original Irish telephone boxes and turning them into calm spaces for the Electro Route offices in Dublin. Burke Acoustics installed microperforated acoustic panels into the reception areas of One South County, for Collen Construction and TOT Architects and installed acoustic solutions to New Relic and Dublin Landing in Dublin 2.
With their solid background in Joinery, Burke Acoustic offer a unique service to the industry, says John Burke. "There are other acoustic products on the market, but what we offer is unique in that we offer a co-manufacturing process," he explains. "You don't strictly have to buy something from the brochure. We can create bespoke acoustic solutions for our clients with the skill set we have with our joinery backbone, coupled with the skill set that the guys at Akustik + bring to the table."
The other big factor that Burke Acoustics bring to the table is value for money, according to Burke. "Of course, in any project, adding value is essential. We offer main contractors value by coupling the joinery offering with the acoustic offering. We feel that we can give clients the full package, and that's what we have been able to do for lots of main contractors."
The three main pillars that this family owned and family-run business are built on are more important than ever, says Burke. "Design, Manufacturing and Installation are equally important and we provide excellence throughout. Going forward, the area of acoustics installation is critical," he points out. "We have had our guys trained through Akustik +. Acoustics are very hard to define. The whole installation piece is critical because we need to ensure that we deliver on our client's perception of what they feel acoustics are. It's about providing that level of comfort that our clients require."
This means that Burke Acoustic can take a project from the beginning right through to delivery, in terms of its acoustic needs. "The first port of call when it comes to acoustics, will come from the acoustic consultant on the job," explains John Burke. "They will do their report based on what they feel that the project needs. We have that skill set within our offering. We can consult and we can recommend solutions for spaces. We can provide that form of service, which goes above and beyond any other standard manufacturer."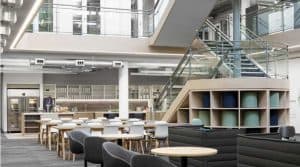 Constantly future-proofing, John Burke and his team have been in research and development for a number of years, collaborating with the engineering department of UCD on a range of acoustic doors, and they are hopeful that they will be ready to come to market over the next twelve months. "This will complement the panelling systems that we already offer with Akustik +. If you visualise an office space, obviously the doors are a big part of the sound block when you are considering the performance of the space. We want to manufacture it ourselves in its entirety as an Irish-made product."
Over the coming months, the company will be expanding its manufacturing space, adding to its already sizeable 70,000 square feet. Their onsite showroom is an essential part of the customer experience, according to Burke. "You have to experience acoustics to know what you want. You can look at all the brochures in the world but you won't understand how they work until you have experienced it. We have a working showroom with onsite Experience Pods where you can step into them to feel the effectiveness of the acoustics."
They will be expanding their product offering too. "There are a lot of great products which will be hitting the market in the next six months, based around the idea of green products, as you can imagine. So there are some new acoustic systems out there where they use recycled wood waste as a sound absorber. It ties in with where the world is going in terms of sustainability and using recycled materials. That's a big area that Akustik + are going into and we are working with them side-by-side on that."
As an industry, John Burke says we are moving further and further away from onsite fabrication. "Fabricating in the factory cuts down the time and cost of onsite installation. It also helps improve the quality and performance of the product. It also allows us to utilise our own quality and control systems within the factory, which can only be a good thing." The industry continues to grow, says the CEO, and it is imperative that industry leaders lead the charge when it comes to challenging industry standards. "Our aim going into 2020 is to exceed expectation and to continue to provide our clients with creative and innovative acoustic solutions."
Main image: John T. and David Burke.