Etag – Fixed on Supplying Value
Etag Managing Director Damien Lynch talks to Irish building magazine about Etag's growth in Ireland and the UK after resiliently surviving the adversity of the recession and going on to lead innovation and customer service in the building supplies industry.
Etag Fixings is a specialist building supplies company that was established in 2004. The company provides the widest product selection for the fixing, construction and industrial markets and offers next day delivery as standard. Etag has dedicated product divisions for Fixings, Mechanical & Electrical, Insulation, Drywall, and General Building Supplies.
Etag supplies and serves customers through best practice, expertise and excellent service Damien Lynch says. "We aim to deliver a better alternative for our customers and always strive to be the best in their supply chain at what we do." 
History
Etag was founded in 2004 by Paul Bonner and Damien Lynch in Ashbourne, County Meath. Paul's background was in fixings and Damien's experience was in construction supply. There was steady growth for the company until the recession hit in 2008.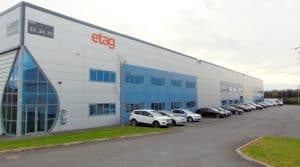 Throughout the recession, Etag fought through the tough Irish economy and even took the risk of opening a new office in the UK in 2011.  Etag Ireland has continued to grow. In 2016, Etag Ireland branched out into the Mechanical & Electrical industry with Etag Support Systems. The company now offers detailed prefabrication, logistics and on-site technical support to the M&E industry. In 2018, Etag Ireland acquired a 33,000 sq ft building in Clonee, Dublin, allowing the company to hold more stock and increase the product range.
In 2011, Etag UK was founded in Bermondsey, London. Etag UK has gone from strength to strength and in 2017, acquired a new space in Dagenham. In 2018, Etag increased the warehouse space by over 20,000 sq ft to offer customers more products off the shelf. 2017 was a major year as Etag UK won the Thames Gateway Medium Business Award. In 2018, Etag UK was announced as being in the Top 10 Construction Suppliers in the UK by Construction Enquirer. On Irish TV screens, Etag Ireland is taking part in the new DIY
SOS series supplying goods to support families and communities in need. An Irish business success story, Damien tells us about establishing the company.
Establishing Etag
When Damien started the business in 2004, he knew from experience that there was a need for a new entrant in the market. From the start, there was a positive and pragmatic growth attitude. "I started in this business in my early 20s. We were a young company. At the start, we were selling the basic hand tools: shovels, hammers, wheelbarrows. From there we grew. If people asked us if we could provide something and we could source it, then we would stock the product." This was the middle of the last decade and Etag had strong connections in the construction industry and developed a strong customer base.
After a few months from establishing, Damien and the team knew that they had a service that people wanted. Etag's first warehouse was in Ballymount. From there the company moved to Ashbourne, County Meath.
Etag Ireland and Etag UK provide the same products and to the same respective markets; however, there are some differences. "The Irish business has a larger main contractor customer base. Etag UK has more interiors, framing and drylining contractors in the customer base. We are market leaders in both countries. The reason for the differences is that we started serving main contractors as a large portion of our customers here in Ireland; while in the UK interiors and drylining companies were the main portion of our customer base when we started."
When Etag entered the UK market, Damien says the company had existing Irish customers who were working in the UK construction industry. "Towards the financial crash, there was a lot of activity by Irish contractors in the UK. There was a lot of activity in London due to the 2012 Olympic Games and to meet demand a lot of Irish contractors entered the UK industry. Etag entered the UK market in 2011 setting up a distribution facility in Bermondsey, South East London, distributing to UK and Irish based customers. We specialised in drylining materials at the start, providing drywall screws, drywall accessories, plastering beading, access panels, etc." Aside from product range, Etag has been known for great customer service since establishing.
Damien says the management always prides themselves on two things: their on-time delivery and communicating this to customers so that they could plan the deliveries around busy construction project schedules. "Etag takes customer service very seriously. Etag has unique product offerings from fixings, plastering and ceilings, mechanical and electrical, insulation, home building, commercial fit outs, and material protection. We combine a very high level of commercial service and delivery with a great product offering. This is distinctive and this is how we differentiate Etag from competitors." Etag is not only focused on customer service but on improving the work-life of employees and creating a healthy environment for all the staff.
"Etag have always aimed to keep an open mind about everything in the business," Damien says. "Recently we established committees for our employees to get involved in. We have a social committee, an environmental committee and a charity committee. These are important as they give employees power in making decisions within the organisation." The environmental committee makes tangible steps to make Etag a greener company. The social committee makes decisions with regards to where and when the staff parties and social meetings are held. On the subject of social awareness, LGBTQ awareness is a subject Etag champions he tells us. "Etag has created an environment of inclusivity for all of our staff." Etag prides itself on giving back to the community and has now become known for this nationally. "The charity committee does a lot of work helping people in need. An example of this is our involvement in DIY SOS." Etag approached the production company of DIY SOS and asked could they get involved in the new Irish TV series. This was memorable for Damien and Etag he explains. "Sinéad and Michael Barry, from Tipperary, were building their family home for about five years. Michael fell ill and tragically passed away in March. Their house was unfinished and Sinéad was a young mother with three young children. Etag donated materials and supplies for the build. We like to give back. This was the construction sector coming together to help people. We were proud to be involved. It was a humbling experience."
Growth
Damien says Etag's growth has been impressive and that the economic downturn was a critical learning experience for him as a businessman and for the company. "We started with three people. Now we have 80 employees. We experienced rapid growth since establishing. Due to the fact that people liked our products and high-standards of service, we were able to grow the business significantly before the crash in 2008. €11m was our turnover just before the crash, then after the crash, revenues were down about 80%. The industry had never seen such levels of growth before." The downturn was a major experience that built resilience. "I tell people I may have a degree in business but the recession was my PhD. I strongly believe that we would not have become successful if it wasn't for the downturn. We learned more about our supply chain and built stronger relationships with our supply chain companies. The challenge of the downturn meant we had to figure out how we were going to pay our bills and how we were going to work with our clients as well."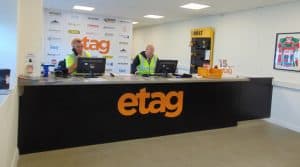 Damien tells us what it was like back in 2007 at the start of the downturn. "The drop in custom from our Galway base in 2007 was the first indicator of the recession for us. Up to Christmas business was really good. Then we opened in the first week of January and it was like a tap was turned off. The drop in business started coming closer and closer to Dublin after that." Unfortunately, the management had to consolidate the business and move fast to prepare for what was coming he explains. "We had to close our Galway depot first and before the recession hit hard we were already prepared for what was going to come. Initially, we didn't see the recession coming. What happened in Galway was a surprise to us."
The recession provided learnings that shaped the business and future growth. "The key learnings from the recession were: Do what you do well. Keep an eye on all aspects of your business. Always be aware of the threat of overtrading. Have a good relationship with supply chain partners. Develop a good team." There is a good team at Etag now Damien tells us, and they are team players who want the best for the organisation and contribute to a great work culture. This work culture is present in Etag UK.
Expanding into the UK was a challenge for Etag. The supplies company was fortunate in the recession and at the end of 2011 the business started to slowly improve. In the Irish market, there was still a lot of high-end corporate fit outs for international technology companies. These companies were setting up their headquarters in Ireland. From a drylining, fixings and accessories perspective business was good he explains. "The companies doing these fit out projects might have been our customers who were working on apartment blocks during the boom. Etag relied on this business during the recession."
Moving to the UK was difficult but it was an adventure for confident entrepreneurs. "For us to enter into the UK market, my business partners: Paul, Shaun, Shirley and myself, felt we had to leave Ireland for work and to return home when we could. This was difficult for our families, with us spending one week in the UK and one back home, taking turns with directors divided between both countries. I didn't believe it was a risk. I knew we were brilliant at what we did and I knew Etag had something to offer. As an entrepreneur, you thrive on new business adventures."
The team were not a start-up setting up in the UK he explains. "Etag had the experience and expertise. The management knew how to run a successful business from our work in Ireland over the previous 8 years leading up to 2012. The UK economy was in a better state than Ireland's and the projects were bigger with large-scale buildings going up. We had our existing customer base from Ireland and we grew rapidly because of this." Etag established in Bermondsey, London, and began to supply companies in the run up to the London Olympics. This work led to further growth, with new business streams.
Over the past few years Etag observed that UK clients were taking on more and more elements of a building project. "We had subcontractor clients in the past who had not asked us for other trades' materials, an example — M&E contractors asking for interiors materials etc. But as they did, we developed those streams of the business and they grew from there." Etag then took this UK experience and applied it to Etag Ireland. After some time the management saw, as each of the business streams grew, that existing clients were travelling around Europe and undertaking major projects and Etag was encouraged to follow. "Etag are now supplying projects in Europe. We have Irish clients going to the UK working. We have UK clients coming to Ireland. Our Irish clients are working in Germany, the Benelux countries, and Scandinavia. Etag is a pan-European business. If our customers need us abroad, we go!"
Etag Mechanical & Electrical mainly covers HVAC support and containment, channels and bracketing, and cable trays for support. Because of this foothold in the trade, Etag began providing modular and offsite prefabrication. "As part of our MEP offering, we are able to prefabricate MEP elements offsite and have them ready for our clients to install on their site. We manufacture products to clients' detailed and precise specifications. The main benefit Etag's offsite fabrication offers a client is that the Etag team does all of the offsite cutting, and this reduces waste on site and there is reduced hot works on site and this helps with site safety. "We have a broad range of solutions," Damien says. When you combine this with the other offerings Etag has such as PPE, site safety signage, power tools, drilling solutions, fixings and anchors, Etag has a unique offering for the M&E market. This business is titled 'Etag Support Systems'.
With these complementary business streams, Etag is still growing year on year. Its facilities have grown in number and expanded. Ashbourne was the base of Etag Fixings Ireland. Etag Support Systems was operating out of a base in Finglas. The base in Finglas is now the prefabrication base where the company makes the M&E units. Due to growth, Etag moved to Clonee, County Meath, where the team now has 30,000 sq ft of storage space. Etag arranges and incorporates all of its business streams here under one roof. The Clonee base allowed Etag to streamline the business and to manage the company's growth from here. All this growth has come from delivering value.
Value
Etag's growth comes from meeting the customer's needs, delivering value. Etag has great Business Development Managers who work with clients in identifying what they value and the company strives to deliver this. "Whichever position you work as within the company, you talk with the customer and identify how best you can meet their needs and requirements. We always ask customers what more we can do to help. If it is possible to do it, we will do it. When you have this openness, you hear what the customers want." The Etag team are experts at managing customer feedback. Etag recently engaged a market research company to sample approximately 100 clients and to collect and analyse feedback. The research company also surveyed Etag staff. In both internal and external surveys, Etag achieved a high satisfaction rating.
Damien says understanding your client is critical in building supplies. "Clients' teams on site or in purchasing departments are under pressure to get purchase orders out and to get supplies in. If they order 20 items for a site, they know Etag can supply the vast majority of the items. Clients know they can rely on Etag. They can come to us and we offer such a broad range it reduces the number of purchase orders they have to process, saving them money. We have a broad range of products, not because we choose to supply them to the market, but because the clients in the market demand them." The Etag team focuses on what they do and look internally and along their supply chain to explore how they can continuously improve their offering to clients, deliver value, and build on success.
Success
The Etag directors strive to achieve goals with positivity Damien explains recalling setting up in London. Their entry into the UK industry during the recession was done with enthusiasm to grow the business, and this was met by a more positive industry. "There was more positivity in the UK market during the recession. The UK allowed us to start again and we grew our marketing team." The UK industry has taken note, and Etag is a success there Damien describes. "Etag UK won the Thames Gateway Medium Business Award two years ago. For UK Construction Week 2019, we are up for the Supplier of the Year award. Last year Etag UK was in the top 10 suppliers at the Construction Enquirer's Awards." This ranking and the Awards were voted for by peers in the industry with Etag only in the UK for 5 to 6 years at the time of voting.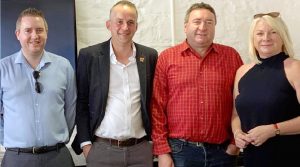 On the topic of Brexit, Damien says that UK and Irish business people have seen worse and refers to how Etag got through the last downturn, and is prepared for whatever comes in both the UK and Irish markets. Looking back on the success, we ask Damien what the three milestones were for the company so far. "The stand out moment was when Paul and I imported our own drylining screws for the Irish market. The screws became famous within the drylining industry in Ireland. Getting through the recession was a great achievement. Establishing in the UK was the other key moment in the company's history."
For the future, Damien says Etag is looking to Europe. "Etag clients working in Europe have said they have not found 'their' Etag yet in Holland or Germany. This is great to hear and it reinforces our belief that we deliver the best customer service."
With a successful and expanding company that is open to new business opportunities with manufacturers, Damien's message to manufacturers wanting to get products on Etag shelves is that Etag stock high-quality products in both Ireland and the UK. Certification is important. Manufacturers want to get their products specified and this gets their product demanded from suppliers like Etag. However, if a company has a great product, Damien, conscious of current innovations, wants that manufacturer to come to Etag. "There is a move to cement boards, prefabrication in MEP. There is great change in the world of suppliers. We want companies to come to us with great products, that are certified, and we are open to product innovation."
"Thank you to all the customers. They have helped Etag get through the recession, to grow in Ireland, the UK and throughout mainland Europe. The construction industry is innovating and developing and we look forward to the next 10 years."
A successful business that acknowledges the competitiveness of construction, Etag knows about striving for excellence and Etag is delighted to be involved with the Irish Construction Excellence (ICE) Awards. Damien tells us and he has followed the competition and attended past Galas. "It is a high-profile competition and event that showcases the best of Irish construction. I have great memories of attending the ICE Awards Gala night in previous years. Sponsoring the ICE Awards confirms our dedication to high standards in construction." Etag is a company that knows about high standards having achieved their ISO standards in recent years and Health & Safety excellence being a company priority.
The Etag team is looking forward to the Gala on 28 March. Etag decided to sponsor the International award as the company had the same journey. Etag started in Ireland and then the management team took their knowledge and skills abroad. There will be customer companies with a similar story in The Convention Centre Dublin in March who will want to meet the Etag management team. Until then, Etag's Managing Director's message to customers is clear: "Thank you to all the customers. They have helped Etag get through the recession, to grow in Ireland, the UK and throughout mainland Europe. The construction industry is innovating and developing and we look forward to the next 10 years."