Big Build – King's Cross Redeveloped
King's Cross is a £3 billion development in central London. In June, Irish building magazine was given a tour of the development by Argent and BAM Construct UK as part of the Autodesk AEC Media Summit. For our 'Big Build' series we explore this hub of construction activity to find out about the project, the procurement, and some of the challenges.
King's Cross is the largest mixed-use development in single ownership to be developed in central London for over 150 years. The 67-acre site has a rich history and a unique setting – and it is adjacent to the best-connected transport hub in London. Post World War II the area declined from being an industrial and distribution services district to a rundown post-industrial area. What is emerging at King's Cross is a vibrant new city quarter of offices, homes, community facilities, schools, a world-renowned university in Central Saint Martins as well as a host of shops, restaurants, bars and cultural venues. When complete, there will be 50 new and refurbished buildings set in an exciting and inspiring network of new streets, squares, parks and public space. 2,000 new homes, 3 million square feet of offices and hundreds of new shops are being delivered as part of the scheme. Universal Music Group, Google, YouTube, and Facebook are some of the high-profile tenants that will have offices and buildings in the area. The development is circa 85% complete with an estimated completion date of around 2025.
On a tour of King's Cross as part of the Autodesk AEC Media Summit, Irish building met Tom Callaway. Tom has a key role for Argent on the King's Cross development. As Senior Development Manager he is looking after the feasibility, design and construction across a variety of buildings. This process involves appointing each member of the design team, obtaining planning permission, procuring the main contractor, managing the construction phase and subsequent handover.
Bringing Experience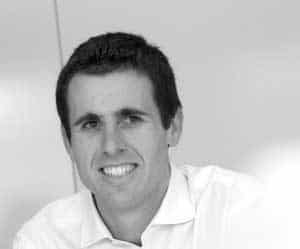 Argent brought nearly four decades of expertise to King's Cross. The company was formed 38 years ago, and has worked on some of the most transformational city-centre developments in the UK – in London, Birmingham and Manchester. It is now a team of 160 people with diverse backgrounds and skills, working together to create places with lasting social value, and this can be seen at King's Cross.
Tom describes the challenges on the development and the planning work that was undertaken over two decades, and the influencing factors that brought King's Cross to fruition with Argent as the development partner. "Early plans for the redevelopment of King's Cross had fallen through, but the 1996 decision to move the Channel Tunnel Rail Link from Waterloo to St Pancras became the catalyst for change. The landowners – London & Continental Railways Limited and Excel (now DHL) decided to develop the land and in 2001, Argent was selected as the development partner. The project began with several years of intensive studies and consultation with the local community, government and other stakeholders. This work formed the basis for a vision for the development, from which the masterplan evolved.
"The plan was prepared by Allies and Morrison, Porphyrios Associates and Townshend Landscape Architects, in 2006 outline planning permission was granted. The permission allows for circa 50 new buildings, 20 new streets, 10 new major public spaces, the restoration and refurbishment of 20 historic buildings and structures and up to 2,000 homes."
The King's Cross Central Limited Partnership (KCCLP) is the single landowner at King's Cross, making development and delivery easier. Many of the people working on the project have been involved from the beginning. This brings an unusual level of continuity and commitment. The partnership brings together two groups: Argent King's Cross Limited Partnership and AustralianSuper.
Argent King's Cross Limited Partnership is backed by Argent, one of the UK's top property developers, and Hermes Investment Management on behalf of the BT Pension Scheme. Argent is the asset manager for King's Cross, having previously undertaken major developments in UK cities, including Brindleyplace in Birmingham and Manchester's Piccadilly. AustralianSuper is Australia's largest superannuation/pension fund, run only to profit members. The fund manages more than $AUD91 billion of members' assets on behalf of more than two million members. One in 10 working Australians is a member of AustralianSuper. King's Cross is its first direct London investment. Even with these resources, there were challenges.
Argent faced many challenges in the design and construction when tasked with bringing together the old and the new, with modern engineering techniques being used across the development, and a number of heritage structures on site. Tom says it was essential to integrate the development into the city. "The challenges in terms of masterplan and individual plot design relate predominately to the overall objective of making King's Cross feel an integral part of London's fabric. To achieve this objective KCCLP has worked with range of leading architectural practices to give each building an identity while at the same time complying with the masterplan design parameters. Heritage buildings have been retained and repurposed and have played a key part in our 'placemaking' strategy. The majority of the buildings at King's Cross have pushed the boundary in terms of engineering; for example, projects such as Coal Drops Yard with its 'kissing' roof structure bridging two listed buildings; 4 Pancras Square with its weathering steel exoskeleton; and Gasholders with its reimagined Victorian gasholder frame.
"In terms of construction there have been numerous challenges that have had to be overcome. These range from removing and remediating the ground under the Victorian gasworks in the south of the site, to piling in between the Thameslink train tunnels in the north of the site. The complex nature of many of the building designs has required bespoke engineering solutions developed in partnership with our contractors and their supply chains."
Selecting the Builders
King's Cross is a great example of modern construction procurement. Argent was assisted by leading consultants in appointing contractors for Design & Build approaches Tom informs us. "All of the projects at King's Cross have been delivered using the two stage Design & Build procurement route. Typically the main contractors have been appointed at the end of Stage 3 to develop and deliver the design from this point. Procurement has been managed in house with assistance from our external cost consultants."
The three original contractors on the King's Cross development were BAM, Kier and Carillion. Following the demise of Carillion the King's Cross supply chain was expanded to include McLaren and Midguard. Past work histories on Argent projects formed the key criteria for contractors getting to work on the King's Cross development. The "new" contractors had to go through a rigorous prequalification process Tom tells us. "The three original contractors (BAM, Carillion & Kier) had all worked for Argent previously up at our developments in Birmingham and Manchester. The new contractors went through a PQQ process which looked at a wide range of criteria which included health and safety, collaborative mind-set, financials and previous projects." Peter Spear of BAM Construct UK tells us about what the contractor offers, the selection process for the work on King's Cross and the challenges that were overcome by the contractor on the development.
BAM Construct UK
BAM is busy with a number of ongoing projects at King's Cross: T2-T3 commercial offices; Q1 commercial office; Q2 sports hall; and S1 commercial office. However, this is a small portion of work in comparison with the following projects completed by the contractor:
University of Arts London; Western Transit Shed; External Works & Utilities; WTS Additional Works; External Works to F&C; 1 Pancras Square (B2); 2 Pancras Square (B4); Building B0; Pancras Tunnel; German Gym; E1 Stanley Building; E1 Fit-Out Works; Public Realm, Zone B; T5 Student Accommodation; Fish & Coal; 3 Pancras Square (B6); 4 Pancras Square (B5); Public Realm F&C; R1 Aga Centre; and Coal Drops Yard.             
BAM Construct UK Construction Manager Peter Spear was one of the project leaders giving the AEC media a tour of the major development. Peter tells us of the work history built up with Argent over the decades and says Argent has gained from the contractor's knowledge and experience of good constructability and value engineering on many of the King's Cross projects. "BAM's working relationship with Argent LLP – featuring both our UK construction and design companies – has been developed over the past 25 years.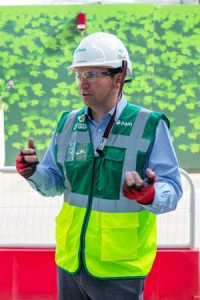 "We have been involved in the several King's Cross schemes from an early stage of design allowing the design team of which we are part to gain valuable construction advice in terms of buildability whilst on the other hand as a contractor we are contributing to the design before the procurement phase of the project commences along with buying-in to the cost plan/budget. This ensures projects make a running start to the procurement phase given that the team are more familiar with the scheme thereby maximising the effectiveness of the programme and helping to provide best value throughout. This process allows risks to be managed out prior to a lump sum contract award. It is part of the innovative approach to early engagement that is the hallmark of Argent as a developer and place maker, and it is this as much as anything that has driven the rapid and effective creation of N1C."
BAM has adopted a culture of continual learning at Argent's King's Cross redevelopment; allowing the contractor to test and prove digital technologies/approaches. This was supported by Autodesk selecting the King Cross development for one of their site visits for the AEC media; the project is a great example for the use of BIM 360 Field. "At Coal Drops Yard we adopted BIM 360 Field to enable us to track snags and improve transparency, quality and efficiency. A process which is now being adopted by Argent on other schemes. At the T Zone we are also exploring the use of digital setting out and as built verification technologies. These are helping us to develop the concept of the connected site and link day-to-day activities to a 3D digital twin, which will provide better as built data at handover."
Readers will be familiar with BAM's building lifecycle offering, taking projects from concept to operation. Peter says the contractor's design expertise gives them competitive advantage when in competition with other contractors. "Our 'best-kept secret' is BAM Design's multi-disciplinary capability – architecture, structures and MEP services – giving us a safe pair of hands taking projects from planning to completion. Part of BAM's appeal to clients is its integrated capability to deliver from concept to managed facilities. That is an unparalleled advantage."
Going from talking about what gives BAM an advantage to asking what gives the main contractor's subcontractors and suppliers an advantage, we ask about the criteria for supply chain partners and the requirements of them. Track record and transparency are key Peter says. "Supply chain partners are key to the success of any project. BAM have developed relationships with contractors that have consistently performed at a high level on previous projects and the willingness to work collaboratively is an essential component. Similar relationships have been developed with the trade contractors to those between BAM and Argent LLP. Contractors are required to adopt an open-book approach and where possible we look to get early engagement to inform design, cost and programme."
The Coal Drops Yard project challenged BAM with issues of communication and data capture of the complex roof shape and old buildings, Peter tells us. "Effective communication on large scale projects is always a challenge, during design stage this can often be a potential cause for conflict. At the T zone project an early decision was made to co-locate the whole design team onsite providing desk space for architect, structural and services designers sitting alongside the BAM project team. The office infrastructure was set up with upgraded IT facilities to ensure necessary design models could be worked on by all disciplines. This co-location has improved cooperation and communication between the various teams. This has been achieved by providing an open plan office environment which the different companies have joined together to deliver the common project goal."
Coal Drops Yard is a spectacular reinvention of Victorian industrial railway sheds creating a unique public and retail destination within Kings Cross's heart. This was a highly complex and challenging project because of its unique "kissing roof" and its Victorian heritage; data capture was difficult but this challenge was overcome. "BAM's innovative use of digital was instrumental in the delivery of the scheme allowing us to improve the accuracy of repairs; map survey images to elevations and schedule the works required to give a clear scope of works and cost. In addition, our use of 3D Rhino software allowed BAM Design, Heatherwick Studio and Arup to refine the complex roof form and structure." Coal Drops Yard is an amazing structure; there are many other architecturally impressive buildings on the site. 
Other Developments
King's Cross is largely complete however there are several buildings still in the design stage and yet to start on site.
Argent has other major projects ongoing at present in London and will have a massive project coming in 2020 Tom Callaway informs us. "In 2016, Argent formed a new company, Argent Related, with US developer and investor Related. Argent Related has two large developments in progress: Tottenham Hale, a residential-led scheme creating a new centre for this part of North London, and Brent Cross South, three times the size of King's Cross, which expects to go on-site next year. Together these sites represent a pipeline of 8,000 homes and 4 million square feet of commercial space."
The majority of Argent's supply chain is procured through projects' main contractors, with Argent and the contractor having main criteria. Knowing this we ask Tom: What does a company have to demonstrate to be on the supply chain? "Working with our main contractors we have an agreed PQQ process which looks at, amongst other factors, the suppliers' health and safety record, past delivery performance, commitment to collaboration and financial performance."
There are major developments ongoing and upcoming in London and King's Cross is a great example of a major development, and this article gives some insight into the major scope and selection process.
The content of this site is subject to copyright laws and may not be reproduced in any form without the prior consent of the publishers. The views expressed in articles do not necessarily represent those of the publishers. This article first appeared in Irish building magazine.